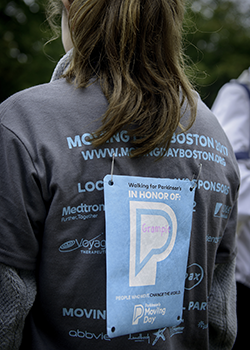 I made a personal donation!
I earned a Moving Day T-shirt!
Event:
I am participating in Moving Day® San Jose, benefiting the Parkinson's Foundation, on Saturday, June 2, 2018, at Evergreen Valley College.
Currently, I work in the Bronte-Stewart Lab where investigate the neural signatures of classic motor symptoms of Parkinson's Disease including tremor and freezing of gait to further the advancement of novel stimulation paradigms such as closed-loop, adaptive Deep Brain Stimulation. As members of Stanford's Movement Disorders Team, we are beyond lucky to work such an incredible population. This wonderful event gives us a chance to give back to such an amazing community and offer support in any way we can help.
The event will be a fun-filled, family-friendly event for all ages and abilities. We will be able to enjoy a variety of movement activities yoga, dance, Pilates, Tai Chi, boxing, stretching and much more and celebrate the importance of movement in our lives.
Please consider being a part of my team or sponsoring me, and I encourage you to get your friends, family and coworkers involved.
Thank you for helping me reach my fundraising goal to support the vital work of the Parkinson's Foundation.
Why Move for Moving Day®?
Did you know that someone is diagnosed with Parkinson's disease every 9 minutes in the United States? No one should have to face Parkinson's alone. That is why the Parkinson's Foundation provides a community of support to give people the resources and help they need to live well with Parkinson's.
Support our mission to help every person diagnosed with Parkinson's live their best possible life now. Your gift will help us fund better research, better treatment and better lives.