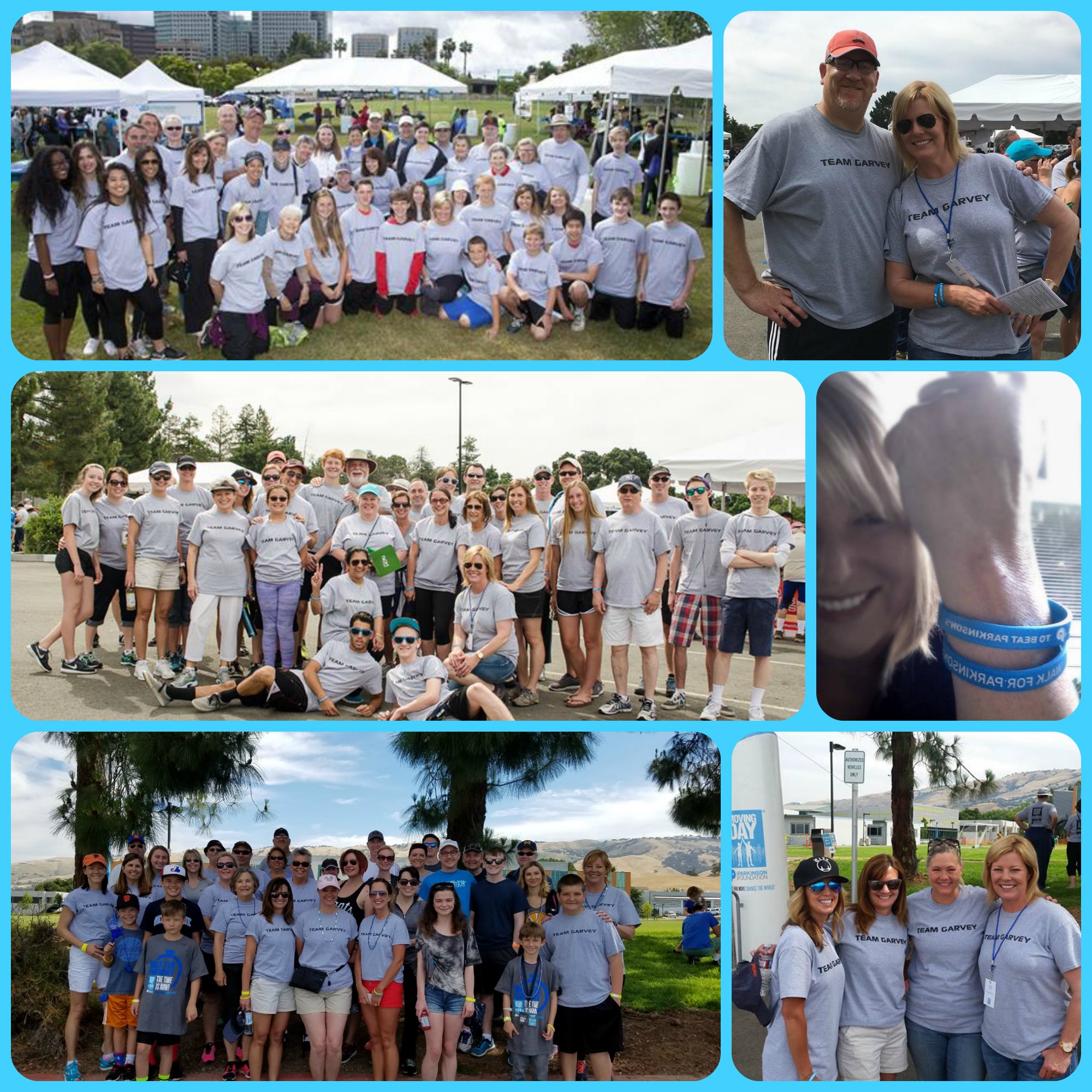 Welcome to the Team Garvey Moving Day® Page!
Let's walk to kick Parkinson's ass! This will be my 4th year walking at Moving Day in San Jose to raise awareness for Parkinson's Disease and to raise funds to support medical research and community programs for those diagnosed with PD.
Please come out and walk with the team on Saturday, June 2, at Evergreen Valley College in San Jose. The walk starts at 10:30am and takes 60-90 min; it's just under 3 miles and it's a nice loop around the campus and the fields nearby. It's easy, and it's a great way to spend a Saturday morning. Note: registration opens at 9am, although you can arrive at 10:15 and still be on time. Bring some sunblock and your comfy shoes!
We'll have new t-shirts this year, courtesy of Mojo Networks (yay!), but feel free to wear one of the originals. 🙂
You're always welcome to make a donation, even if you can't be there in person.
THANK YOU to everyone for the encouragement and support! I really, really appreciate it.
Looking forward to seeing Team Garvey 2018 on June 2!
With gratitude,
Lisa
Why I'm walking
I was diagnosed with Young Onset
Parkinson
's Disease a little over 6 years ago, just as I was about to turn 42. It pretty much sucks, in all honesty, but it's manageable with medication. What's scary to me is the degenerative nature of the disease, which is why I'd like to stop the progression of my PD.
About PD and Moving Day
I am participating in Moving Day® San Jose, benefiting the Parkinson's Foundation, on Saturday, June 2, 2018, at Evergreen Valley College.
The event will be a fun-filled, family-friendly event for all ages and abilities. We will be able to enjoy a variety of movement activities yoga, dance, Pilates, Tai Chi, boxing, stretching and much more and celebrate the importance of movement in our lives.
Please consider being a part of my team or sponsoring me, and I encourage you to get your friends, family and coworkers involved.
Thank you for helping me reach my fundraising goal to support the vital work of the Parkinson's Foundation.
Why Move for Moving Day®?
Did you know that someone is diagnosed with Parkinson's disease every 9 minutes in the United States? No one should have to face Parkinson's alone. That is why the Parkinson's Foundation provides a community of support to give people the resources and help they need to live well with Parkinson's.
Support our mission to help every person diagnosed with Parkinson's live their best possible life now. Your gift will help us fund better research, better treatment and better lives.
Join our team for the local Parkinson's Foundation Moving Day® walk, the first nationwide grassroots campaign that spotlights the disease on a national level and gives the chance to raise awareness and funds in our own community. Your support will help us continue improving the quality of care for those living with Parkinson's disease.
– To become a member of our team please select the 'Join The Team' button at the top or bottom of the page.
– To donate or visit a team members personal page please select from the 'Team Members' list at the bottom of the page.
Thank you for supporting us and the vital work of the Parkinson's Foundation.
Team Members
Please select a team member below to make a donation to this team. If you would like to make a general donation to the team, contact us.
Honor Roll
Gerald and Margaret Macedo