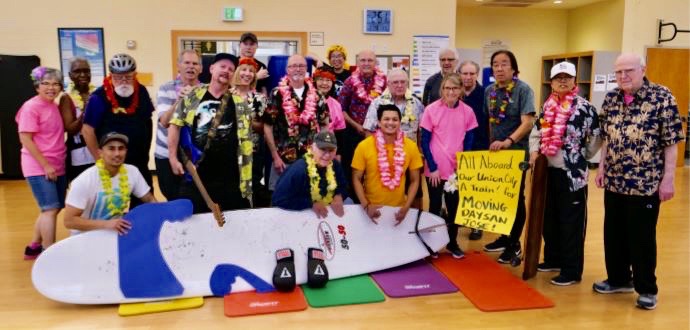 Surf's Up! Time for Moving Day! Dude, it's time to get "All Aboard the Union City A Train!" Time to say, "Wipeout, Parkinson's Disease!" Time to get our highly successful team up and riding! Destination: Moving Day San Jose 2019 at Evergreen Valley College. Surf Day: Saturday, June 1st!
This year's team theme, "Surfin' Safari" is a tribute to Dave DeGregorio, our "Awesome" and "Far Out" fellow Parkinson's boxer who together with support from his family has been meeting and beating the challenges of Parkinson's disease for over twenty five years! Dave, the quintessential "surfer" met and wooed his beautiful wife Barbara while they were both students at Santa Barbara (Dave's not one to miss a sign from the Almighty!) City College. He made a career training students from around the world to ride the waves of the latest computer technologies. With Dave and our team mates as inspiration, we will help the Parkinson's Foundation prevail against Parkinson's disease.
Besides all the fun we can have with the Surfing theme, the "Big Wave" has a serious side, too. Doctors and scientists are projecting that the number of people being diagnosed with Parkinson's disease is a public health "tsunami," with the number of diagnoses much greater than previously thought : The Parkinson's Foundation Prevalence Project estimates that 930,000 people in the United States will be living with PD by the year 2020. This number is predicted to rise to 1.2 million by 2030. Today, an estimated 10 million people worldwide have Parkinson's disease.
The Parkinson Foundation Moving Days Walks across the country help the newly diagnosed and those who have been striving to cope with the multiple symptoms of PD for many years. At Moving Day San Jose on June 1, 2019 at Evergreen Valley College, we bring everyone together to recognize that exercise and movement counts, that we are not alone, and that we can make a difference now and for the future.
GO TO MOVINGDAYSANJOSE.ORG and join or donate to team ALL ABOARD THE UNION CITY A TRAIN! Our team shortcut is "All Aboard."
Sign up for the team today and get ready to take part in our Promo Team Photo Shoot coming up in the next three weeks—Everyone is encouraged to wear their bubblegum pink shirts, open aloha shirts, shades, jams, cutoffs, flower or seed leis, and tans (real or applied!) to be photographed after Rock Steady class, right next to Dave, Barbara and…Dave's very own longboard. If you want to send me selfies with you in surfer attire and looking gnarly, please do so!
Team Members
Please select a team member below to make a donation to this team. If you would like to make a general donation to the team, contact us.
Honor Roll
Theresa Gam / Charles Koehler