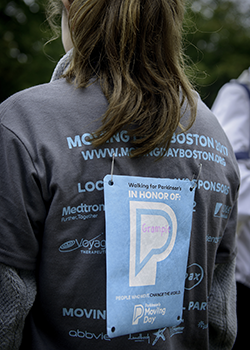 Team Captain
I made a personal donation!
I earned a Moving Day T-shirt!
$1,000 Level Fundraiser
Event:
I am participating in Moving Day® Tampa Bay, benefiting the Parkinson's Foundation, on Saturday, April 6, 2019, at the University of South Florida.
Most of you know me , but did you know I am going into my 20th year living with Parkinsons disease. The time has really gone by quickly, and we have walked a lot of miles, and raised a lot of money over the years. The awareness is starting to pick up steam but the fact is without money for research and patient advocasy, we will not reach our goal of curing this disease in my lifetime. That's just the cold, hard truth.This is not meant to alarm anyone or pity me, with proper medication, I can function to a "new normal" and still enjoy life. This is to ask you to please consider donating to our team. I am so proud to tell you we had the most walkers at last years moving day and I would love to see us hit 60 walkers this year.
The event will be a fun-filled, family-friendly event for all ages and abilities. We will be able to enjoy a variety of movement activities like yoga, dance, Pilates, Tai Chi, boxing, stretching and much more and celebrate the importance of movement in our lives.
Please consider being a part of my team or sponsoring me, and I encourage you to get your friends, family and coworkers involved.
Thank you for helping me reach my fundraising goal to support the vital work of the Parkinson's Foundation.
Why Move for Moving Day?
Did you know that someone is diagnosed with Parkinson's disease every 9 minutes in the United States? No one should have to face Parkinson's alone. That is why the Parkinson's Foundation provides a community of support to give people the resources and help they need to live well with Parkinson's.
Support our mission to help every person diagnosed with Parkinson's live their best possible life now. Your gift will help us fund better research, better treatment and better lives.
Honor Roll
Niki and Rodrigo De La Roca
AllState Giving Campaign match for Lynn Jacono
AllState Giving Campaign match for Derek Parlee
AllState Giving Campaign match for Jessica Ham
AllState Giving Campaign match for Thomas Stevens
AllState Giving Campaign match for Penny Hunter
AllState Giving Campaign match for Lauren Collins