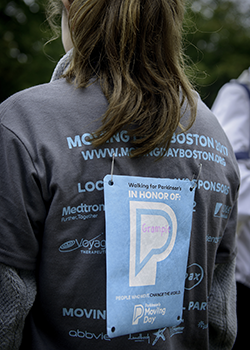 I made a personal donation!
I earned a Moving Day T-shirt!
$1,000 Level Fundraiser
Event:
This will be our 5th year participating in Moving Day® Tampa Bay, benefiting the Parkinson's Foundation. We hope you will join us on Saturday, April 6, 2019, at the University of South Florida in Tampa.
Last year, we were the #4 team nationwide, raising over $41,000!! My goal this year is $45,000. I know it is a large goal, but I believe it's achievable with your help. Being a top team gives me a voice in the Parkinson's community that I use to better the lives of others impacted with Parkinson's.
Someone is diagnosed with Parkinson's disease every 9 minutes in the United States. No one should have to face Parkinson's alone. That is why I support the Parkinson's Foundation. They provide a community of support to give people the resources and help they need to live well with Parkinson's
Before I was diagnosed with Parkinson's in 2014, I always thought Parkinson's was predominately tremors. But Parkinson's disease is so much more – it attacks your life, and the life of those that care for you. It can cause motor symptoms such as slowness of movement, tremor, stiffness and falling. But non-motor symptoms, such as cognitive changes, fatigue, sleep disorders, and vision problems are also common, which can be more troublesome and disabling than motor symptoms.
In the past 5 years, I have learned that you can either fight the disease everyday or succumb to a life no one wants. It was not a difficult decision for me to fight, and to help others fight. I have learned that to fight you must:
• Be your own advocate
• Build your support network
• EXERCISE, EXERCISE and EXERCISE some more
• NEVER GIVE UP
• And give back to help others
I hope you will support our mission to help every person diagnosed with Parkinson's live their best possible life now. Your gift will help us fund better research, better treatment and better lives.
So please give whatever you can – no matter what you can afford, every dollar counts! Please help me reach my goal of raising $45,000!
Thank you so much for all of your support, and I look forward to a successful Moving Day® on April 6th! Better Lives. Together. That's what it's all about!
Keep moving!
Scott Payne
Honor Roll
George Mattson and Barbara Vitchus
Westshore Financial Crockpot cook-off
Mr. Francis X. O'Sullivan