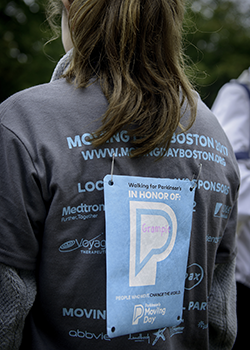 Team Captain
I made a personal donation!
I earned a Moving Day T-shirt!
$1,000 Level Fundraiser
Event:
Hello Family and Friends,
I am participating in the MOVING DAY TAMPA BAY WALK again this year, benefiting the Parkinson's Foundation on April 6, 2019, at the University of South Florida.
I have been involved with the Moving Day Walk for the past 5 years.
Moving Day Tampa Bay helps to fund programs such as Pedaling for Parkinson's and Rock Steady Boxing and many other programs offered at the Bryan Glazer JCC's and Federation and also at the south Tampa YMCA.
WHY I GOT INVOLVED:
I was diagnosed with Parkinson's Disease almost 6 years ago. Most days I struggle to get out of bed due to body stiffness and back aches. I lose my voice at times to a volume where it is difficult for others to hear, at times my handwriting is illegible.
I fight this insidious, humiliating and frustrating disease through awareness, research and
MOVEMENT.
When I see someone I know…they immediately say, "Ohhhh, how are you feeling? you look so good!" In the next couple of paragraphs I will try to explain to you how I feel. Not all of us will have all of the same symptoms. It is said "no two people with Parkinson's Disease are alike".
Parkinson's is a neurodegenerative motor disorder characterized by issues with movement such as tremors, freezing, bradykinesia (slowed movement that affects both Fine and Gross Motor Control), postural instability. Then there is Dyskinesia (abnormal or impairment of Voluntary movement), my right leg or foot just stops and then there is danger of stumbling or even falling. Also, Dystonia (prolonged muscle contractions that cause you to twist and turn repetitively mostly in your neck, face, vocal cords, arm or leg) and it could spread to any part of your body.
The list is also growing of the non-movement symptoms of this disease, such as dry mouth (causing tooth decay) dry eyes (leading to vision problems). Mood disorders, cognitive changes, fatigue and sleep disorders. The latest connection is suffering from GI symptoms, to me, this has been the most miserable symptom I've had and I have experienced almost all of the above. But when your gut is sick and nothing you do is making it better, your body feels sick all over.
I celebrate life enjoying my 4 grandchildren, my son, Michael and his wife Ashley and of course….my Tom, they make my life easier and provide the joy that helps me stay positive, optimistic, happy and humorous. With your help, I will be able to enjoy all things in life for years.
Please consider making a donation by clicking on this link https://movingdaywalk.org/wuligerteamandfamily2019, then hit the join my team button, to donate hit the DONATE to Jan button. Please join my team, to show that you are supporting me. You do not have to be there and you do not have to walk. REMEMBER…no amount is too small & every dollar counts. Thanks.
So grateful,
Jan Wuliger am participating in Moving Day® Tampa Bay, benefiting the Parkinson's Foundation, on Saturday, April 6, 2019, at the University of South Florida.
The event will be a fun-filled, family-friendly event for all ages and abilities. We will be able to enjoy a variety of movement activities like yoga, dance, Pilates, Tai Chi, boxing, stretching and much more and celebrate the importance of movement in our lives.
Please consider being a part of my team or sponsoring me, and I encourage you to get your friends, family and coworkers involved.
Thank you for helping me reach my fundraising goal to support the vital work of the Parkinson's Foundation.
Honor Roll
Michael, Ashley, Charlie, Carter, Oliver & Ellie
Aida and Charles Weissman
Phyllis and Larry Fishman
LEE, VALERIE, AARON AND ELISSA