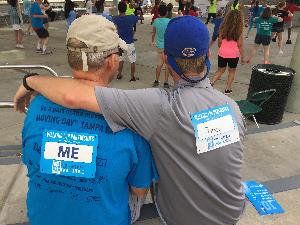 I earned a Moving Day T-shirt!
$5,000 Level Fundraiser
Event:
Welcometo Team Pops' Peeps!
I still remember one of the first days I noticed my dad's tremors. We were at Bonefish Grill 13 years ago. I looked over and saw him holding a fork and it just wobbling a little more than normal. My dad has had a tiny shake in his hand ever since I canremember. His doctor at the time checked it out and diagnosed him with Essential or Familial tremors. No big deal. As time went on, the tiny shake got bigger and bigger.
My mom finally encouraged him to visit a specialist for a second opinion. Insert the renowned Dr. Robert Hauser at USF's Parkinson's Disease and Movement Disorders Center who confirmed the Parkinson's diagnosis.
As I slowly let people in on the news we received 2 years ago, I get a multitude of responses. It is mostly people saying sorry or expressing their hurt for the news that my dad has Parkinson's. I swiftly reply to never be sad and that the diagnosis reallyhelped save his life. Since his diagnosis he has begun working out at least 4 days a week #KeepMoving, has started traveling more with his wife, and has a newfound appreciation for his family time.
Now we find ourselves walking to support such an amazing initiative to fund research for Parkinson's to ensure better treatment and better lives for those affected. This will be the second year Scott has walked in the event and the first year of Team Pops'Peeps!
Everyone is welcome to come out and walk during Moving Day on April 7 . Bring the kids, the neighbors, your favoritegrocery store cashier and that guy down the street you borrow stuff from.
And nowsome words from our sponsors (Parkinson's Foundation)…
Why Move for Moving Day?
Did you know that someone is diagnosed with Parkinson's disease every 9 minutes in the United States? No one should have to face Parkinson's alone. That is why the Parkinson's Foundation provides a community of support to give people the resources and help they need to live well with Parkinson's.
Support our mission to help every person diagnosed with Parkinson's live their best possible life now. Your gift will help us fund better research, better treatment and better lives.
Please consider being a part of my team or sponsoring me, and I encourage you to get your friends,family and coworkers involved.Thank you for helping me reach my fundraising goal to support the vital work of the Parkinson's Foundation.
Honor Roll
Match to Gasparilla weekend fundraiser
Your New York Family, The Clarks