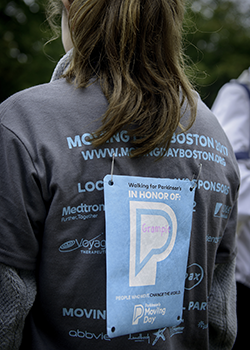 I made a personal donation!
I earned a Moving Day T-shirt!
$1,000 Level Fundraiser
Event:
I have decided to participate in Moving Day® Tampa Bay, benefiting the Parkinson's Foundation, on Saturday, April 7, 2018, at the University of South Florida.
I am a super late entrant because I was totally letting Parkinson's get the best of who I am and what I can do until this past Wednesday! Reading an article about Jimmy Choi, a marathon runner who has Parkinson's, who REALLY struggled to finish his most recent run, reminded me that I can deal with my Parkinson's STEP by STEP. I do not have to run a marathon, but I can certainly try to Walk a 5K. Step by Step!!
But only with your help and in a very short amount of time. I have appreciated the support to hold me up when I cannot do it myself. You have all been so loving and supportive every time I post something. You have no idea how much good that does my heart!! May I count on you?
Please consider sponsoring me.
Thank you for helping me reach my fundraising goal of $2100 to support the vital work of the Parkinson's Foundation. My physician happens to be the Director of Research at the University of South Florida, so I get a direct result from your contributions!
Why Move for Moving Day®?
Did you know that someone is diagnosed with Parkinson's disease every 9 minutes in the United States? No one should have to face Parkinson's alone. That is why the Parkinson's Foundation provides a community of support to give people the resources and help they need to live well with Parkinson's.
Support our mission to help every person diagnosed with Parkinson's live their best possible life now. Your gift will help us fund better research, better treatment and better lives.
So very sincerely,
Francesca McElroy
Honor Roll
Dr. Gerard J. Lemongello Jr.
Colleen O/â/'TMNeill /â/¤/ï/¸