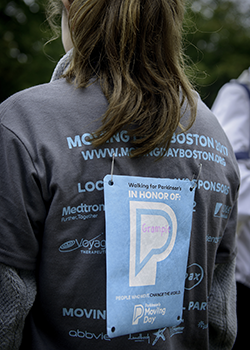 Team Captain
I made a personal donation!
I earned a Moving Day T-shirt!
$1,000 Level Fundraiser
Event:
This will be the 4th year Paul & I will be participating in Parkinsons Moving Day Tampa Bay on Saturday, April 6, 2019 at USF. Moving Day is an annual fundraising event that is fun and inspiring and unites families, friends and communities both large and small in the fight against Parkinsons disease. This celebration of movement will feature a family friendly walk course, a kids area, a caregivers relaxation tent and a special Movement Pavilion featuring yoga, dance, Tai Chi, Pilates, etc. all proven to help manage the symptoms of Parkinsons Disease. It is A day to move, a day to move others, a day that moves YOU!
Parkinson's disease is a progressive, incurable neurological disorder. There is promising research to help slow the progression of this neurodegenerative disease but, currently, all therapies used for PD improve symptoms but do not slow or halt the disease progression. Exercise continues to be one of the leading ways to help slow the progression.
Paul was diagnosed with Parkinson's Disease a little over 3 years ago. He recently completed a 2-year phase 3 clinical trial that will hopefully lead to a successful conclusion to the slow the progression of the disease. He is looking forward to participating in another trial soon.
Paul has an amazing attitude and remains determined not to let Parkinson's define his life. Although he is experiencing some progressions of the disease, Paul's fitness regime continues to be ahead of the curve. Monday thru Friday, he starts with 30 minutes of stretching and weights followed by a 3-mile walk, with an occasional run. Then together, Paul and I do a balance yoga workout followed by an 11-mile bike ride. And all of this is finished before 8:00AM. On the weekends, we are normally off at daylight for a 11-25 mile ride. Paul is my inspiration, and as he often reminds me, my perspiration.
Thanks to the generosity of our family and friends, I blew past my $3,000 fund-raising goal last year. Paul's Peloton raised over $7,300 and rounded out the top 5 teams for fund-raising in Tampa Bay. So, this year, Paul has challenged me again. Paul has committed to match my total donations dollar for dollar up to $5,000. Our team name is Paul's Peloton and thanks to Paul's nephew Mark, we even have a cool new logo. I would appreciate your donation to Paul's Peloton and the fight against Parkinson's Disease. Someone is diagnosed with PD every 9 minutes. To date, there is no cure or treatment to slow the progression. There is only symptom treatment. And for those that are local to Tampa Bay and able to join us on the walk at USF on April 6, 2019, please let me know.
Support our mission to help every person diagnosed with Parkinson's live their best possible life now. Your gift will help us fund better research, better treatment and better lives.
Honor Roll
Joyce, Mike & Darlene Avery
Barbara and John Heineken