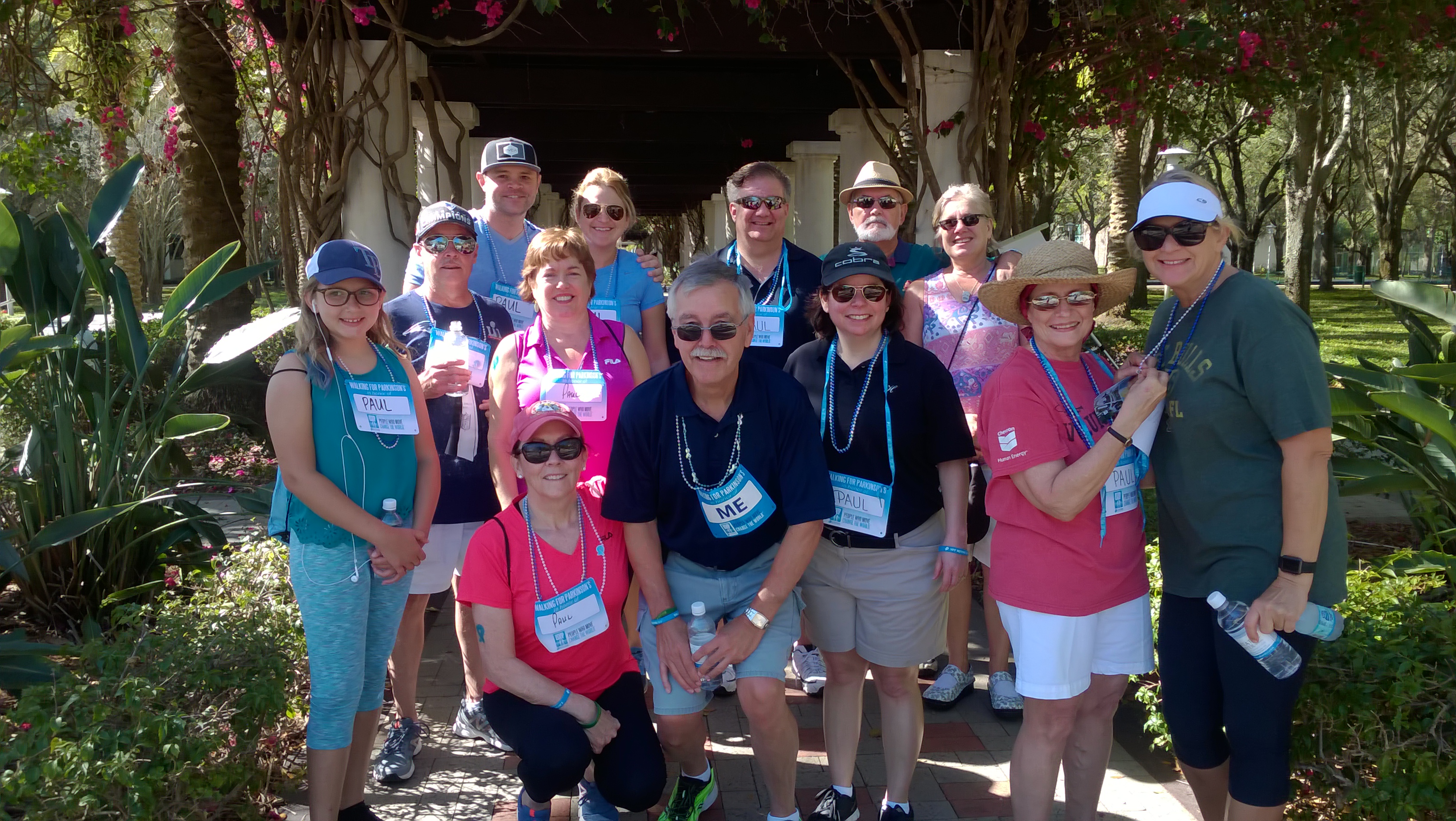 Team Captain
I made a personal donation!
I earned a Moving Day T-shirt!
$2,500 Level Fundraiser
Event:
Once again Paul & I will be participating in Parkinson's Moving Day Tampa Bay on Saturday, April 7, 2018 at USF. The event will be a fun-filled, family-friendly event for all ages and abilities. We will be able to enjoy a variety of movement activities yoga, dance, Pilates, Tai Chi, boxing, stretching and much more and celebrate the importance of movement in our lives. Parkinson's disease is a progressive, incurable neurological disorder. There is promising research to help slow the progression of this neurodegenerative disease but, to date; they are only able to treat the symptoms. Exercise continues to be the leading treatment to help slow the progression.
Paul is managing well and remains determined not to let Parkinson's define his life. He is the 2nd year of a phase 3 clinical trial that will hopefully lead to a successful conclusion to the slow the progression of the disease. Paul has an amazing attitude and continues to be ahead of the curve with his fitness regime. Monday thru Friday, he starts with 30 minutes of stretching and weights followed by a 2-3 mile run. Then together, Paul and I do a balance yoga workout followed by a 10 mile bike ride. And all of this is finished before 8:00AM. On the weekends, Paul actually sleeps in a little but we are normally off at daylight for a 10-25 mile ride. Paul is my inspiration, and as he often reminds me, my perspiration.
Thanks to the generosity of our family and friends, I blew past my fund raising goal last year. The attached picture includes most of the group that joined us in last years' Moving Day Walk. So this year, Paul has challenged me to set a $3,000 goal. Paul has committed to match my total donations dollar for dollar up to $3,000. Our team name is Paul's Peloton which seemed appropriate based on all the cycling we do. If you are able, I would appreciate your donation to Paul's Peloton and the fight against Parkinson's Disease. Someone is diagnosed with PD every 9 minutes. To date, there is no cure or treatment to slow the progression. There is only symptom treatment. And for those that are local to Tampa Bay and able to join us on the walk at USF on April 7, 2018, please let me know.
Thank you for your consideration in sponsoring Paul & I to achieve our goal to beat Parkinson's.
Honor Roll
Anthony/'s Pizza Holdings Company, LLC.