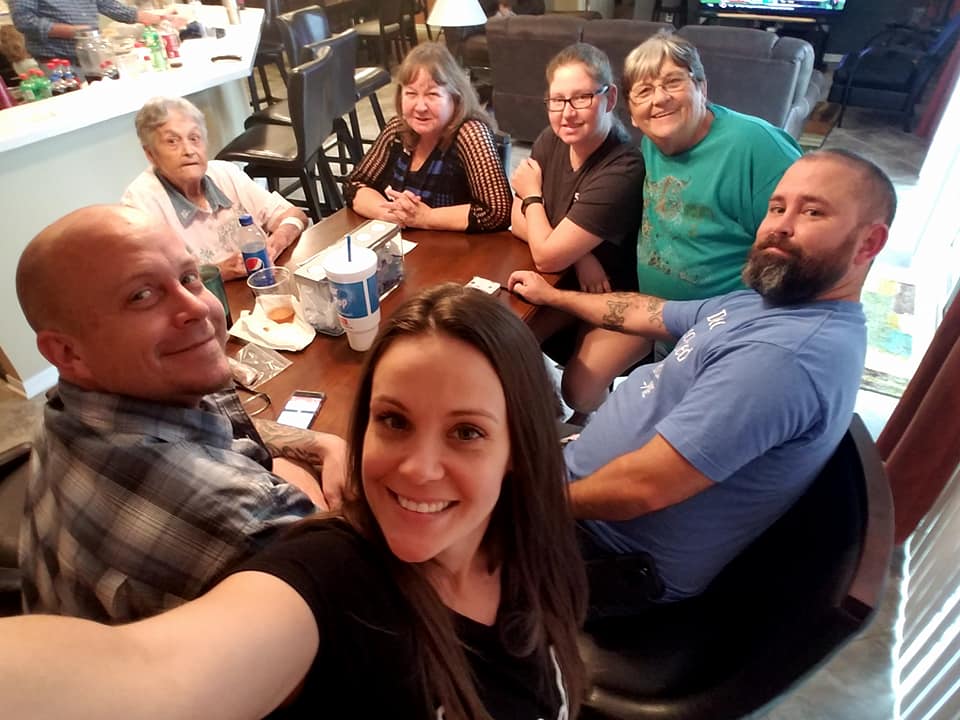 $2,500 Team Champion Level
Event:
Welcome to our Moving Day® Team Page!
If you would have told Justine 20 years ago that she wouldn't be able to walk around the neighborhood a few times a day or drive, she wouldn't have believed you. She would always walk Nicole and I to the bus stop for school and pick us up or walk us to the rec center during the summer. As far as I knew she loved walking just as much as she loved playing Solitaire. She would drive us to Dr appointments, dentist and eye appointments. If we somehow missed the bus she would take all of us to school and when it was raining she would drive us down to the bus stop. Justine and Jeannie even took Nicole and I on a road trip to Pennsylvania to visit with our cousins and on our way back we had some of them come down with us. Her van was the coolest back then because it had a T.V. and during red lights she would let us get up and change the channel real quick and it had the pilot seats/bucket seats in the middle.
Now fast forward to today and she may be able to walk as far as right passed her house but no longer able to make it around the neighborhood. Also she is no longer able to drive either so no more taking turns driving out of state with Jeannie. These are some of the things that she loved doing but has been taken from her because of the Parkinson's Disease.
We did not find out about her having Parkinson's Disease until late 2014 early 2015. We were all in shock. So not knowing anything about Parkinson's Disease, I started looking into it and what can be done, how I could help and most importantly if there was a cure. What we found out was that there is no cure and there was nothing I could do to help. That was until one day I stumbled across Moving Day where I learned that Tampa was having their 1st walk in 2015. I then didn't feel so helpless. I knew that this would be my way of helping and the only thing I could do besides praying. I signed up and told everybody I could about this walk. Every year our group gets bigger and last year we had our very own shirts made.
Since bringing awareness to Parkinson's Disease there is so much study going on about how any physical activity can help maintain or slow down the process. The physical activity is as easy as walking if they can or just moving their arms and circles and just moving their body. They are always finding different activities that helps and the one that jumps out to me the most is boxing ( I have asked her about it but she turned it down but would be fun to watch) No she doesn't even need to stand to do it. Due to all the research they have going they are learning about new drugs that also will help. There is no cure but I pray that one day that there will be.
This walk not only helps the foundation to do more research and studies but it helps me feel like I am helping my Grandma Justine.
If you have ever felt the want to help but not sure how then here is a few ways to do it, It may seem small but it means the world to us. Share the heck out of this, Sign up and walk because we love the company it is always more fun when walking in a group, and/or donate. You can do 1 or all 3 if you would like.
– To become a member of our team please select the 'Join The Team' button at the top or bottom of the page.
– To donate or visit a team members personal page please select from the 'Team Members' list at the bottom of the page.
Thank you for supporting us and the vital work of the Parkinson's Foundation.
Team Members
Please select a team member below to make a donation to this team. If you would like to make a general donation to the team, contact us.
Honor Roll
Frederick & M. Kendall Martin