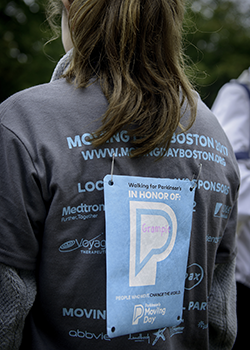 Team Captain
I earned a Moving Day T-shirt!
$250 Level Fundraiser
Event:
I am participating in Moving Day® Twin Cities, benefiting the Parkinson's Foundation Minnesota Chapter, on Saturday, May 4, 2019 in the Twin Cities walk at the Hilde Performance Center & Park. This will be the third consecutive year the Minnesota Tatera's have walked to help raise money for the Parkinson's Foundation. As many of you know, my father Frank who is pictured, battled this disease for years before passing in 2007. He never gave up his fight while living in dignity and not wanting to be a burden to those who worked so hard to support him and make him comfortable in his journey.  
The event is a fun-filled, family-friendly event for all ages and abilities. We will be able to enjoy a variety of movement activities like yoga, dance, Pilates, Tai Chi, boxing, stretching and much more and celebrate the importance of movement in our lives. Moving Day highlights movement and exercise as a symbol of hope and progress because of its essential role in treating Parkinson's disease. Our grandkids especially enjoy all the events, the "free stuff" given out and the Frankies Aces team/family lunch afterwards.
Please consider being a part of my team or sponsoring me, and I encourage you to get your friends, family and coworkers involved. As nearly one million Americans and 10 million people worldwide live with Parkinson's, the Parkinson's foundation makes life better for people with the disease by improving care and advancing research toward a cure.
Why Move for Moving Day? Did you know that someone is diagnosed with Parkinson's disease every 9 minutes in the United States? No one should have to face Parkinson's alone. That is why the Parkinson's Foundation provides a community of support to give people the resources and help they need to live well with Parkinson's. Support our mission to help every person diagnosed with Parkinson's live their best possible life now. Your gift will help us fund better research, better treatment and better lives.
Thank you for supporting the vital work of the Parkinson's Foundation.