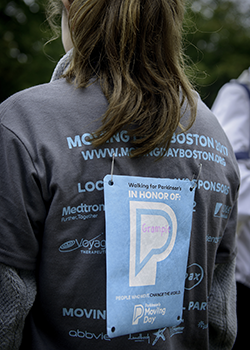 Team Captain
I made a personal donation!
I earned a Moving Day T-shirt!
$1,000 Level Fundraiser
Event:
I am participating in Moving Day® Twin Cities , benefiting the Parkinson's Foundation, on Saturday, May 5, 2018, at the Hilde Performance Center & Park.
The event will be a fun-filled, family-friendly event for all ages and abilities. We will be able to enjoy a variety of movement activities yoga, dance, Pilates, Tai Chi, boxing, stretching and much more and celebrate the importance of movement in Parkinsons.
Thank you for helping me reach my fundraising goal to support the vital work of the Parkinson's Foundation.
Why Move for Moving Day?
Did you know that someone is diagnosed with Parkinson's disease every 9 minutes in the United States? I didn't know that either. Until it became a part of our reality.
It became our reality a year ago in April. As you know we have decided to take this challenge and have it be the motivation to live life to the fullest everyday while we pray for and do what we can to support research for and education about Parkinson's.
I walk to support the love of my life, my rock. I walk because more than anything I wish I could make it better, and in walking I'm doing my part to do that.
If you can join our team we'd love that. If you can donate we would be grateful for that. If you'll continue to pray for us we will be blessed by that.
Thank you with love, Lora
Honor Roll
Maribeth and Jeff Hohenstein