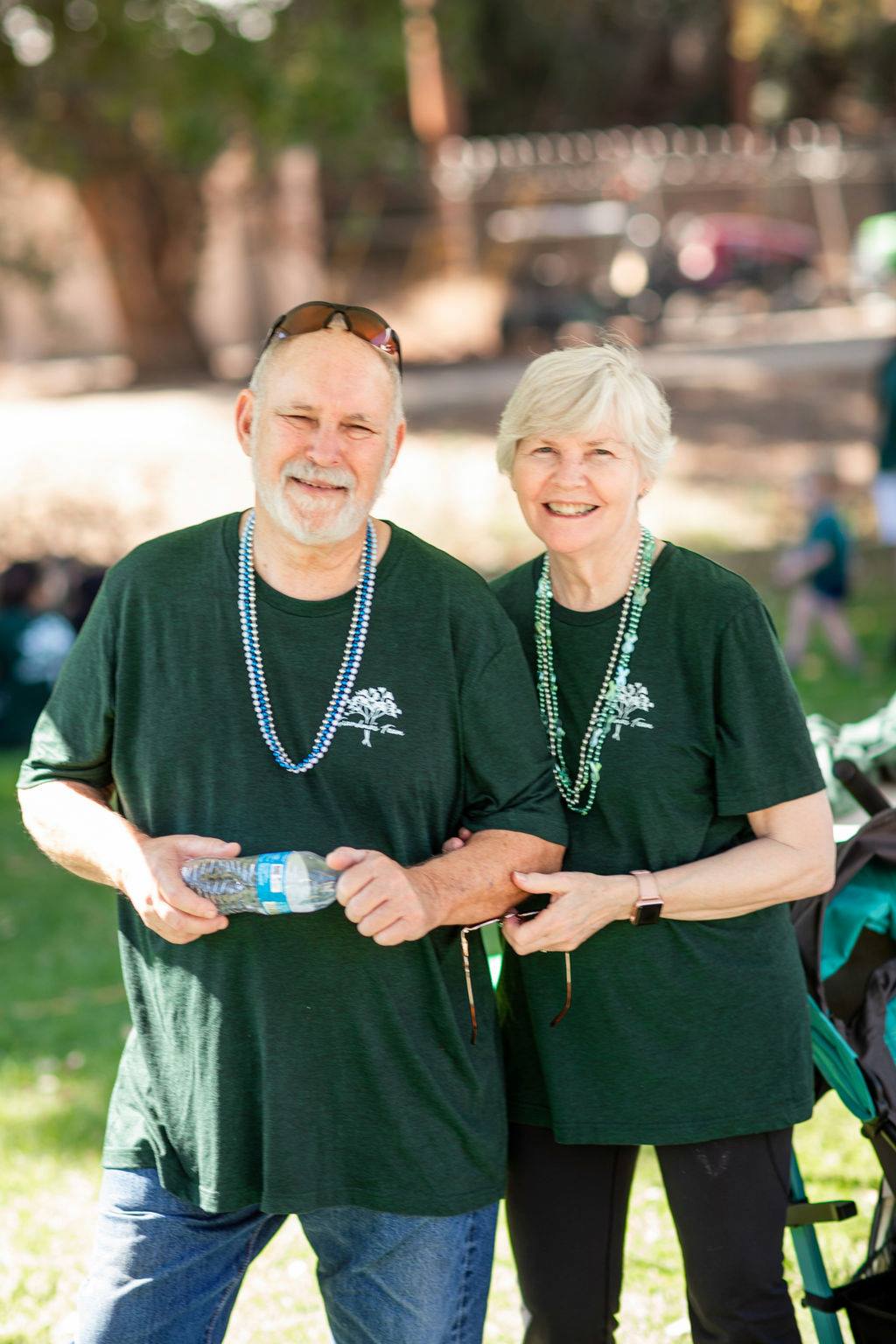 $5,000 Team Champion Level
Event:
The year Susie Medlin was diagnosed with Parkinson's disease, she and her loving husband Bill stumbled upon the Moving Day walk in Long Beach, and walked it by themselves, without a team. They just showed up to support and learn what they could about this new part of their lives. The following year (2016) Susie hesitantly mentioned it to my father and I, to see if we would be interested in going along. That same day in her own office, I started Grandma's Team. There was no mistaking how much this meant to her and how much she wanted the family to be part of it. But I could tell she needed someone else to step up and rally the troops. It just so happens that I love this sort of thing. I had my brother design T-shirts for us, and we raised a little money. We ended up being one of the top three largest groups and one of the top 10 fundraisers our first year.
The gratefulness (and perhaps awe) at the turn out of Grandma's Team for our first 5k was evident in the tears shed. So I made sure to sign us up for a similar walk (MJF Fox Trot) when it came around the following year. This October will be our fifth 5k as Grandma's Team; another opportunity to show my Grandma our support.
Having done both walks twice now, I have a great love and appreciation for the National Parkinson's Foundation and their mission. While it is great (and important!) to raise money for research, it is also important not to forget about those living with this disease right now. Did you know that Parkinson's Patients have a harder time when admitted to the hospital? They have to take their medication on time and if that isn't communicated correctly to every medical personnel in charge of them, they could miss a necessary dose of the medicine that is combating their deterioration. The National Parkinson's Foundation, with our help(and yours!), is able to provide kits free of charge to anyone diagnosed with Parkinson's Disease, that enable them to clearly and effectively, (with little effort on their part) communicate their very special needs to hospital personnel.
This is only one of the fabulous things this foundation does to help people like My Grandma (who has her own kit) live better happier lives.
This Year's Moving Day LA 5k is taking place on Sunday October 21st at the Park Center, Griffith Park. We want this to be our best walk yet. I'm hoping with your help we can be the top fundraiser this year!
All gifts are tax deductable, and will help us fund better research, better treatment and better lives.
Thank you for taking the time out of your day to read this. I hope to see your name on our donation list!
And if you would like to join us for the 5k itself: the more the merrier!We are always looking for new recruits to grow our team. (Although my generation seems to be popping out a new "walker" every other month! :P). Please check your calendars and pencil us in on Sunday, October 21, 2018, at the Park Center, Griffith Park: we would love to have you come join us in supporting the wonderful woman that is my Grandma Susie. 
The event will be a fun-filled, family-friendly event for all ages and abilities. We will be able to enjoy a variety of movement activities yoga, dance, Pilates, Tai Chi, boxing, stretching and much more and celebrate the importance of movement in our lives.
With lots of Love,
Sadie McCoy
Team Captain & Granddaughter
Grandma's Team 
– To become a member of our team please select the 'Join The Team' button at the top or bottom of the page.
– To donate or visit a team members personal page please select from the 'Team Members' list at the bottom of the page.
–Join our facebook group @ https://www.facebook.com/groups/1879540145594706/  for updates and pictures of our previous walks! 
Team Members
Please select a team member below to make a donation to this team. If you would like to make a general donation to the team, contact us.
Honor Roll
T-shirt and Sweatshirt Fundraising
Phillip M. Ramos, Jr., CEO & Founder - Philatron International
Conveyor Service & Electric
Weld Engineering & Fabrication Inc.
Baker Metal Polishing Co., Inc.
Grande Vista Steel & Metal Supply Inc