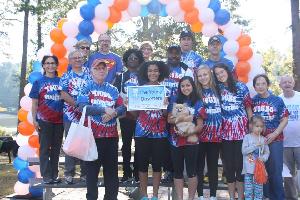 Welcome to our Moving Day® Team Page! We represent the friends and famiiies of People with Young (and Young Spirited) Onset Parkinson's Disese We have been a team since the inception of the Triiangle Moving day in 2013 and have raised more than 70,000 for the Parkinson's Foundation, surpassing our target every year, and been among the top 5 teams every year. So let's keep the streak going!
In the United States, 50,000-60,000 new cases of Parkinson's disease (PD) are diagnosed each year, adding to the one million people who currently have PD. Young Onset Parkinson's Disease (YOPD) is defined as PD onset < 50 y.o. and ~ 10% of all cases of PD (1,000,000 nationwide). There are special needs for those diagnosed with YOPD as they generally remain as active as possible, working, raising children, and may have to support their children through college.
Join our team for the local Parkinson's Foundation Moving Day® walk, the first nationwide grassroots campaign that spotlights the disease on a national level and gives the chance to raise awareness and funds in our own community. Your support will help continue improving the quality of care for those living with Parkinson's disease.
? To become a member of our team please select the ?Join Team? link.
? To donate or visit a team members personal page please click on their name under the Team Roster.
Thank you for supporting us and the vital work of the Parkinson's Foundation.