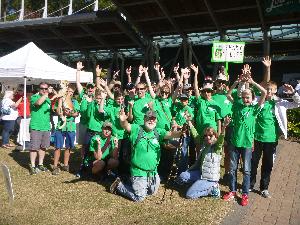 $2,500 Team Champion Level
Event:
Dear Shaky Cheese Team Members (and Potential Team Members),
My name is Jim Morris, and I am travelling the Shaky Cheese path of Parkinson's Disease. Many of you already know me, some as James Morris, some as Jim, some as Jamie, some as Mr. Morris, or Mr. Morris' son. Others know me as Dad, or Jay's Dad, or Will's Dad, or Mom's (or, rather, Ann's) Husband. Thank you for the continued love and friendship and support you shared with me individually, and with the Shaky Cheese Team.
To some of you, I may be a new entity, just as you may be new to me. Thank you for your interest in checking out the Shaky Cheese Team web-page, and for considering joining the Team, participating in the upcoming activities, and for donating your time and resources to fight Parkinson's Disease.
Old and new, all of these names identify me, Jim Morris. For the fifth straight year as captain of the Shaky Cheese Team, I am participating in Moving Day® NC Triangle, benefiting the National Parkinson Foundation, on Sunday, October 1, 2017, at Koka Booth Amphitheatre.
Why move for Moving Day? Parkinson's Disease is a movement disorder. I think of it as a disconnect between my muscles, tendons, and bones (who all move beautifully together when correctly told to move, and hold still peacefully when appropriately told to rest), and their instruction center in my brain. Instead, for me with Parkinson's, the muscles, tendons, and bones seem to pick random, inappropriate times for movement. And it seems that they never rest, EXCEPT when I want them to move, and then they move in a manner that is sometimes random, or uncoordinated, or both! The movement is certainly not always (or sometimes even often) what I'm intending or needing. It can be exhausting! However, it seems that the more I can keep moving intentionally (one of the key treatments for Parkinson's Disease), the slower the impact of the disease on my life.
Someone is diagnosed with Parkinson's disease every 9 minutes in the United States. No one should have to face Parkinson's alone. That is why the National Parkinson Foundation provides a community of support to give people the resources and help they need to live well with Parkinson's. The goal of Moving Day is to help every person diagnosed with Parkinson's live their best possible life now. Donations help fund better research, better treatment and better lives.
Moving Day will be a fun-filled, family-friendly event for all ages and abilities. We will be able to enjoy a variety of movement activities – yoga, dance, Pilates, Tai Chi, boxing, stretching and much more – and celebrate the importance of movement in our lives.
For the previous four Moving Days, the Shaky Cheese Team added its own flavor to the event. As members of the Shaky Cheese Team, we will again celebrate movement in our lives by:
• Start the morning off with a Boy Scout-led hike into Koka Booth Amphitheatre for the Moving Day Celebration from nearby Hemlock Bluffs Nature Preserve, and
• Stretch out from the hike, and gain focus and energy, by doing Tai Chi during the warm-up for the Main Moving Day event, and
• Join the Moving Day Walk around Regency Lake in support of the fight to find more and better treatments for people with Parkinson's Disease. The 2-mile loop will combine with the 3-mile hike in from Hemlock Bluffs to complete a 5-mile Boy Scout hiking advancement requirement, and then
• Stay after the event and help the Boy Scouts break down and clean up the grounds (which help meet a Boy Scout service requirement).
The Shaky Cheese Team will have a good time doing good deeds. Please consider being a part of the Shaky Cheese team, or simply help sponsor the team (or me, or one of the many other team members) through your donation. I encourage you to multiply your support by getting your friends, family and coworkers involved.
Thank you for helping the Shaky Cheese Team reach our fundraising goal to support the vital work of the National Parkinson Foundation.
Sincerely,
James (Jim, Jamie, Son, Dad, Mr.) Morris
Son, Husband, Father, Friend, Colleague, Teammate,
Designer, Planner, Assistant Scoutmaster
Shaky Cheese Team Captain
Team Members
Please select a team member below to make a donation to this team. If you would like to make a general donation to the team, contact us.
Honor Roll
Michael, Susan, Jonah, and Faye Stock