IMPORTANT INFORMATION FOR MOVING DAY BUFFALO
Click here for the full event day details.
Moving Day Schedule:
9:00 a.m. – Registration, Refreshment Tent, Kids' Zone, Mission Tent, Resource  Pavilion open
9:30 a.m. to 10:30 a.m. – Movement Pavilion
10:45 a.m. – Welcome and Warm-Up for Walk
11:00 a.m. – Opening Ceremony and Walk Begins (Ribbon Cutting at Balloon Arch)
12:45 p.m. – Closing Ceremony, Top Team Award Presentation
1:00 p.m. – Close
Movement Pavilion Schedule:
9:30 a.m. – PDdance with Cynthia Pegado
9:50 a.m. – Tai Chi
10:10 a.m. – PWR!Moves
11:30 a.m. – Drum Circle
IN ADDITION TO THE WALK, WHAT ELSE CAN I DO?

Click here for a printable version of the map.
The walk is just one part of Moving Day Buffalo. There are many other activities at Moving Day:
Volunteers' Tent (1) – Volunteers will be able to pick up their volunteer T-shirts and lanyards.
Registration Tent (2) – Here you will be able to register if you haven't already or check-in if you already did. As well as donate and/or drop off donations, pick up your Moving Day T-shirts if you have met the fundraising minimum, and ask any questions about the event.
Sponsors' Tents (3) – Meet with our sponsors and learn about the opportunities they provide for the Parkinson's community.
Kids' Zone (4) – Activities for the younger set including carnival games and a visit by Miss Pockets, who will be entertaining the crowd and making fun balloon sculptures.
Movement Pavilion (5) – Get moving at our signature pavilion! Here's an opportunity for everyone to try out many Parkinson's-friendly exercises led by trained professionals.
Parkinson's Foundation Mission Tent (6) – Learn about all the free resources, educational materials, programs, and training available from the Parkinson's Foundation. Fill out a Walk Bib to honor loved ones and show why Moving Day is important to you. Visit the Parkinson's Connection Station to get free beads that you can wear to show your connection to Parkinson's disease.
Parkinson's Experience (7) – The place to experience what having Parkinson's may feel like to some people.
Caregiver's Corner (8) – A special area for caregivers to receive information and massages.
Resource Pavilion (9) – Visit with local businesses and organizations providing services to the local community and people with Parkinson's.
Food & Water Tent (10)
Walk Route: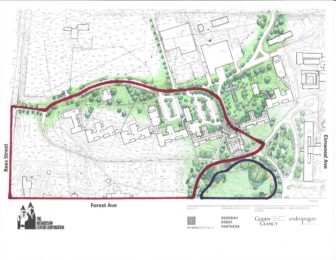 Click here for a printable version of the map.
HELPFUL REMINDERS
When should I register for Moving Day and is there a registration fee?
Register online at movingdaybuffalo.org for easy check-in the day of walk. If you don't register online prior to the event, please visit the Registration Tent upon arrival. There is no registration fee for Moving Day. However, we ask every participant to make a personal donation and commit to raising funds for the fight against Parkinson's disease.
How do I get a T-shirt? Can I buy one?
Every registered participant will receive a T-shirt on walk day after achieving the fundraising minimum of $100.
Directions?
The event is located at the Richardson-Olmsted Campus, 400 Forest Avenue, Buffalo, NY 14213. Click here for Google Maps driving directions. When you arrive follow the Moving Day signs.
Where do I park?
For parking, please access the Richardson-Olmsted Campus via Elmwood Avenue between Rockwell Road and Forest Avenue. Attendants will be there to assist you. Shuttles will be available only from the Richardson-Olmsted parking lots. Parking will also be available on Forest Avenue and nearby side streets. Parking for Moving Day is not allowed anywhere on the Buffalo State Campus. This includes Rockwell Road. Tickets for violators may be issued.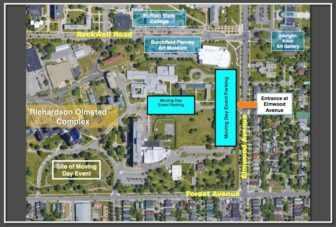 Click here for a printable version of the map.
Will there be food or beverages?
Water and other light refreshments will be available on walk day.
Is Moving Day rain or shine?
Moving Day is rain or shine, so please dress appropriately! Be sure to check the weather forecast so you can prepare accordingly. If conditions warrant any change, announcements will be made on the Moving Day website or before the morning of the event.
When is the cutoff to qualify for fundraising incentives?
After the event has taken place, you will have an additional 30 days to collect donations and qualify for an incentive prize. But you can continue fundraising and turn in donations up to 60 days after Moving Day.
Can I donate at Moving Day?
Cash, check and credit card donations will be accepted on walk day at the Registration Tent.
After the event, checks and matching gift forms can be sent to:
Parkinson's Foundation Western New York Chapter
ATTN: Moving Day Buffalo
2805 Wehrle Drive, Suite 12
Williamsville, NY 14221
*Please include a note indicating the walker and team to which to credit the donations.