IMPORTANT INFORMATION FOR MOVING DAY JACKSONVILLE
Click here for the full event day details.
Moving Day Schedule:
| | |
| --- | --- |
| 9:00 a.m. | Registration and Moving Day Festival Activities Open |
| 10:30 a.m. | Welcome and Opening Ceremony |
| 10:45 a.m. | Walk Begins |
| 11:30 a.m. | Closing Ceremony and Awards |
| 12:00 p.m. | Close |
Movement Pavilion Schedule:
9:15 a.m. – 10:30 a.m.

Chair Yoga
Instructor: Nancy Rathburn
Tai Chi
Instructor: Duffy McCoy and Eric Hunt
Exercise Roulette
Instructor: Jackie Osborne
PWR!
Instructor: Melanie Lomaglio
Dance for Life
Instructor: Cari Coble
Boxing
Instructor: Kristen Gray
11:00 a.m. – 11:30 a.m.
PWR!
Instructor: Melanie Lomaglio
Venue Map: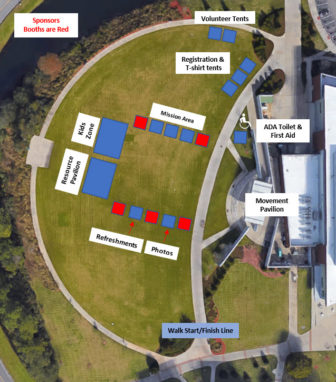 Click here for a printable version of the map.
The walk is just one part of Moving Day Jacksonville. There are many other activities at Moving Day:
Parkinson's Foundation Mission Tent – Learn about all the free resources, educational materials, programs, and training available from the Parkinson's Foundation. Fill out a Walk Bib to honor loved ones and show why Moving Day is important to you. Visit the Parkinson's Connection Station to get free beads that you can wear to show your connection to Parkinson's disease.
Stage & Movement Pavilion – Home of the Opening and Closing Ceremonies and our signature Movement Pavilion with exercise demonstrations to get you moving! Here's an opportunity for everyone to try out many Parkinson's-friendly exercises led by trained professionals.
Resource Pavilion – Visit with local businesses and organizations providing services to the local community and people with Parkinson's.
Sponsor Booths – Meet with our National and Local Sponsors to learn about the opportunities they provide for the Parkinson's community.
Team Photo Area – Gather your team together for group pictures!
Kids Zone – Activities for the younger set to keep the whole family entertained
HELPFUL REMINDERS
Walk Route:
Our event is a non-competitive fun walk and includes a long and short walk route. The long route is 1.5 miles long and stays on paved sidewalks on the UNF campus. The long route is handicap accessible, and there is one water station on the route. The short route is 1/2 mile long and stays on paved sidewalks around the festival area. Please see the map below for this year's walk routes.
As an alternative to participating in the walk, attendees may enjoy exercise demonstrations adapted for people with Parkinson's at the Movement Pavilion.
Short Route ½ mile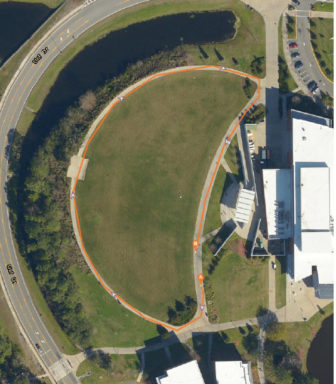 Click here for a printable version of the map.
Long Route 1.5 miles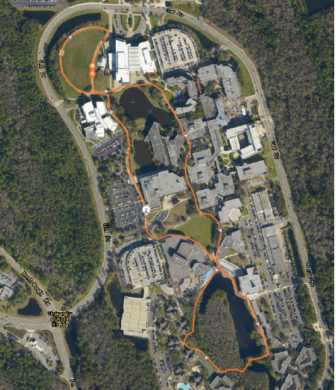 Click here for a printable version of the map.
Directions:
The event is located at the University of North Florida's Coxwell Amphitheater pictured below. Click here for Google Maps driving directions. When you arrive follow the Moving Day signs.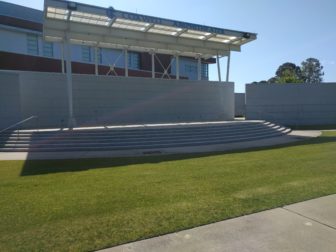 Parking:
Free parking is available at Garage 38 next to the UNF Student Union building. Our venue at the Coxwell Amphitheater is located on the opposite side of the UNF Student Union building.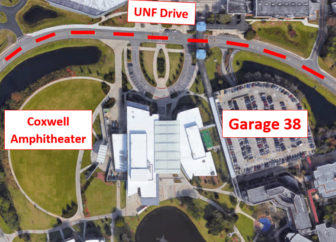 Click here for a printable version of the map.
When should I register for Moving Day?
Register online at www.movingdayjacksonville.org for easy check-in the day of walk. If you don't register online prior to the event, please visit the Registration Tent upon arrival.
What is the registration fee?
There is no registration fee for Moving Day. However, we ask every participant to make a personal donation and commit to raising funds for the fight against Parkinson's disease.
Do I have to visit the Registration Tent? What if I registered online?
Yes. We ask that everyone in attendance stops by the Registration Tent, even if you've already registered online. It's how we'll provide you with important information including last minute updates.
How do I get a T-shirt? Can I buy one?
Every registered participant will receive a T-shirt on walk day after achieving the fundraising minimum of $100. They are not for sale.
I have donations to turn in. Can I do that on walk day?
Of course! Please drop them off at the Registration Tent when you arrive. We'll be accepting cash, check, and credit card donations at Registration.
When is the cutoff to qualify for fundraising incentives?
After the event has taken place, you will have an additional 30 days to collect donations and qualify for an incentive prize. But you can continue fundraising and turn in donations up to 60 days after Moving Day.
What should I tell people who don't want to donate online?
Please make checks payable to Parkinson's Foundation. Include Moving Day Jacksonville and your name on the memo line so we can properly credit the funds to you. Donations can be mailed to:
Attn: Moving Day Jacksonville
Parkinson's Foundation
200 SE 1st Street, Suite 800
Miami, FL 33131
Will there be food or beverages?
Water and other light refreshments will be available on walk day.
Is Moving Day rain or shine?
Moving Day is rain or shine, so please dress appropriately! Be sure to check the weather forecast so you can prepare accordingly. If conditions warrant any change, announcements will be made on the Moving Day website or before the morning of the event.