At Moving Day Knoxville the Parkinson's Foundation TNKY Chapter is pleased to recognize Dr. Christopher Tolleson from Cole Center at University of Tennessee.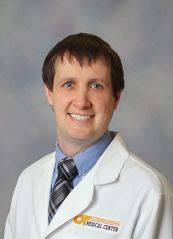 Dr. Tolleson completed his fellowship in Movement Disorders at Vanderbilt University (a Parkinson's Foundation Center of Excellence) in 2011 and has been serving the PD community it East TN since 2017 where he worked with Dr. Michelle Brewer at The Cole Center. Dr. Tolleson enjoys most the relationships he and his team develop with the patients they work with and walking alongside each of them as they combat PD. Dr. Tolleson has been instrumental in expanding the care team at The Cole Center for people with Parkinson's, adding Moving Disorder Specialist and a DBS program, as well as research and clinical trials.
We are looking forward to walking with Dr. Tolleson and the team from The Cole Center at the University of Tennessee on May 21st. You can join their team by clicking here.