IMPORTANT INFORMATION FOR MOVING DAY ORANGE COUNTY
To download a printable version of the event day details click here.
Activities Schedule
Time
 
9:00 a.m.
Registration, Refreshment Tent, Kid's Area, Mission Tent, Resource Pavilion open
9:20 a.m.
Movement Pavilion Begins
10:05 a.m.
Opening ceremony begins

– Welcome from Foundation Staff, Lauren Williamson (10:05 a.m.)

– Speech from Dr. Kenneth Martinez (10:08 a.m.)

– OC Tremble Clefs Introduction from Lauren Williamson (10:12 a.m.)

– Performance by the OC Tremble Clefs (10:15 a.m.)

10:30 a.m.
Walk Begins
12:00 p.m.
Closing ceremony begins

– Closing remarks/thank you/passport winner announced by Foundation Staff, Lauren Williamson

12:10 p.m.
Event Ends
Movement Pavilion Schedule
| | |
| --- | --- |
| Time | Movement Pavilion Activity |
| 9:20 a.m. – 9:40 a.m. | PWR! Moves – Alyx Abel, Memorial Care Long Beach Medical |
| 9:40 a.m. – 10:00 a.m. | Fight Club Rock Steady Boxing – John Mercurio |
| 10:45 a.m. (during walk) | Rock Steady South Orange County – Gretchen Westgaard and Lauren Simmons |
| 11:15 a.m. – 11:35 a.m. | RX Ballroom Dance – Erin Drake |
| 11:35 a.m. – 11:55 a.m. | Relaxing Stretches – Gina Quintana, Dance for Parkinson's Disease at MemorialCare Orange Coast Medical Center |
Registration: To register online for Moving Day, go to www.movingdayorangecounty.org. You can register in person at the Registration Tent on walk day. We strongly encourage everyone to register pre-event. There is no registration fee; however, we encourage all participants to raise at least $100 to receive an official 2019 Moving Day shirt on walk day. Fundraise $250 or more to receive an exclusive Moving Day water bottle on walk day. Walk participants can earn additional fundraising rewards. Please visit our Fundraising Rewards page for more information.
All participants that have pre-registered must check-in at the Registration Tent on walk day.
Directions: The event is located at the Segerstrom Center for the Arts at 600 Town Center Drive, Costa Mesa, CA 92626. When you arrive, please follow the Moving Day signs.
Parking:
PARKING AT SEGERSTROM – $12 (cash or card)
Parking at the Segerstrom Center's Center Tower Parking Structure is the closest and most convenient place to park. Segerstrom is located at 600 Town Center Drive, Costa Mesa, 92626. Their lot can be accessed from either Town Center Drive via Bristol or Park Center Drive via Sunflower (see the black star on map below), and the walk from the structure to the event site is very short.
As you enter from those streets you will see a large circular fountain, you may also drop anyone off here before you park if you would like (see the blue star on map below).
This is the parking location we most recommend. It is $12, which can be paid via cash or card.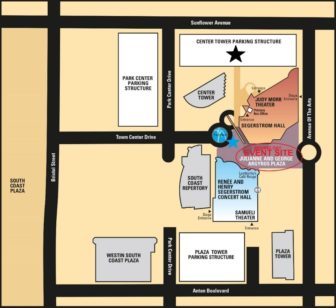 FREE PARKING
If you prefer to not pay for parking, we have secured a free lot, generously donated by Experian. The Experian structure is located at 475 Anton Blvd, Costa Mesa, 92626. This parking is free but be advised that it is a about a half mile walk to/from the event site at the Segerstrom Center.
From Anton Blvd, turn on to Experian Way, across from the Enclave apartments. Continue towards the parking structure. Visitors can park on any floor. The elevator is on the northeast side of the structure.
To walk back to the Segerstrom Center: exit parking structure to Anton Blvd and walk left (towards Enclave Apartment Homes sign). Continue on Anton, you will pass Flower Street, keep walking and then turn right on Ave of the Arts, which will lead to the plaza on your left. These streets are typically quiet but please walk carefully and watch for traffic.
Walk Route: The Moving Day walk is for participants of all ages and all abilities. The full walk is 2 laps, which is just under 3 miles. There is a short cut-off option at ½ mile, and one lap is just over 1 mile.
Site Map:
The walk is just one part of Moving Day Orange County. There are many other activities at Moving Day:
Registration & Check-in (#1) – Come check in for your event wristband, to turn in any donations, and pick up any rewards you've earned.
Resource Pavilion & Local Sponsor Spotlight (#3) – Visit with local businesses and organizations providing services to the local community and people with Parkinson's.
Sponsor Row (#5 & #6) – Meet with our Sponsors and learn about the opportunities they provide for the Parkinson's community.
VIP Breakfast Tent (#2) – A special area for our top fundraisers.
Team Photo Area (#7) – Gather your team together for group pictures!
Parkinson's Foundation Mission Tent (#8) – Learn about all the free resources, educational materials, programs, and training available from the Parkinson's Foundation. Fill out a Walk Bib to honor loved ones and show why Moving Day is important to you. Visit the Parkinson's Connection Station to get free beads that you can wear to show your connection to Parkinson's disease.
Movement Pavilion (#3) – Get moving at our signature pavilion! Here's an opportunity for everyone to try out many Parkinson's-friendly exercises led by trained professionals.
ADA Restrooms: ADA restrooms will be available.
Top Fundraiser Breakfast: All participants that have raised $500 or more and the top three teams (as shown online) as of 11:59 p.m. on Thursday, June 6 are invited to join us at the breakfast.
Refreshments/Snacks: Water, snacks, and Suja Juice will be available complimentary for all attendees. Additional food for purchase is available from the Segerstrom café and The OC Juice Truck.
Dogs: Friendly dogs are allowed if they are kept on leash for the entire event and cleaned up after.
Rain or Shine: Moving Day takes place rain or shine! Be sure to check the weather forecast and prepare accordingly. If conditions warrant any change, announcements will be made on the Moving Day website.
Donations: Cash, check and credit card donations will be accepted on walk day.
Donations can be mailed to the address below prior to or after Moving Day.
Parkinson's Foundation
Attn: Moving Day Orange County
200 SE 1st Street, Suite 800
Miami, FL 33131
Please make checks payable to the Parkinson's Foundation. We ask that you include a note with your donations indicating the participant and/or team the donation(s) should be credited to.