After having one of the best groups of Moving Day Buffalo Committee members in 2019, we wanted to showcase the importance of these members to our foundation by interviewing Allison Walsh, one of our volunteer coordinators for Moving Day Buffalo 2019. Here are some of her thoughts on the event and getting involved with our organization!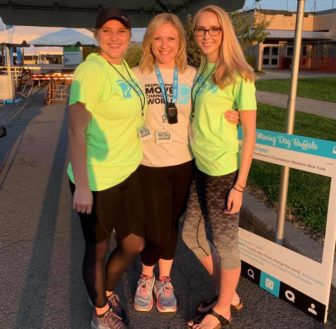 Allison explained that she became involved with the Parkinson's Foundation because, "While working largely with the Parkinson's population as a Speech-Language Pathologist and as a Rock Steady boxing coach, I strove to become an advocate for the estimated 60,000 Americans who are diagnosed each year. I found that there was a significant lack in public knowledge of the physical and mental challenges that are associated with the disease, as well as the treatment/resources available outside of standard medication."
She first learned of Moving Day Buffalo after becoming a Rock Steady Boxing coach for individuals with Parkinson's disease. The group she coached was very devoted to increasing community awareness and encouraged her to become a part of Moving Day.
Allison was more than a volunteer at Moving Day Buffalo. She was a member of our planning committee, co-handling all the volunteers for the event. She highly suggests getting involved with the committee and said  "No matter what your connection is to Parkinson's or how much or little time you have to volunteer, there is always a way to help- whether it be passing out flyers, fundraising, or volunteering at the event, we will find a role for you!"
Allison has other experience volunteering with different organizations and after getting involved with Moving Day Buffalo and making connections within our foundation, she plans on working with some of our support groups. She would like to share her knowledge as a Speech-Language Pathologist along with increasing the awareness of the benefits of boxing.
Allison's suggestion for how to get involved with the Parkinson's Foundation or Moving Day Buffalo is to jump into it! We have very flexible hours and are always open to working with anyone's schedule to make it work. Allison said that she hesitated at first because she wasn't sure she had the time, but after speaking with Chris, he let her know that she could attend Moving Day Buffalo meetings whenever she was free and it turned out that she had more time than she first thought. She also encourages anyone interested to visit Parkinson.org to learn more about PD and to find different ways to get involved.