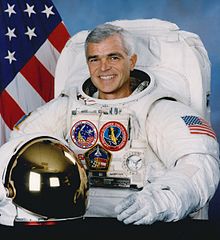 All registered team captains for Moving Day NC Triangle 2019 will be invited to join us on Thursday, August 22, 2019 from 6pm – 8pm for our MD NC Triangle Team Captain 'Lift Off' event with guest speaker Retired NASA Astronaut, Richard Clifford.  Rich will share his video, "The Astronaut's Secret" and discuss how he dealt with his diagnosis of Parkinson's Disease. Team Captains will be able to bring a guest.
If you haven't registered your team please go to movingdaynctriangle.org and register.  If you have registered your team and want to attend this 'free' event, please RSVP to Diana Parrish at dparrish@parkinson.org or call her at 336-817-4190.
Thank you to Medtronic for sponsoring this event!