To help us get moving for our October 3rd event, we are sharing another fun challenge that involves BINGO! Who would have thought we could add BINGO to a virtual walk…or that we could plan a walk virtually!
WHAT?! Get in the Moving Day spirit by joining our Moving Day Boston BINGO challenge to have a chance to win a prize!
HOW DO I WIN? Download, print or save the Moving Day Boston BINGO sheet and mark off boxes as you complete challenges.  For every row you complete (vertical, horizontal, or diagonal), you will be entered into a drawing for the grand prize. The more rows you complete, the more chances you receive! Once complete, snap a picture or scan the sheet and then email or text it to Sam by midnight October 5th to qualify.
BINGO! WHAT DO I WIN? A fun time! Also, a chance to win a $250 gift card from our friends at Oru Kayak!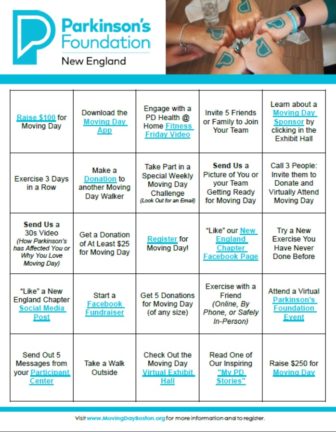 Click the link here: https://movingdaywalk.org/cms/wp-content/uploads/2020/09/Moving-Day-Boston-Bingo-2020.pdf