Thank You!
A very heartfelt THANK YOU to everyone that made a donation, walked with us, volunteered or otherwise supported the Parkinson's Foundation at Moving Day Winston-Salem! The beautiful weather coupled with the excitement and passion of nearly 500 participants made for a perfect day, and together we raised over $83,000 (and counting) in the fight against Parkinson's!
Congratulations to each and every person who worked so hard and made this event so special. We want to extend a very special thanks to our outstanding planning committee led by our fearless Event Chair Diana Parrish. Their hard work and tireless efforts ensured our very first Moving Day Winston-Salem was a huge success.
Moving Day Winston-Salem Volunteer Committee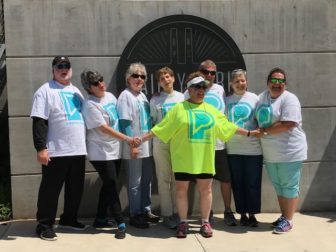 Pictured left to right: Bubba Parrish, Diana Parrish, Carol Gearhart, Camille Jones, Julie Bradwell, Keith Lawson, Judy McGill, and Pam Hill
Not pictured: Greg & Jackie Brewer and Jessica Tate
THANK YOU!
Looking for your team photo? You can find your team photos on our Facebook page here.