This is it! This weekend, the Moving Day San Diego PD community will come together to fight Parkinson's and celebrate movement. Because of you, we will further fund the largest clinical study of Parkinson's in the world and expand our free resources and programs.
How much does it cost to participate?
There is no fee to register for Moving Day, but we ask that everyone considers fundraising at least $100. Your donations and fundraising efforts help support the Parkinson's Foundation as well as funding programs in the local San Diego area.
Where does the money go?
Moving Day supports vital research and free Parkinson's Foundation initiatives like:
Helpline – 1-800-4PD-INFO (473-4636)
Rainbow Books
Aware In Care Kits
Expert Briefings
Online Library
Substantial Matters (PF Podcasts)
Ask the Doctor Forums
Near Me feature
A portion of the funds raised will also be made available for use in the local San Diego PD community. To see what types of programs these funds support, visit our Moving Day Bay Area grants page!
What types of organizations will be in the Resource Pavilion?
We have a little sampling from organizations throughout the greater San Diego area. Medical groups like UCSD, national events like World Parkinson's Congress, local resources and more! You can also visit our sponsor booths for a wide variety of materials and companies with information on PD. The full listing of companies will be available here as soon as they are finalized.
How can my organization become a part of the Resource Pavilion?
Organizations interested in becoming a part of the Resource Pavilion should reach out to walk coordinator Colleen Fischer at cfischer@parkinson.org or call her at 415-367-4045.
How can my company become a sponsor of Moving Day?
Companies interested in supporting Moving Day should reach out to walk coordinator Colleen Fischer at cfischer@parkinson.org or call her at 415-367-4045.
Here are some day-of details you don't want to miss:
Registration: Registration, check-in and event activities begin at 9 AM. ALL PARTICIPANTS MUST CHECK-IN WHEN YOU ARRIVE. Any friends or family joining you who have not signed up yet, can do so at the registration tent. If they want to speed up their experience have them fill out this Registration Form before they arrive.
T-Shirt Pick-Up: Registered participants who have raised $100 or more can pick up their Moving Day T-shirt at the event. The $100 is based on individual fundraising and not team fundraising amounts. You will receive your coupon to redeem at the t-shirt booth when you check-in at registration. Only one t-shirt is awarded per participant who meets the fundraising minimum. Additional incentives like sunglasses and top team prizes will also be made available for pick-up at the t-shirt booth. Please contact Colleen Fischer for questions at 415-367-4045 or email cfischer@parkinson.org.
Donations: Cash, check, and credit card donations will also be accepted on the day of the walk. These can be turned in at Registration upon arriving. You must fill out a donation envelope in order to turn in donations on site. These can be picked up at the registration tent.
Directions: The event is located at Liberty Station NTC Park – Preble Field.  Please enter the following address into your device: 2455 Cushing Rd., San Diego, CA 92106 (Closest intersection – Roosevelt Rd. at Cushing Rd.). Upon arrival, Moving Day signs will direct you to the event area. There will be space to drop off guests before heading to park.
Parking: Parking is available in the lots on the waterfront side of Cushing Road. Moving Day parking is also available in Lot J where the Point Loma Sports Club is located. Click here for a printable version of the parking map.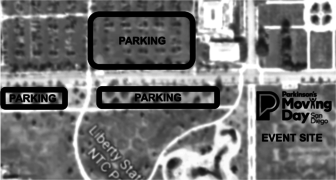 Handicapped Parking: Handicapped parking for those with decals or hanging tags will be available in the lots adjacent to the park. Spots are limited.
Food/Beverages: Fresh fruit and granola bars will be available before and during the walk. Ice water stations will be set up at the event site and along the route.
Weather: Moving Day takes place rain or shine! It is expected to be partly cloudy and cooler on Saturday. Please dress accordingly.
Can I bring my dog?
Well-behaved dogs are welcome on a leash. And of course, please make sure you clean up after your pet.
Fundraising Incentives: You have 30 days after the event to continue fundraising. If you raise $500 or more, you will receive an incentive certificate email 5 to 6 weeks after the event, to redeem online.
Please mail checks and matching gift forms received after the event to:
Parkinson's Foundation
ATTN: Moving Day San Diego
200 SE 1st Street, Suite 800
Miami, FL 33131
Please include a note with your team name and walker name so the donation is credited to you and your team or fill out THIS FORM for each donation you are sending to our national office.
How long is the walk?
There's a choice of walking a one-mile or three-mile route. We will be walking the paths on the perimeter of NTC Park. There will be groups of cheerleaders and water stations along the route to ask for assistance, and help keep you hydrated. If guests are not comfortable walking there will be a seated demo during the walk so they can keep MOVING! Click here for a printable version of the walk route.
What can I do before the walk?
Grab some continental breakfast items at the food tent. Chat with our National Partners and Local Sponsors. Visit with all of the incredible medical teams and companies in our Resource Pavilion.
Pick up your Moving Day T-shirt if you qualify for one.
Join in for a couple of classes in the Movement Pavilion.
What is a Movement Pavilion?
The Movement Pavilions are tents that will house exercise instructors teaching various classes of Parkinson's specific movements. While the classes are geared to PD, anyone in attendance can join and MOVE with us any way they want. Demonstrations include classes like, boxing, dance, yoga, Tai Chi, and more!
Event Agenda

9:00 AM – Registration Opens/Resource Pavilion/Movement Pavilion opens
9:30 AM – Movement Demonstration #1 (Stage) – Rock Steady Boxing – Brady Rein with Rock Steady Boxing Poway
9:50 AM – Movement Demonstration #2 (Stage) – PWR! Moves® with Marylene Kuhlmann of Rock Steady Boxing San Diego
10:15 AM – Opening Ceremony (Stage)
10:30 AM – Walk Begins
10:45 AM – 30-minute seated class for those with limited mobility. Instructor Melisa Newlin of the SDSU Adaptive Fitness Clinic.
11:30 AM – Most walkers have completed the course
11:45 AM – Closing Ceremonies start, Passport Prize winners drawn, and Top Teams announced. Event site and vendors stay open to celebrate with music that will MOVE your feet.
12:30 PM – Event ends when all walkers have completed their walk laps and exited the course.
What can I do after the walk?
Stick around for the closing ceremony to hear who were our top teams for 2018, and watch the drawing for the passport prizes at noon!
Setup a picnic in the adjacent park area for your team to continue celebrating after the walk concludes.
Make some new friends!
Celebrate movement!
Once the walk is concluded, take advantage of the Liberty Station area and visit any of the local shops and restaurants nearby.
Special thanks to Parkinson Disease and Movement Disorder Center
National Sponsor Tents

AbbVie
Adamas
Boston Scientific
Impax Labs
Medtronic
Right at Home
Sunovion
Parkinson's Foundation Mission Tent

Order Parkinson's Foundation materials like books, fact sheets, Aware In Care kits and more.
Select and wear the mardi-gras beads that highlight your connection to Parkinson's.
Craft your walk bib with the name of the loved one you are walking for.
Learn about the various Parkinson's Foundation programs and how you can get involved.
Resource Pavilion Vendors

Resource Pavilion 1
Alexander Technique – Poise Project
Monica Novoa
US WorldMeds
Abbott
Resource Pavilion 2
Acadia
Tremble Clefs
SDSU Adaptive Fitness Clinic
Please contact us if you have any questions or need assistance. We will see you this weekend!