Event Details
Date: Saturday, June 8, 2019
Location: Weinberg YMCA in Waverly, 900 E. 33rd Street, Baltimore, MD | MAP
Registration opens: 8:30 a.m. | Walk start time: 10:30 a.m.
Contact: Tami Brown | ph: 301-329-2673 | tbrown@parkinson.org
Website: www.parkinson.org
Time
 
8:30 a.m.
Activities Begin

Movement Pavilion

Resource Pavilion

Sponsor Row

Kids Zone

9:00 a.m.
WERQ
9:30 a.m.
NovaCare Rehabilitation
10:00 a.m.
Opening Ceremony and Warm up
11:30 a.m.
Performance by ParkinSonics
12:00 p.m.
Closing Ceremony/Passport Drawing
**Line up subject to change**
MOVEMENT PAVILION ACTIVITY STATION
9:05 a.m. – 10:05 a.m.     10:30 a.m. –12:00 p.m.
Stretching
Chair Yoga
Rock Steady Non-Contact Boxing
Pedaling for Parkinson's Spin Cycles
SPONSOR ROW WILL HIGHLIGHT
• Acadia Pharmaceuticals
• Acorda
• Adamas
• Amneal
• Boston Scientific
• Lundbeck
• Medtronic
• Right at Home
• Sunovion
• US World Meds
• Vertical Pharmaceuticals, LLC
RESOURCE PAVILION WILL HIGHLIGHT
• Johns Hopkins Parkinson's Disease and Movement Disorders Center
• AbbVie
• University of Maryland School of Medicine
• NovaCare Rehabilitation
• Merritt Athletic Clubs, LLC.
• Sinai Hospital
Registration: To register online for Moving Day, go to www.movingdayBaltimore.org. Although, you can register on walk day at the Registration Tent, we strongly encourage everyone to register pre-event. There is no registration fee; however, we encourage all participants to raise at least $100 to receive an official 2019 Moving Day shirt on walk day. Fundraise $250 or more to receive an exclusive Moving Day water bottle on walk day.  Walk participants can earn additional fundraising rewards. Please visit our Fundraising Rewards page for more information.
All participants must check-in at the Registration Tent on walk day.
Directions: The event is located at the Weinberg Y at 900 E 33rd Street, Baltimore MD.
Parking: Parking is available across the street in the John Hopkins University at Eastern located at 1101 E 33rd Street Baltimore, MD 21218.
Walk Route: We are offering a short route and a longer route that is just over a mile.  Both routes begin and end at the Arch.  The shorter route is on the sidewalk and loops the Memorial Stadium and the 1-mile route is also on the sidewalk and loops the surrounding streets of the YMCA – down 33rd St, left on Ednor Rd., left on 36th St., left on Ellerslle Ave, left on 33rd and back into the YMCA entrance.  If you're looking for a longer route, feel free to loop either route twice.
Site Map: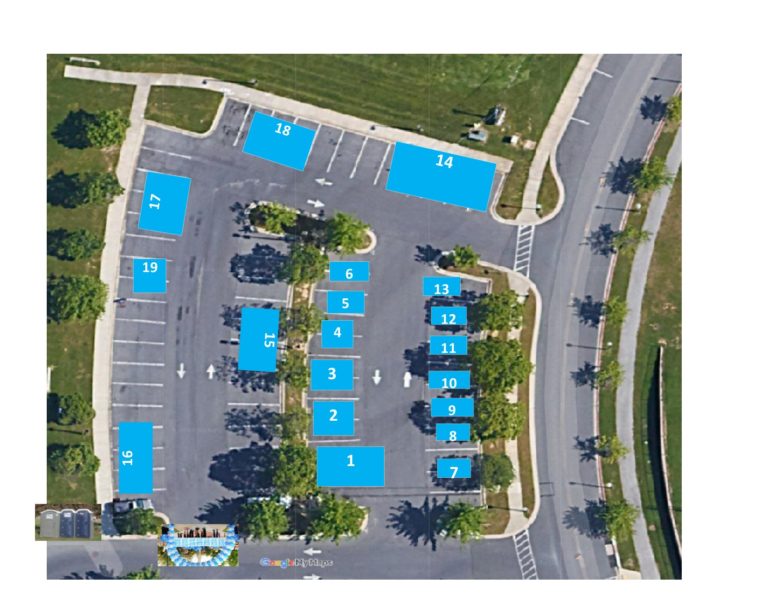 The walk is just one part of Moving Day Baltimore.  There are many other activities at Moving Day:
Resource Pavilion (#14) – Visit with local businesses and organizations providing services to the local community and people with Parkinson's.
Sponsor Row (#4 – #13) – Meet with our National Sponsors and learn about the opportunities they provide for the Parkinson's community.
Stage (#16) – Home of the Opening and Closing Ceremonies, the Stage is also party central.
Kids Zone (#19) – Painting and coloring for the younger set
Mission Tent (#3) – Learn about all the free resources, educational materials, programs, and training available from the Parkinson's Foundation. Fill out a Walk Bib to honor loved ones and show why Moving Day is important to you. Visit the Parkinson's Connection Station to get free beads that you can wear to show your connection to Parkinson's disease.
Movement Pavilion (#18) – Hosted by Movement Disorder Education and Exercise & Weinberg YMCA Cycling. Get moving at our signature pavilion! Here's an opportunity for everyone to try out many Parkinson's-friendly exercises led by trained professionals.
Rewards Center (#2) – Redeem Moving Day rewards here.
VIP Tent (#16) – All participants that have raised $500 or more and teams that have raised $5000 or more by May 25th, are invited to join us for a continental breakfast. Your Moving Day Staff partner will provide additional details soon.
Refreshments/Snacks (#17) –

Healthy snacks and water will be available in the Refreshment Tent.
ADA Restrooms: Just pass the Arch.
Rain or Shine: Moving Day takes place rain or shine! Be sure to check the weather forecast and prepare accordingly. If conditions warrant any change, announcements will be made on the Moving Day website.
Donations: Cash, check and credit card donations will be accepted on walk day.
Donations can be mailed to the address below prior to or after Moving Day.
Parkinson's Foundation
Attn: Moving Day Baltimore
200 SE 1st Street, Suite 800
Miami, FL 33131
Please include a note with your donations indicating the participant and/or team the donation(s) should be credited to.
---
To learn more about the resources in your area, and the great work of the Parkinson's Foundation, please visit our website www.parkinson.org.
Click here for volunteer opportunities.
If you have any questions about Moving Day®, are interested in sponsorship opportunities or would like information about the foundation, please contact us below:
Tami Brown | ph: 301-329-2673 | tbrown@parkinson.org
Mailing address:
ATTN: Moving Day Baltimore/ Tami Brown
Parkinson's Foundation, Inc.
200 SE 1st Street, Suite 800
Miami, FL 33131