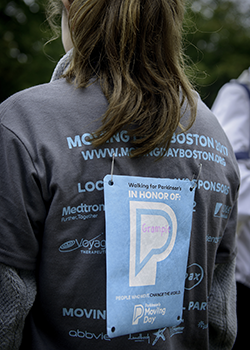 I earned a Moving Day T-shirt!
$1,000 Level Fundraiser
Event:
~ PARKINSON'S FOUNDATION ~
** MOVING DAY **
2018
~ Welcome from The Cender Family ~
Hello again to all my family & friends,
I'm baaaaack!
I can't believe how quickly time flies and that it was one year ago this June when I started my 5th year fundraising for GREGG'S GANG and The Parkinson's Foundation.
In that year, the GOOD news is that I became a grandma (Nana) for the very first time to my deliciously adorable grandson, Chase Nathaniel. The BAD news is that we still have not found a cure for this debilitating & deteriorating disease called Parkinson's. (PD)
Unless you're a new sponsor to me this year (which I am very grateful for) most of you, by now, are aware of why I initially became involved in this worthy cause. To briefly recap… My daughter-in-law's dad, GREGG SOBEL, was diagnosed almost six years ago with PD at the young age of 56. I became involved in the Parkinson's Foundation right after his diagnosis.
Therefore, for the 6th consecutive year, I am once again honored to dedicate my time and effort to our team, GREGG'S GANG to help raise awareness & research funds for this worthwhile cause. My hope is that you will generously sponsor me, and possibly even walk with us for this year's
MOVING DAY WALK
on Sunday,Nov. 4th at the FAU stadium. The event will be a fun-filled, family-friendly event for all ages and abilities. The walk will take place at approximately 10:00 am. Thanks to all of your incredible generosity in the past,
I am proud to say that I was the #1 fundraiser for GREGG'S GANG all 5 years in a row & the
#1 fundraiser in ALL of Boca Raton 4 out of 5 years. Let's try to make that 5 out of 6 this year, please!
Humbly, I am again asking you, your friends, family & coworkers to dip into your pockets and help us fight this debilitating disease that has affected so many of us & our lives… and also claimed the lives of so many others. PD's two newest victims, Neil Diamond & Alan Alda now join the ranks of Michael J. Fox, Mohammed Ali, Janet Reno, Charles Schultz, Salvador Dali & former President George H.W. Bush to name just a few.
Please go to my DIRECT LINK: movingdaywalk.org/pamcender to sponsor me and give whatever you can… every dollar, big & small, helps!
With heartfelt gratitude,
Pam Cender
Honor Roll
Therma Seal Roof Systems, LLC
Nick Felicione Inc Pest Control
Sheila and Richie Isaacson
Cipora Brown and Steve Feiner
Rita Stein Schwartz and Victor Schwartz
Linda and James Filenbaum
Beverly and Robert Glazer
Joanna Schmitz and Family