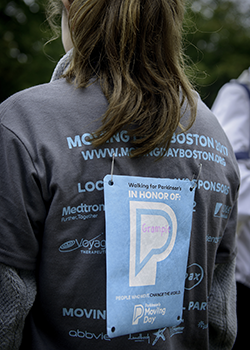 Team Captain
I made a personal donation!
I earned a Moving Day® T-shirt!
$2,500 Level Fundraiser
Event:
About 4 years ago , I noticed numbness and tingling in my arm. I went to the doctors and he diagnosed me with sciatica. He prescribed me me a steroid, but because I was still nursing my son I refused to take it. Over the course of the next year, the sensations traveled up the left side of my body, I began losing motor skills, had a hard time typing, was in massive amounts of pain, I had intense anxiety and my body was constantly tremoring. I went back to the doctors, and the doctors response was not good. He told me something was definitely wrong. He sent me to the Cleveland Clinic to see a neurologist. After seeing three neurologists and six months of extensive testing, I was diagnosed with Parkinson's Disease at 34 years old.

I was at a loss of words. This didn't make sense to me. Right after diagnosising me, the doctor said I needed three things to survive this disease- a positive mindset, a healthy lifestyle and a support system. At that moment, I knew WHY Coaching was put into my life! It was my duty to use this obstacle as an opportunity to inspire others to never give Up!

Welcome! I hope that I, at least in part, can inspire YOU to never give up on your life- no matter what obstacle comes your way!

I am participating in Moving Day® Boca Raton, benefiting the National Parkinson Foundation South Palm Beach County Chapter, on Sunday, November 5, 2017 at FAU Stadium.
The event will be a fun-filled, family-friendly event for all ages and abilities. We will be able to enjoy a variety of movement activities yoga, dance, Pilates, Tai Chi, boxing, stretching and much more and celebrate the importance of movement in our lives.
Please consider being a part of my team or sponsoring me, and I encourage you to get your friends, family and coworkers involved.
Thank you for helping me reach my fundraising goal to support the vital work of the National Parkinson Foundation.
Why Move for Moving Day?
Did you know that someone is diagnosed with Parkinson's disease every 9 minutes in the United States? No one should have to face Parkinson's alone. That is why the National Parkinson Foundation provides a community of support to give people the resources and help they need to live well with Parkinson's.
Support our mission to help every person diagnosed with Parkinson's live their best possible life now. Your gift will help us fund better research, better treatment and better lives.
Honor Roll
Tracy Haynes-Kenneth Kisieleski