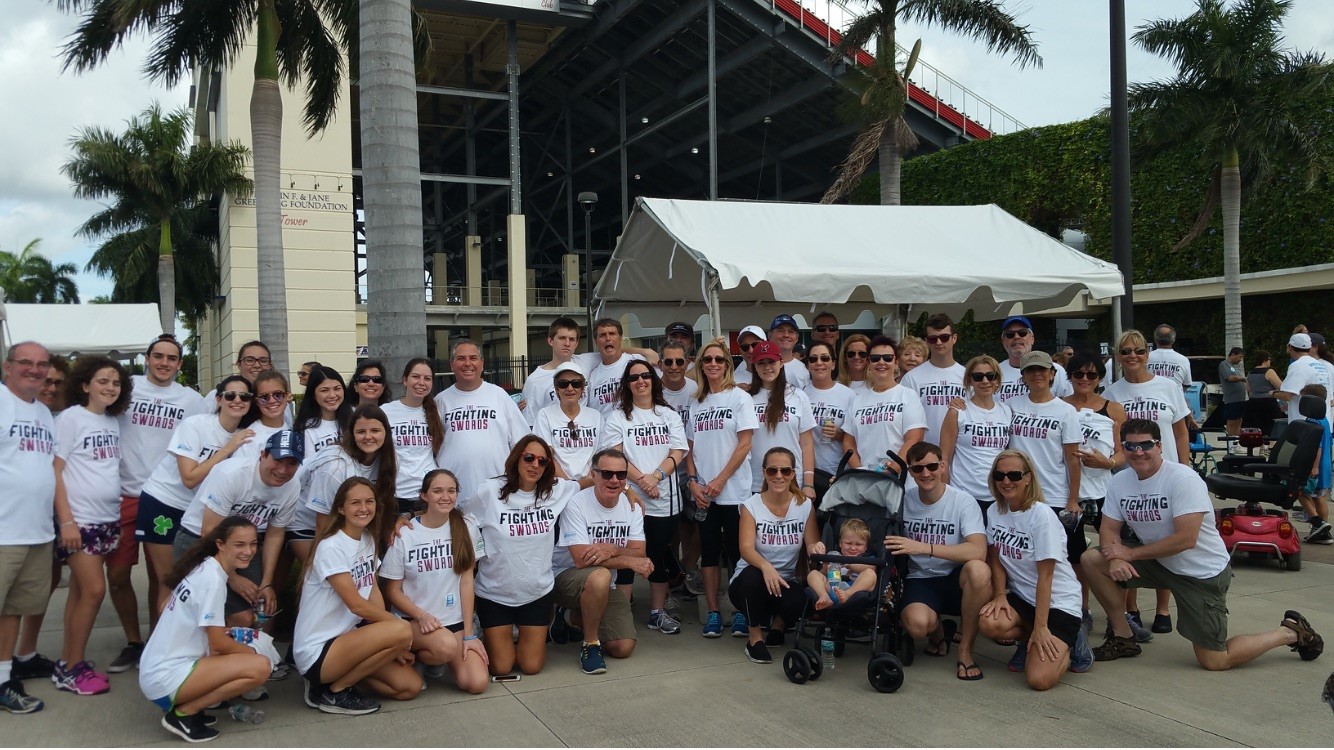 $10,000 Team Champion Level
Event:
Dear Friends and Family,
On Sunday November 5th, I will be participating again in the Moving Day walk for the South Palm Beach Chapter of the Parkinson's Foundation. This will be the fifth walk that our Team — The Fighting Swords — has participated in.
You may have heard it before, but our friends and family generosity humbled me.
The purpose of this event, along with the mission of the Parkinson's Foundation is to raise awareness of Parkinson's Disease. At the office in Boca Raton, classes are offered several times a week that focus on maintaining a quality of life. These classes not only help the patient but also caregivers. It is also a way for patients and caregivers to socialize, which is very important in combatting depression, which can affect 70% of Parkinson patients.
I was diagnosed with PD almost nine years ago, just after my 48th birthday. Like a lot of PD patients, the diagnosis hit me hard. I look back at that time in my life and realize I would have benefitted if I had known about the PF. Today when I meet newly diagnosed patients I try to help them based on my diagnosis. Very few things in life are better than helping a person who is willing and needs help in dealing with such a serious diagnosis.
The Moving Day event will take place on Sunday, November 5th and will last from 8AM to 11AM. It will involve a short walk around the FAU football stadium, in addition to many vendors, music, exercise that targets PD patients, etc. You can register at the link below or at the event entrance on the day of the event. As I've mentioned before, staying active, exercising (mentally and physically) is critical in combatting this disease. The foundation also uses some of the money that is raised towards research.
We have a saying that 'someone knows someone' that has PD. My goal since I joined the Parkinson's Foundation is to raise awareness of this disease and to also help other patients, particularly those people who have been recently diagnosed. The initial diagnosis can be tough to swallow, but that can be eased by seeing a neurologist and physical therapist that specialize in movement disorders
You can also join my team or donate by clicking the donate or register button's above.
Checks can also be mailed to: Parkinson's Foundation ? 21301 Powerline Road ? Suite 303 ? Boca Raton, Florida 33433 ? Also the office can do credit card payments by phone if you prefer 561-962-1702
Thank you for your friendship and Support!
Regards, Ciaran
Team Members
Please select a team member below to make a donation to this team. If you would like to make a general donation to the team, contact us.
Honor Roll
Bill and Zoraida Anderson
Christopher Warren and your friends at Lawless, Edwards & Warren
Julie, Joe, and Autumn Asen
Matching gift from Benevity Comm. Impact Fund for Paul Kramer in support of Ciaran Swords.
Diane McGravey & Paul Kramer
Chris and Lorraine Piazza