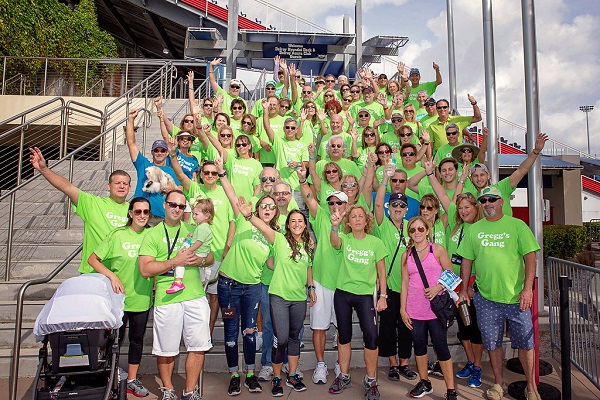 $10,000 Team Champion Level
Event:
Welcome to Gregg's Gang Moving Day Team Page!
HERE WE GO AGAIN,
Gregg and I want to welcome you to our Team Page and encourage you to join Gregg's Gang and collect donations on our team's behalf for the National Parkinson's Foundation Boca Raton Moving Day Walk.
This is the 5th year that we will be walking and Gregg and I are excited to be kicking off our team's efforts to raise donations for this extremely important cause.
This has been a challenging year for Gregg but he has couragously faced the difficult days with perserverence and dignity, as well as humor and I as his wife and best friend couldn't be prouder of him.
In the United States, 50,000- 60,000 new cases of Parkinson's Disease (PD) are diagnosed each year, adding to the 1 million people who are currently afflicted with this debilitating illness.
Each and every day is a challenge for those stricken with Parkinson's Disease, and through the National Parkinson's Foundation we hope to raise awareness and funding to help improve the quality of life for those living with Parkinson's Disease and hopefully, God willing, someday find a cure.
The Moving Day Walk is Sunday morning, November 5 at FAU Stadium- details to follow!
Please consider joining Gregg's Gang and help us through donations, sponsoring you, from family and friends as you walk for our team on Moving Day.
Donations made will go towards funding the much needed research into better treatments and medications for those who are trying to live life to the fullest with this horrific illness.
To become a member of our team, please select the Join Team link
To donate or visit a team members personal page please click on their name under the Team Roster
Thank you for supporting us and the vital work of the Parkinson's Foundation.
With love and true appreciation, Cindy
Team Members
Please select a team member below to make a donation to this team. If you would like to make a general donation to the team, contact us.
Honor Roll
Jonathan, Melissa,Alayna and Julia
Donald and Linda Ushkowitz
Helene and Steve Shaevitz
Thomas and Susan Policano
Alex Cender & Jason Miller
Sheila and Richie Isaacson
Sheila And Bill Rosenthal
Andy, Matt and Sophie Kaplan
Jesse Sobel & Marie Peterson
Russell and Maria Izenman
Nick Felicione Inc Pest Control
Rita Stein & Vic Schwartz
Edward and Eleanor Lepselter
paul and barbara silverman
Lynnette and Dan Goldberg
Richard and Cynthia A. Biagioni
Joel and Rosalie R. Feinberg
Seymour and Harriet Lichtenstein
Beverly and Robert Glazer
eileen & matthew goldstein
Eileen & John Lukaszewski
Anthony and Stacy Valenti
Charles and Susan Florman