Event Details
Date: Sunday, May 6, 2018
Location: Nova Southeastern University (Gold Circle Lake) | MAP
Registration opens: 8:00 a.m. | Walk start time: 9:45 a.m.
Contact: Dreema Stokes | ph: 305-537-9919 | dstokes@parkinson.org
Chapter Website: www.parkinson.org/southflorida
Moving Day Broward has raised over $52,000 and counting!
We would like to thank everyone that participated in Moving Day Broward 2018. The beautiful day coupled with the excitement and passion of everyone who attended made it for a great day to fight Parkinson's. Your hard work and dedication helped us surpass our goal! Many thanks to each committee member, sponsor, team, resource partner, instructor and volunteer who gave their time, talent, and support to this important movement. Sending each of you our heartfelt appreciation for helping the Parkinson's Foundation make life better for people living with Parkinson's.
Join us in thanking our national partners: Right at Home, Sunovion, Medtronic, Impax, AbbVie, Boston Scientific, ADAMAS, Lundbeck. Thank you to our local sponsor Nova Southeastern University, Memorial Neuroscience Institute, Abbott and Holy Cross Hospital Phil Smith Neuroscience Institute and our in-kind sponsor Panera Bread
And EVERYONE who came out to make the event so very special! THANK YOU!
We are still accepting donations. Please send checks and matching gift forms to:
Parkinson's Foundation
ATTN: Moving Day Broward
200 SE 1st Street
Miami, FL 33131
What to do and when to do it!
8:00 am Registrations Opens
8:30-9:00 am Warm Up
8:30-8:45 Tai Chi – Broward Health
8:45-9:00 Ageless Grace – David Ponack JCC
9:00-9:30 am Opening Ceremony & Awards
South Florida Cloggers Performance
10:00 am Walk starts
10:15-10:20 Music
10:20-10:35 Rocksteady Boxing at Mar JCC
10:35-10:50 Speech Therapy – NSU
10:50-11:05 Dance Exercise: Memorial Healthcare System
11:00-11:15 LSVT BIG – NSU
11:15-11:30 Activity
11:30 am End of event
*Schedule subject to change
Helpful Reminders
Registration: To pre-register, please have all your team members registered before, Friday, May 4. Team members can also register at the event.
T-Shirt Pick-Up: REGISTERED participants who have personally raised $100 or more will receive the official Moving Day incentive T-shirt. Donations will also be accepted onsite.
Site Map: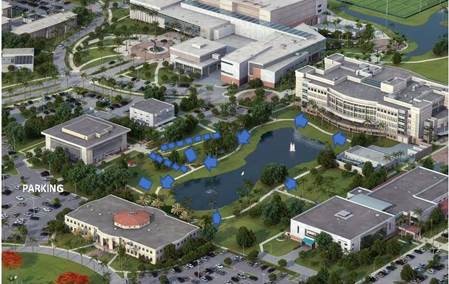 Directions: The event is located at Nova Southeastern University – Gold Circle Lake Click here for Google Maps driving directions. When you arrive on follow the Moving Day signs.
Parking: Free parking is available between the Horvitz Administration Building and the Hollywood building off of College ave.
Beverages: Water will be available before and after the walk.
Rain or Shine: Moving Day takes place rain or shine! Be sure to check the weather forecast as Moving Day to prepare accordingly. If conditions warrant any change, announcements will be made on site.
Fundraising Incentives: You have 5-6 weeks after the event to continue fundraising. Anyone who raises $500 or more will receive an incentive certificate via email to redeem online.
Moving Day Donations: Donations will be accepted onsite. Also, you can fundraise until June 30, 2018.
Checks and matching gift forms received after the event, please mail to:
Parkinson's Foundation
(Attn: Moving Day Broward)
200 SE 1st Street
Suite 800
Miami, FL 33131
Please include a note indicating the walker and team to which to credit the donations.
---
To learn more about the resources in your area, and the great work of the Parkinson's Foundation South Florida Chapter, please visit our website www.parkinson.org/southflorida.
If you have any questions about Moving Day, are interested in sponsorship opportunities or would like information about our chapter, please contact us below:
Contact: Dreema Stokes | ph: 305-537-9919 | dstokes@parkinson.org
Mailing address:
ATTN: Moving Day Broward / Dreema Stokes
Parkinson's Foundation, Inc.
200 SE 1st Street, Suite 800
Miami, FL 33131