Event Details
Date: Saturday, September 21, 2019
Location: Erie Community College – North Campus | MAP
Activities Begin: 9:00 a.m. | We Move Ceremony & Walk: 11:00 a.m.
Contact: Chris Jamele | ph: 716-449-3795| cjamele@parkinson.org
Chapter Website: www.parkinson.org/westernnewyork
What an event, what a day, what a community!
On behalf of the thousands of people living with Parkinson's Disease and their care partners we serve in the Western New York area, we would like to thank everyone who participated in Moving Day Buffalo 2019. The beautiful day, coupled with the excitement and passion of everyone who attended, made for a great day to fight Parkinson's. Your hard work and dedication helped us raise over $115,000! Many thanks to each committee member, sponsor, team, resource partner and volunteer who gave their time, talent, and support to this important movement. Sending each of you our heartfelt appreciation for helping the Parkinson's Foundation make life better for people living with Parkinson's.
Please note, attendance this year exceeded our wildest estimates. It was amazing to see nearly 700 people take part in the event. Unfortunately, this incredible turn out meant that we ran short of our fundraising Rewards items. We still want each of you to receive what you deserve. So, if you earned a T-shirt or a water bottle but supplies were exhausted when you arrived, please contact us. We will order more. You can call us at 716-449-3795 or email us at gmameli@parkinson.org.
We are still accepting donations. Please send checks and matching gift forms to:
Parkinson's Foundation WNY
Attn: Moving Day Buffalo
2805 Wehrle Drive, Suite 12
Williamsville, NY 14221
---
Activities Schedule
| | |
| --- | --- |
| Time |   |
| 9:00 a.m. | Open: Registration, Refreshment Tent, Kids' Zone, PD Experience, Resource Pavilion, Sponsors' Area, VIP Breakfast |
| 9:30 a.m. | We Move Pavilion |
| 10:20 a.m. | Forming the human "P" and drone photo |
| 10:45 a.m. | Opening Ceremony & Walk Begins |
| 12:30 a.m. | Awards and Closing Ceremony |
| 1:00 p.m. | Event Ends |
Movement Pavilion Schedule
| | |
| --- | --- |
| Time | We Move Pavilion Activity |
| 9:30 a.m. | Chair Exercises with Ed Herman |
| 10:00 a.m. | Tai Chi with the Taoist Tai Chi Society |
| 12:00 p.m. | Rock Steady Boxing with Cindy Menard |
| 12:30 p.m. | Drum Circle with Steve Bell |
Registration: To register online for Moving Day, go to www.movingdaybuffalo.org. You can register in person at the Registration Tent on walk day. We strongly encourage everyone to register pre-event. There is no registration fee; however, we encourage all participants to raise at least $100 to receive an official 2019 Moving Day shirt on walk day. Fundraise $250 or more to receive an exclusive Moving Day water bottle on walk day. Walk participants can earn additional fundraising rewards. Please visit our Fundraising Rewards page for more information.
All participants that have pre-registered must check-in at the Registration Tent on walk day.
Directions: The event is located at SUNY Erie Community College, North Campus, 6205 Main Street, Williamsville, NY 14221. For the event, enter the campus along Element Drive off Wehrle Drive. When you arrive, please follow the Moving Day signs.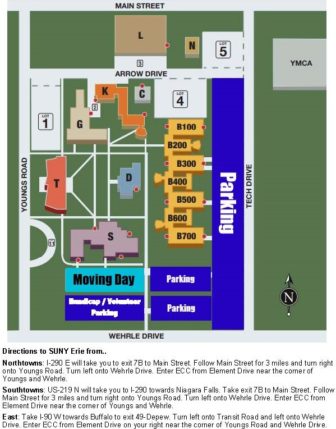 Parking: Free parking will be available in the lots indicated on the map above. Parking spaces will be reserved for people with handicap placards.
Walk Route: The Moving Day walk is for participants of all ages and all abilities. There is a ½ -mile option and a 5K option.
Site Map: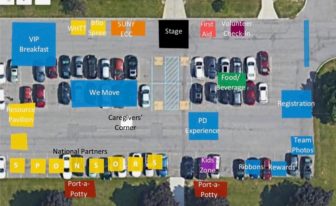 The walk is just one part of Moving Day Buffalo. There are many other activities at Moving Day:
Resource Pavilion & Local Sponsor Spotlight – Visit with local businesses and organizations providing services to the local community and people with Parkinson's.
National Sponsor Row – Meet with our National Sponsors and learn about the opportunities they provide for the Parkinson's community.
Stage – Home of the Opening and Closing Ceremonies, the Stage is also party central thanks to music provided by Ann Marie Philippone.
Team Photo Area – Gather your team together for group pictures!
Kids' Zone – Activities for the younger set including carnival games and a visit by Miss Pockets, who will be entertaining the crowd and making fun balloon sculptures.
Parkinson's Foundation PD Experience – Learn about all the free resources, educational materials, programs, and training available from the Parkinson's Foundation. Fill out a Walk Bib to honor loved ones and show why Moving Day is important to you. Visit the Ribbons Tent to get free ribbons that show your connection to Parkinson's disease.
We Move Pavilion – Get moving at our signature pavilion! Here's an opportunity for everyone to try out many Parkinson's-friendly exercises led by trained professionals.
ADA Restrooms: ADA restrooms will be available.
Top Fundraiser Breakfast: All participants that have raised $500 or more and the top 5 fundraising teams by September 13th, are invited to join us at the breakfast. Additional details are below:
The breakfast will be available from 9:00 a.m. – 10:30 a.m. in the VIP Breakfast Tent.
All participants eligible for the breakfast will be identified when they check in at the Registration Tent.
Anyone eligible for the VIP Breakfast will be given a wristband allowing them entry to the tent.
Refreshments/Snacks: Healthy snacks and water will be available in the Refreshment Tent.
Dogs: For the safety of our participants, dogs are not allowed at Moving Day.
Rain or Shine: Moving Day takes place rain or shine! Be sure to check the weather forecast and prepare accordingly. If conditions warrant any change, announcements will be made on the Moving Day website.
Donations: Cash, check and credit card donations will be accepted on walk day.
Donations can be mailed to the address below prior to or after Moving Day.
Parkinson's Foundation WNY
Attn: Moving Day Buffalo
2805 Wehrle Drive, Suite 12
Williamsville, NY 14221
Please include a note with your donations indicating the participant and/or team the donation(s) should be credited to.
---
To learn more about the resources in your area, and the great work of the Parkinson's Foundation Western New York Chapter, please visit our website www.parkinson.org/westernnewyork.
If you have any questions about Moving Day, are interested in sponsorship opportunities or would like information about our chapter, please contact us below:
Chris Jamele | ph: 716-449-3795| cjamele@parkinson.org
Mailing address:
ATTN: Moving Day Buffalo / Chris Jamele
Parkinson's Foundation Western New York Chapter
2805 Wehrle Drive, Suite 12
Williamsville, NY 14221