Event Details
Date: Saturday, June 2, 2018
Location: James Island – Edisto Hall | MAP
Registration opens: 9:00 a.m. | Walk start time: 10:30 a.m.
Contact: Kristin Trulock | ph: 501-590-8948 | ktrulock@parkinson.org
Website: www.parkinson.org
For Full Event Details Please Click Here
WHAT: Fund-raising event to raise awareness of Parkinson's Disease
WHEN: 9 a.m. – noon Saturday, June 2, 2018
WHERE: James Island County Park – Edisto Hall: 871 River land Drive, Charleston, SC 29412
WHO: Organized by the Parkinson's Foundation
National Coordinator of Signature Events –  Kristin Trulock, ktrulock@parkinson.org, (501) 590-8948
EVENT SCHEDULE
8:40-9:00 am Higher Education – Set 1
9:00-9:30 am Bob Michalski – Set 1
9:00 am Registration Announcement
Registration Opens
Movement Pavilion Opens
Refreshment Tent Opens
PAALS Therapy Dogs Area Opens
Resource Tent Opens
Kid Zone Opens
9:30-9:50 am Higher Education – Set 2
9:50-10:20 am Bob Michalski – Set 2
10:20 am Opening Ceremony – Dr. John Common, Beth Plante, Dr Hinson, Jay Phillips "Blame It on the Parkinson's" line dance warm-up (starring Mitch Faile) Lee Westbrook, Poet Laureate
10:30ish am Ribbon Cutting and Walk Begins
10:40-11:00am "Move with Parkinson's" onstage (Angie)
11:00-11:30 am Bob Michalski — Set 3
11:30-11:40 am FEELanthropi's Team Swagger, DJ Music
11:40 am Closing Ceremony – Kristin Trulock, Awards
12:00 pm Event Closes
Click here for Resource Pavilion Participant Information
Movement Pavilion Schedule
| | |
| --- | --- |
| 9 – 9:20 a.m. | Rock Steady Boxing MUSC – Wellness Center |
| 9:20 – 9:40 a.m. | Bonnie Friedman – Yoga and Balance |
| 9:40 – 10 a.m. | Rock Steady Boxing Charleston – Grit Box Fitness |
| 10 -10:20 a.m. | Patrick Ruppe – LSVT Big – Fox Rehab |
| 11 – 11:20 a.m. | Stephen Cutia – LSVT Loud – Northern Tides Speech and Language |
| 11:20 – 11:40 | Reggie Westbrook – Tai Chi – Masters Studios of Self Defense |
 Click here to view the Movement Pavilion Participant Information.
THE EVENT
Registration and activities, 9 – 10 a.m.
Registration Table: Pick up your "Passport to Parkinson's" from our fabulous greeters or registration table.  Make sure to visit all the booths with your passport for a chance to win some great prizes.  Turn in your passport to the Mission Tent before closing ceremonies.  Have to be present to win.
General activities: live entertainment, food, dog obedience course and giveaways
Kids Zone: face painting, washable tattoos, photo booth, Baggo, and other kids activities
Special activities: "Parkinson's Experience", recognition of area medical sponsors, fundraiser awards, visit the Resource Tent, Mission Tent for all Parkinson's Foundation resources, local and national sponsor tents, and team tailgating
THE WALK
Walk begins at 10:30 a.m.
Casual walk of 2 miles, the red course around the lake
Safety: Those with health concerns need not walk, chair yoga will happen during the walk
Access: For all ages, wheelchair and stroller accessible, pets are welcomed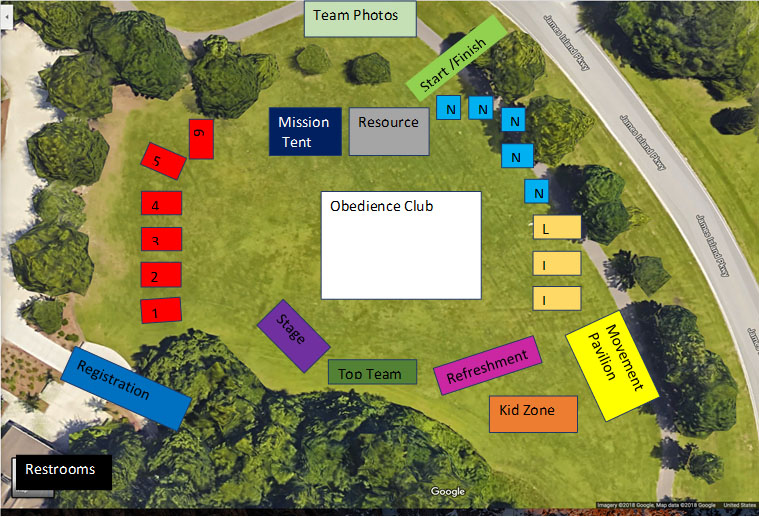 WALKERS, TEAMS, FUNDRAISING
Free sign-up: Click here to form or join a team or contact Kristin at ktrulock@parkinson.org or (501) 590-8948
Team Captains: Asked to form biggest team they can with all of their friends and family
Walkers: Walking shoes and a smile
Moving Day T-shirts: Given to each walker collecting $100 in donations
Team T-shirts: Teams are encouraged to design their own and order at own expense from any shop; options can also be found here
Donations: Asking is as easy as sending a letter or e-mail, or pointing friends to movingdaycharleston.org walkers can make a personal Web page there and will receive kits with collection materials. We recommend you putting your personal URL on your social media pages. This can be made in your participant center or contact Kristin at ktrulock@parkinson.org for help.
Collection: Funds go to local and national missions for the Parkinson's Community!
ODDS AND ENDS
Transportation: there will be golf carts to transport you from parking lot if needed.
Media: We will have lots of radio and TV spots leading up to the event.
RAIN OR SHINE: Activities will take place rain or shine. If it is raining we will move festivities in Edisto Hall.
Facebook page – Parkinson's Foundation Moving Day Charleston
Lodging Information: Please click here for group rates at Comfort Suites West of the Ashley. Registration cut-off is May 1. Cancellation may be made without penalty as late as 4 pm on June 1.
ONWARD
This effort will help bring the Parkinson's community together and strengthen local Parkinson's Foundation support for South Carolina dealing with this disease.
DIRECTIONS
Take SC-30 W and Central Park Rd to James Island Pkwy
12 min (5.9 mi)
Head west on Broad St toward King St 0.8 mi
Continue onto Lockwood Drive 0.7 mi
Slight right to merge onto SC-30 W toward James Island/Folly Beach 2.8 mi
Turn right onto Folly Rd 0.1 mi
Turn left onto Central Park Rd 0.9 mi
Turn left onto River land Drive 0.5 mi
Follow James Island Pkwy to your destination 4 min (0.9 mi)
Turn right onto James Island Pkwy 0.9 mi
Turn right 33 feet
Turn left 121 feet
---
To learn more about the resources in your area, and the great work of the Parkinson's Foundation, please visit our website www.parkinson.org.
If you have any questions about Moving Day, are interested in sponsorship opportunities or would like information about the foundation, please contact us below:
Kristin Trulock | ph: 501-590-8948 | ktrulock@parkinson.org
Mailing address:
ATTN: Moving Day Charleston-SC / Kristin Trulock
Parkinson's Foundation, Inc.
200 SE 1st Street, Suite 800
Miami, FL 33131