Event Details
Date: Saturday, June 22, 2019 at 10:30 am – 1:30 pm     NOTE START TIME!
Location: Wade Oval in University Circle (located directly across from the Cleveland Museum of Art)| MAP
Registration opens: 10:30 a.m.| Walk start time: 12:00 p.m.
Having trouble registering or making a donation? Use a Chrome or Firefox Browser or call 330-807-1517.
Contact: Laura Gasbarro | ph: 330-807-1517 | lgasbarro@parkinson.org
Chapter Website: www.parkinsonohio.org
SCHEDULE OF EVENTS:
10:30 a.m.    Registration Opens
                        VIP Breakfast Tent Opens
                        Sponsor Tents Open 
                        Resource Pavilion Opens
                        Kid Zone Opens
10:40 a.m.    Movement Pavilions – Activities Begin
Noon              Gather in Main tent for Opening Ceremony
12:20 p.m.     Ribbon Cutting and Walk Start 
12:40 p.m.      Movement Activities resume
1:15 p.m.         Closing Ceremony and awards
1:30 p.m.        Event Closes
MOVEMENT TENT SCHEDULE:
Tent One
10:40 a.m. – 11:15 p.m. Chair Yoga – Lisa Wittman
11:20 a.m. – 11:55 a.m. Physical Therapy – Amy Chan
12:40 p.m. – 1:15 p.m. Rock Steady Boxing   – Maria Pujolas
Tent Two
10:40 a.m. – 1:15 p.m. Reiki available all day
WALK ROUTE: Our main walk route will be your option of walking either once around (approx. 1/4 mile) or as many times as you would like, OR, you can skip the walk and relax or participate in the Movement area.
POLICIES AND WHAT TO BRING:
Friends, family members, co-workers, and supporters to join you for the event. To expedite the check-in process, make sure people register for your team at www.MovingDayCleveland.org. Otherwise – upon their arrival they will need to sign a waiver at the registration tent where Day-of registration is also available.
THIS DOCUMENT. Please read and print this document so you have directions and parking information the morning of the event. We will have directional signage and volunteers, but it's a good idea to have this information handy as well.
Any donations that you have received and need to turn into the Parkinson Foundation. We will have official committee and staff onsite collecting donations at the registration tent. (For those who raise $100 or more before the event or bring the donation with you to the event is eligible for a special Moving Day rewards)
Water and light snacks (fruit and granola bars) will also be provided FREE in the main tent but it's a good idea to be prepared!
Bring Walking shoes, sunscreen and a smile!
Team spirit. You and your teammates can make your own team shirts, signs, etc. to show your Moving Day spirit! We will have a spirit and t-shirt award.
Appropriate gear for the weather. Moving Day is rain or shine so please dress appropriately!
Selling items, sign-ups for other walks or activities or raising money for other efforts is prohibited. THANK YOU FOR UNDERSTANDING OF THIS POLICY.
DIRECTIONS AND PARKING:
Wade Oval at University Circle is located in downtown Cleveland adjacent to the Cleveland Museum of Art and the Natural History Museum.
A quick drop off for walkers can occur on the Natural History Museum side of the oval. Signage will make the spot.
Free parking for the first 300 cars has been arranged at the Louis Stokes VA Medical Center (10701 East Blvd.) parking deck. This is a short walk from the Oval area. A shuttle service will be provided from 10:15 am – 2 pm the day of the walk.
Parking is first come, first serve.  After that area is full – free Saturday on street parking and paid parking is available in the various museum and area parking decks surrounding the Oval.
Sponsors and Vendors are welcome to drop off their booth items at the Oval between 9:00 – 9:45 am and then park their cars accordingly. Volunteers will be on hand to assist. Please check in at the Vendor check in booth near the Kiosk.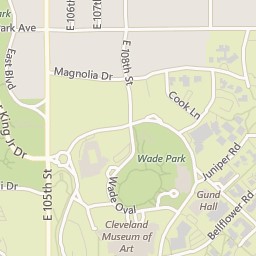 OTHER INFORMATION – Service Dogs are welcome. But for the safety and convenience of Moving Day walkers – please do not bring pets to the walk.
QUESTIONS? Email us at lgasbarro@parkinson.org or call 330-807-1517
---
To learn more about the resources in your area, and the great work of the Parkinson's Foundation Ohio chapter, please visit our website www.parkinsonohio.org.
If you have any questions about Moving Day, are interested in sponsorship opportunities or would like information about our chapter, please contact us below:
Laura Gasbarro | ph: 330-807-1517 | lgasbarro@parkinson.org
Mailing address:
Parkinson's Foundation Ohio Chapter
2800 Corporate Exchange Drive, Suite 360
Columbus, OH 43231