Event Details
Date: Saturday, April 21, 2018
Location: War Memorial Stadium | MAP
Registration opens: 9:00 a.m. | Walk start time: 10:00 a.m.
Contact: Kristin Trulock | ph: 501-590-8948 | ktrulock@parkinson.org
Website: www.parkinson.org
Moving Day Little Rock has exceeded its goal of $75,000 and even the second goal of $100,000!
We would like to thank the over 500 Parkinson's patients, caregivers, providers and community members in attendance on Saturday that participated in our first Moving Day Little Rock 2018. The beautiful day coupled with the excitement and passion of everyone who attended made for a great day to fight Parkinson's. Your hard work and dedication helped us surpass both of our goals! Many thanks to each committee member, sponsor, team, resource partner, kids zone partner, Baggo and volunteer who gave their time, talent, and support to this important movement. Sending each of you our heartfelt appreciation for helping the Parkinson's Foundation make life better for people living with Parkinson's. We can't wait for next year's Moving Day event! It will be even bigger and better for our PD community.
We are still accepting donations. Please send checks and matching gift forms to:
Parkinson's Foundation
ATTN: Moving Day Little Rock
200 SE 1st Street
Miami, FL 33131
Interested in Volunteering?: Sign Up Here
For Full Event Details, please Click Here.
WHAT: Fund-raising event to raise awareness of Parkinson's Disease
WHEN: 9 a.m. – noon Saturday, April 21, 2018
WHERE: War Memorial Stadium – enter at gate
WHO: Organized by the Parkinson's Foundation
National Coordinator of Signature Events – Kristin Trulock, ktrulock@parkinson.org, (501) 590-8948
THE EVENT
Registration and activities, 9 – 10 a.m.; Walk begins at 10 a.m.
General activities: live entertainment, food and soft drinks, giveaways
Kids Zone: Sponsored by Wardlaw Orthodontics – face painting, washable tattoos, photo booth, football toss, and other kids activities
Special activities: "Parkinson's Experience", Parkinson's Baggo Challenge (all proceeds benefit PF), recognition of area medical sponsors, fundraiser awards, visit the Resource Tent, Mission Tent for all PF resources, local and national sponsor tents, and team tailgating
Master of ceremonies: Tom Wood, Big 94.9
THE WALK
Registration from 9 – 11 a.m.; Walk begins at 10 a.m.
Casual walk of 1.2 miles, around front of War Memorial Lawn
Safety: Those with health concerns need not walk, chair yoga will happen on the field
Access: For all ages, wheelchair and stroller accessible, pets are NOT allowed
Site Map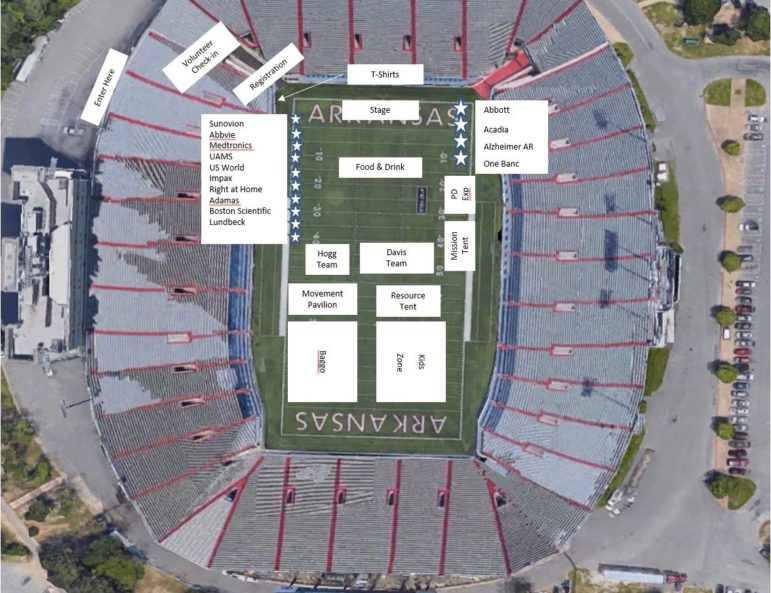 Walk Path: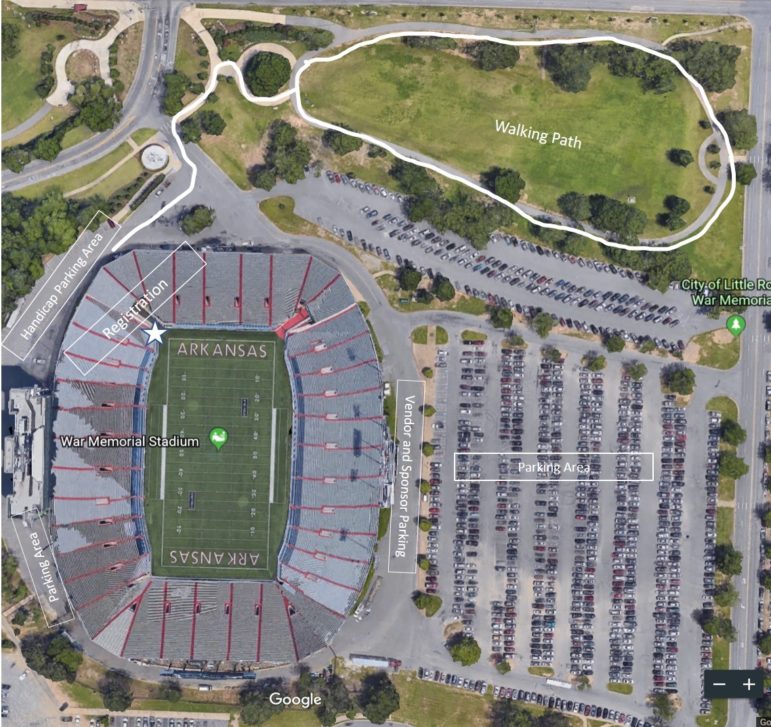 WALKERS, TEAMS, FUNDRAISING
Free sign-up: To form or join a team, go to www.movingdaylittlerock.org or contact Kristin at ktrulock@parkinson.org or (501) 590-8948
Team Captains: Asked to form biggest team they can with all of their friends and family
Walkers: Urged to raise as much as possible with a minimum of $100 each; national average: $250 each
PF T-shirts: Given to each walker collecting $100 in donations
Team T-shirts: Teams are encouraged to design their own and order at own expense from any shop; options are on the website www.movingdaylittlerock.org at bottom of page
Donations: Asking is as easy as sending a letter or e-mail, or pointing friends to
www.movingdaylittlerock.org walkers can make a personal Web page there and will receive kits with collection materials. We recommend you putting your personal URL on your social media pages. This can be made in your participant center or contact Kristin at ktrulock@parkinson.org for help.
Collection: Funds go to local and national missions for the Parkinson's Community!
ODDS AND ENDS
Transportation: there will be golf carts to transport you from your car to the stadium and down onto the field, if needed.
Media: We will have lots of radio and TV spots leading up to the event.
RAIN OR SHINE: Activities will take place on the field if weather permits. If it is raining we will walk and have all festivities in the concourse.
Facebook page – Parkinson's Foundation Moving Day Little Rock
ONWARD
This effort will help bring the Arkansas Parkinson's community together and strengthen local PF support for Arkansans dealing with this disease.
Event Schedule:
9:00 a.m. Registration Opens: Movement Pavilion opens, Refreshment tent opens, Kid's Area opens, Parkinson's Baggo Challenge and Resource Pavilion opens
10:00 a.m. Walk Begins
12:00 p.m. Closing
Movement Pavilion:
9:15 – 9:30 a.m. LSVT BIG
Chair Yoga while we are walking from 10:15 am
10:45 -11 a.m. Rock Steady Boxing
11:05-11:20 a.m. – Tai Chi
11:40-noon – Yoga for Parkinson's
Resource Pavilion Participants:
Nash Law Firm
Woodland Heights
Hope Helpers
Visiting Angels
Clinical Trials Inc.
Davis Insurance
PTI Physical Therapy
Rock Steady Boxing
Brightstar
Voxxlife
---
To learn more about the resources in your area, and the great work of the Parkinson's Foundation, please visit our website www.parkinson.org.
If you have any questions about Moving Day, are interested in sponsorship opportunities or would like information about the foundation, please contact us below:
Kristin Trulock | ph: 501-590-8948 | ktrulock@parkinson.org
Mailing address:
ATTN: Moving Day Little Rock / Kristin Trulock
Parkinson's Foundation, Inc.
200 SE 1st Street, Suite 800
Miami, FL 33131