Event Details
Date: Saturday, October 23, 2021
Location: Maurice A Ferre' Park I Map
Activities Begin: 8:30 AM I We Move Ceremony: 9:45 AM
Contact: Tami Brown| ph: 305-537-9963| tbrown@parkinson.org or Desiree Saunders | ph: 561-206-3154 | dsaunders@parkinson.org
Website: www.parkinson.org/florida
---
Activities Schedule:
Time
 
8:30 a.m.
Check in, Refreshment Tent, Living with Parkinson's Tent and Sponsor Row opens
8:45 a.m.
AUM Home Shala presents Yoga Therapy for

Parkinson's and Anxiety/Depression with Grisell Gonzalez

9:00 a.m.
Mady's Dance Factory Performance
9:20 a.m.
Big & Loud West Gables Rehabilitation Hospital & Select Specialty Hospital
9:35 a.m.
Welcome & Warm-Up by West Gables Rehabilitation Hospital & Select Specialty Hospital
9:45 a.m.
We Move Ceremony and Walk Begins
10:40 a.m.
Exercise Demo Rock Steady Boxing MAR-JCC
11:00 a.m.
Cool Down Rock Steady Boxing MAR-JCC
11:20 a.m.
Closing Ceremony
Important Safety Information: Our priority is to bring our community back together while continuing to keep everyone safe. We are closely following all CDC, state, and local safety guidelines. We strongly encourage you to wear a face mask despite your vaccination status. Physical distancing practices will be enforced to reduce the spread of COVID-19. Sponsor and vendor tents will be appropriately spaced.  QR codes will be available to allow participants to easily order PD resources. Staff and volunteers assisting participants will be masked and there will be sanitizing areas throughout the event.
Registration: To register online for Moving Day, go to www.MovingDayMiami.org. We strongly encourage everyone to register pre-event. There is no registration fee; however, we encourage all participants to raise at least $100 to receive an official Moving Day shirt on walk day. Moving Day participants can earn additional fundraising rewards by raising $250 or more. Please visit our Fundraising Rewards page for more information.
Directions: The event is located at Maurice A. Ferre Park (formerly Museum Park): 1075 Biscayne Blvd, Miami, FL 33132. When you arrive, please follow the Moving Day signs.
Parking: Public transportation and carpooling strongly suggested. There is limited paid parking inside the park near the restrooms.  Please follow all parking sign instructions.  Parking is available at ***P2 Parking 
Garage at the FTX Arena (Heat Stadium) for $6.00 (cars must be removed by 3 PM) ***
Walk Route: The Moving Day walk is for participants of all ages and all abilities and is just under a mile in distance.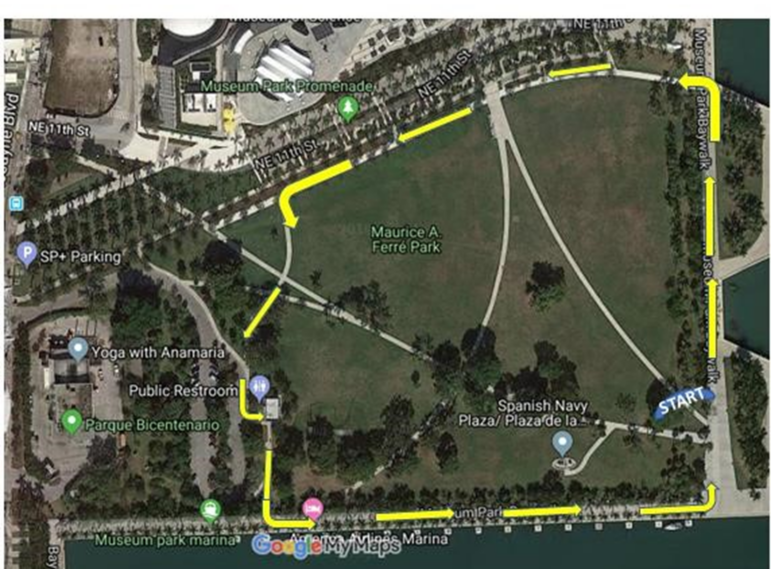 Site Map: Visit each booth to learn more about available resources and treatment options.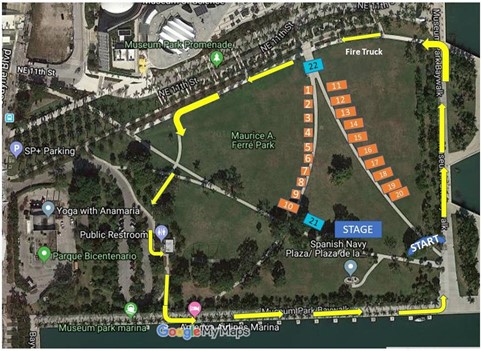 National Sponsor Row (#1 -7) – Meet with our National Sponsors and learn about the opportunities they provide for the Parkinson's community.
I Move Ribbon Tent (#8)- Visit this tent to display your connection to Parkinson's. Everyone should have one ribbon to be used during our We Move Ceremony.
Living with Parkinson's Tent (#9) – Will have activities that aim to demonstrate some of the challenges people with PD face. This tent will also be the new home for Parkinson's Foundation free resources and where you can pick up walk bibs and other fun giveaway items.
Rewards Tent (#10) – Where participants pick up rewards who qualify
Sponsor Spotlight (#11-20)– Visit with local Sponsors and learn about the services they provide for the Parkinson's community.
Check In Tent (#21) – Check in using QR code, ask questions, first aid, and donation drop
Refreshments Tent (#22) – Light snack and water
Stage– Home of the We Move Ceremony and Closing, the stage is also party central thanks to music provided by Reflections Productions.
Team Photo Area– Gather your team together for group picture at the ARCH!
Restrooms: Restrooms will be available.
Refreshments: Bottled water and light snacks will be available onsite.
Pets: Well behaved pets are welcome at Moving Day. Owners must be responsible for them, and they must be on a leash at all times.
Rain or Shine: Moving Day takes place rain or shine! Be sure to check the weather forecast and prepare accordingly. If conditions warrant any change, announcements will be made on the Moving Day website.
Donations: Cash, check and credit card donations will be accepted on walk day.
Donations can be mailed to the address below prior to or after Moving Day.
Parkinson's Foundation
Attn: Moving Day Miami
200 Se 1st Street Suite 800
Miami. FL 33131
Please include a note with your donations indicating the participant and/or team the donation(s) should be credited to.
---
To learn more about the resources in your area, and the great work of the Parkinson's Foundation Florida, please visit our website www.parkinson.org/florida.
If you have any questions about Moving Day, are interested in sponsorship opportunities or would like information about the foundation, please contact us below:
Contact: Tami Brown| ph: 305-537-9963| tbrown@parkinson.org
Mailing address:
ATTN: Moving Day Miami / Tami Brown
Parkinson's Foundation Florida
200 SE 1st Street, Suite 800
Miami, FL 33131