Event Details
Date: Saturday, October 29, 2022
Location: Tamiami Park I Map
Event Start: 8:30 AM
Contact: Kayla Baptista | ph: 305-537-9919 | kbaptista@parkinson.org
---
Our priority is to bring our community together in person while keeping everyone safe. We are closely following all CDC, state and local safety guidelines.
What to Expect at Moving Day
Everyone is invited to put on their favorite Moving Day gear, wear good exercise shoes and join us in person at Moving Day Tamiami Park. This year's event will put our community's energy on full display as we celebrate movement together. Bring your friends and family to exercise, learn about Parkinson's resources, participate in our signature We Move Ceremony, and enjoy the Moving Day Walk. You don't want to miss the inspiring day we have planned for you!
Since Moving Day Miami is happening on Halloween weekend, we encourage kids big and small to bring any trick-or-treating bags with them as we will be having a candy trail throughout the site.
Moving Day Miami will take place rain or shine. Check the weather forecast to prepare accordingly. Should conditions warrant any change, we will announce it via email and the Moving Day website.
Registration
We ask everyone who attends Moving Day to register at MovingDayMiami.org before the event. Onsite registration will begin at 8:30 am.
Schedule of Events
8:30 am:  Registration Opens
8:45 – 9:45 am: We Move exercise demos at the Moving Day Stage
9:45 am: We Move Ceremony begins, followed by the Moving Day Walk at 10 AM
10:30 am: Walk begins to conclude and activities resume near the Moving Day Stage
11:30 am: Closing Remarks and Passport winner announcement
Location & Parking
Moving Day Miami will take place at Tamiami Park, at 11201 SW 24th St, Miami, FL 33165. We will specifically be beside the FIU Football Stadium. While the 117th entrance into the park will offer the most direct path to us, we will have signage, volunteers, and flags at every park entrance to direct participants to Moving Day Miami. Limited, free parking will be available at the FIU Football Stadium parking. Parking spaces will be reserved for people with handicap placards. There will be directional signage as you approach the parking area. Any overflow parking will be directed to the closest available field parking beside the stadium.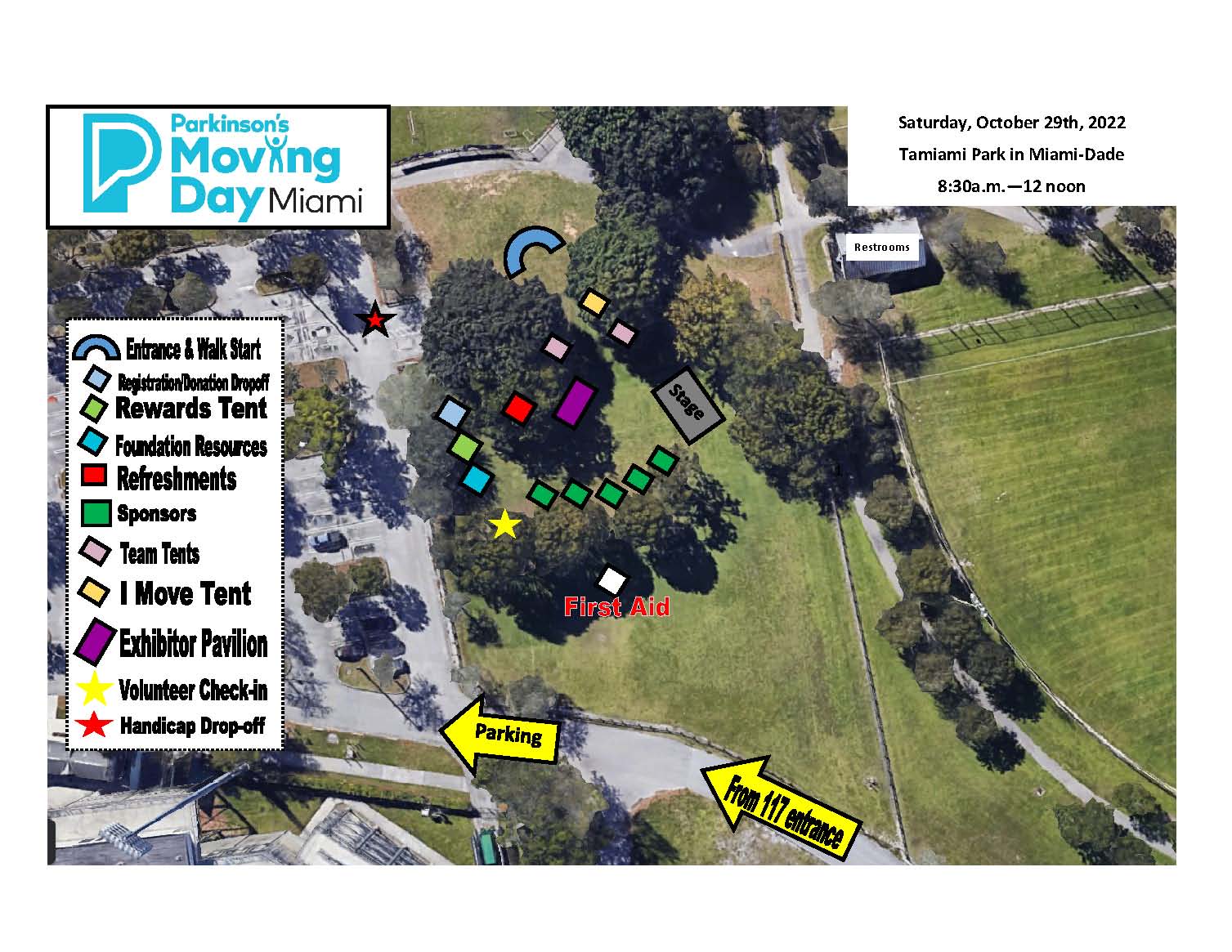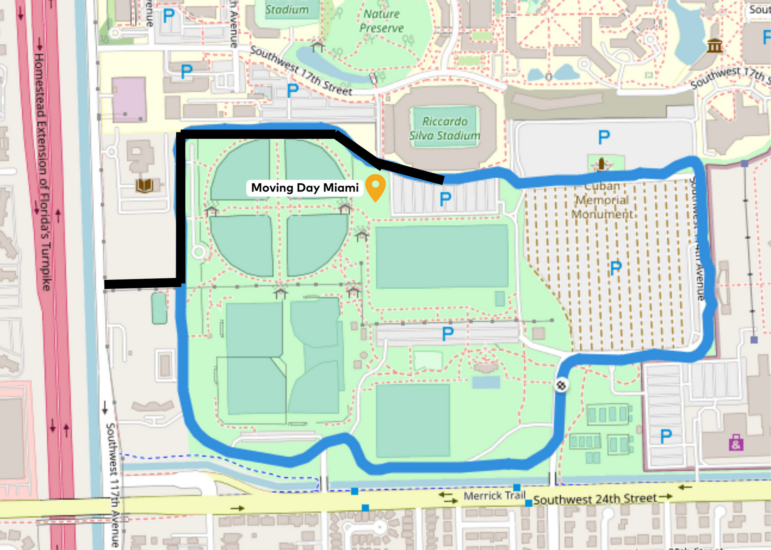 Walk Route
The Moving Day walk is for participants of all ages and all abilities. The walk route is about .5 miles.
Restrooms
Restrooms will be available on site. Signage will be available to direct you to them. They are permanent, air conditioned bathrooms beside the site with handicap accessibility.
Refreshments
Bottled water and light snacks will be available at the Refreshment Tent.
Pets
Tamiami park is pet friendly, so we ask that if you do bring furry family members to keep them on leash while in the Moving Day Miami area for everyone's safety.
Donations
All donations (cash, check, credit card) can be turned in at the Registration Tent. If you prefer to donate before the event, please do so on the Moving Day Miami website or the Parkinson's Moving Day App. If you want check donations to appear in your fundraising total sooner, use the mobile check deposit feature in the Parkinson's Moving Day App or mail them to the address below.
Parkinson's Foundation
ATTN: Donor Services – Moving Day Miami
200 SE 1st Street, Suite 800
Miami, FL 33131
Please include a note with the name of the person that we should credit the donation to.
Moving Day Rewards
All registered participants that raise $100 or more will receive an exclusive Moving Day T-shirt. Click here to learn more about additional Moving Day Rewards. All fundraising rewards except the All Star Mover Long Sleeve Tee will be available for pick up at the event.
Volunteers Needed
Know anyone who might be interested in lending a hand at Moving Day? Check out our volunteer opportunities here.
---
To learn more about the resources in your area, and the great work of the Parkinson's Foundation Florida, please visit our website www.parkinson.org/florida.
If you have any questions about Moving Day, are interested in sponsorship opportunities or would like information about the foundation, please contact us below:
Contact: Kayla Baptista | ph: 305-537-9919 | kbaptista@parkinson.org
Mailing address:
ATTN: Moving Day Miami / Kayla Baptista
Parkinson's Foundation Florida
200 SE 1st Street, Suite 800
Miami, FL 33131