Date: Saturday, November 2, 2019
Location: Dix Park | MAP
Activities Begin: 9:30 a.m. | We Move Ceremony & Walk: 11:00 a.m.
Contact: Diana Parrish | ph: 336-817-4190 | dparrish@parkinson.org
Website: www.parkinson.org
VOLUNTEER NOW!
Activities Schedule
| | |
| --- | --- |
| Time | Activity |
| 9:30 a.m. | Registration Opens and Top Fundraisers Breakfast Area Open |
| 10:00 a.m. to 11:00 a.m. | All Activities Open – Parkinson's Experience, We Move Pavilion, Sponsors, My 'key' to Living with PD, Parkinson's Pals, Food Trucks and more! |
| 11:00 a.m. | We Move Ceremony at Stage/Ribbon Cutting/Walk |
| 11:45 a.m. | All Activities Resume |
| 12:45 p.m. | Closing Ceremony; Announce T-Shirt Contest Winner; Drawing for Passport Raffle |
| 1:00 p.m. | Close |
We Move Pavilion Activity Schedule
10:10 –10:30 – PILATES at We Move Pavilion – Meg Poe
10:10 – 10:30 – DANCE on Stage – Susan Saenger
10:40 – 10: 55 – PWR – at We Move Pavilion – Anne Shelton
12:00 – MUSIC THERAPY  at We Move Pavilion- Allison Hingley
12:00 – MOVING TO HEAL  – On Stage –  Anne Shelton
12:00 – PILATES –  at We Move Pavilion – Meg Poe
Registration: To register online for Moving Day, go to www.movingdaynctriangle.org. You can register in person at the Registration/Check-in Tent on walk day. We strongly encourage everyone to register pre-event. There is no registration fee; however, we encourage all participants to raise at least $100 to receive an official 2019 Moving Day shirt on walk day. Fundraise $250 or more to receive an exclusive Moving Day water bottle on walk day. Walk participants can earn additional fundraising rewards. Please visit our Fundraising Rewards page for more information.
All participants that have pre-registered must check-in at the Registration Tent on walk day.
Directions & Parking: The event is located at Dorthea Dix Park : 1800 Umstead Drive, Raleigh, NC  27603. When you get into the park, please follow the Moving Day directional signs.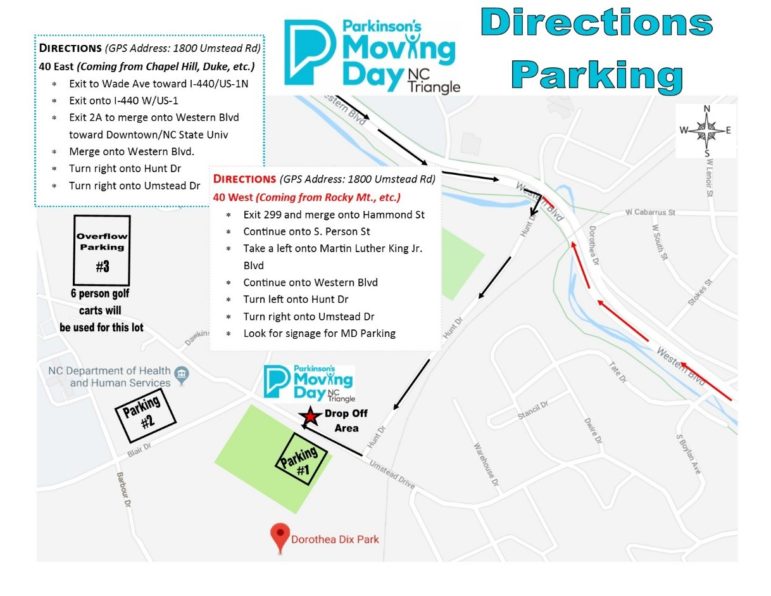 Parking: There are several  parking lots that will accommodate ALL participants.  Parking is free.  The handicap parking spaces immediately adjacent to the venue are available on a 'first come basis'.  We will have golf carts to shuttle participants needing a ride to the venue from parking lots #2 and #3 which is our 'overflow' parking space.  We do have a 'drop off' area right at the Arch (see site map).
Site Map: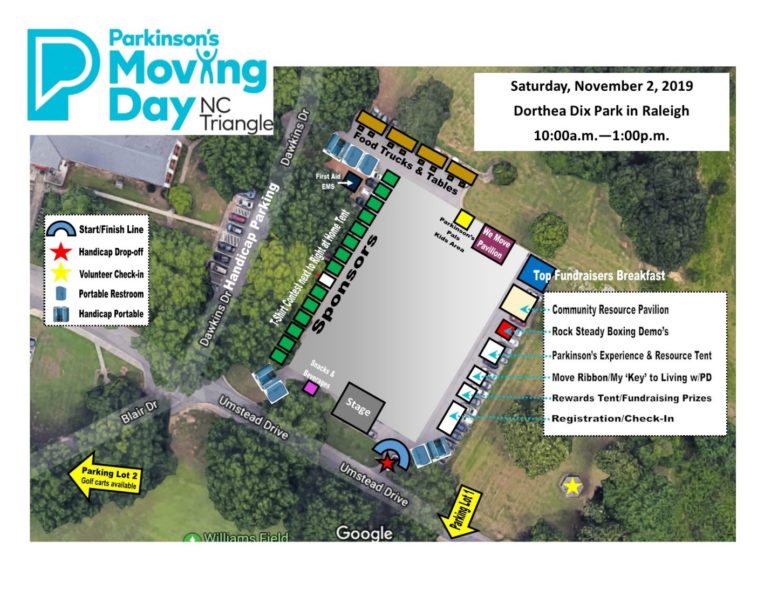 The walks are just one of the many 'activities' at Moving Day NC Triangle.
Registration/Check-In – EVERYONE attending needs to check-in at the Registration tent located near the Arch.
Community Resource Pavilion – Visit with local businesses and organizations providing services to the local community and people with Parkinson's.
Local & National Sponsor Row (green tents) – Meet with our Local and National Sponsors and learn about the opportunities they provide for the Parkinson's community.
T-Shirt Contest Tent – Enter your team t-shirt for this contest sponsored by Right at Home. Winner will be announced at 12:45 p.m. and the team will be presented a check for $1,000 from Right at Home to go towards their team fundraising. Each Moving Day participant will receive a 'voting ticket' at Registration/Check-in Tent. Each participant then goes to the T-Shirt Contest tent to cast their vote! Click here for Entry Form.
Stage – Home of the We Move Ceremony and some Movement activities.
Top Fundraisers Breakfast – A special area for individuals that raised $500+ and teams that raised $7,500+. Breakfast will be served from 9:30 a.m. – 10:45 a.m.
Team Photo Area – Gather your team together for group pictures! All Team Captains will received a schedule showing when their teams should gather for their team picture and where.
Parkinson's Pals (yellow tent)– Activities for the younger set including parents reading a book such as "Why are Papa's Hands Shaking, make a card for a loved one, obstacle course and more.
I Move Ribbon Tent – EVERYONE needs to stop by this tent to pick up their 'ribbon'…bring your ribbon to the 'We Move Ceremony'
My 'key' to Living with Parkinson's – Stop by to get your picture taken and share what your 'key' to living with Parkinson's is! Could it be Rock Steady, your caregiver, your family, etc.
Parkinson's Experience/Parkinson's Resource Tent – Learn what's it's like to write your name with a tremor, learn how speck is impacted. Also learn about all the free resources, educational materials, programs, and training available from the Parkinson's Foundation. Fill out a Walk Bib to honor loved ones and show why Moving Day is important to you.
We Move Pavilion – Get moving at our signature pavilion! Here's an opportunity for everyone to try out many Parkinson's-friendly exercises led by trained professionals.
Walk Route: See 'Walk Route Map'…We have 2 walks, the 'Champion' walk (1/5 mile) and the 'Challenge Walk' (1 mile).  Individuals walking the Challenge Walk will be asked to line the 'Champion' walk route and cheer everyone on!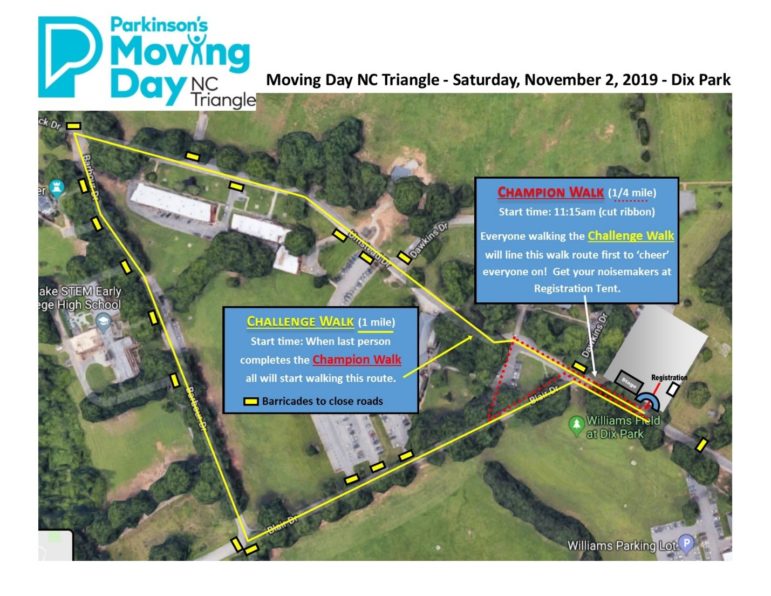 Restrooms:  We will have handicap and standard port-a-jons
Top Fundraiser Breakfast: All participants that have raised $500 or more and teams that have raised $7,500 by October 31, 2019, are invited to join us at the breakfast.
Food  Trucks – The Following Food Trucks will be  on site (be sure to bring cash/credit cards):
Refreshments/Snacks: Healthy snacks and water will be available in the Snacks/Beverage Tent
Dogs: For the safety of our participants, we do not encourage bringing pets, however, if you do, please keep on leash and be sure to clean up after your pet.
Rain or Shine: Moving Day takes place rain or shine! Be sure to check the weather forecast and prepare accordingly. If conditions warrant any change, announcements will be made on the Moving Day website.
Donations: Cash, check and credit card donations will be accepted on walk day.
Donations can be mailed to the address below prior to or after Moving Day.
Parkinson's Foundation
Attn: Donor Services/MD NC Triangle
200 SE 1st Street, Suite 800                                                                                      Miami, FL  33131
Please include a note with your donations indicating the participant and/or team the donation(s) should be credited to.
---
To learn more about the resources in your area, and the great work of the Parkinson's Foundation, please visit our website www.parkinson.org.
If you have any questions about Moving Day, are interested in sponsorship opportunities or would like information about the foundation, please contact us below:
Contact: Diana Parrish | ph: 336-817-4190 | dparrish@parkinson.org
Mailing address:
ATTN: Moving Day NC Triangle / Diana Parrish
Parkinson's Foundation, Inc.
200 SE 1st Street, Suite 800
Miami, FL 33131