Date: Saturday, November 3, 2018
Location: Dorothea Dix Park | MAP
Registration opens: 8:30 a.m. | Walk start time: 11:15 a.m.
Contact: Diana Parrish | ph: 336-817-4190 | dparrish@parkinson.org
Website: www.parkinson.org
Event Details
Date & Time: Saturday, November 3, 2018
8:30 a.m. – 1:00 p.m. (roads will be closed from 10:45am – 12:30pm the 2 walks)
Plan to spend the entire time at the event because there are many activities being offered.
Location: Dorothea Dix Park  Parking Map
1800 Umstead Road
Raleigh, NC
Parking: Free parking is available.  Parking Map
Golf carts will shuttle people from lot #3
Drop-Off People can drop-off individuals and then go park their cars
Who Needs to Register:Registration Opens at 8:30am
Participants who registered on-line, have no money to turn in OR did not raise $75+ do not need to go to registration tent.
Go to a greeter and pick up your Passport
All others need to go to the Registration Tent to do one or more of the following:
Register (we highly recommend you register on-line before the event)
Turn in fundraising money
Pick up bandana if you individually raised $75+
Pick up T-shirt and bandana if individually raised $100+
Pets: If you need to bring your pet, please make sure they are on a leash and bring a 'bag' for clean-up 😊.
Weather: Event takes place rain or shine.  If calling for rain bring your umbrellas.
Food: We will have several food trucks so bring cash/credit cards. We will also have free water, snacks and fruit.
Restrooms: We have rented 4 handicap accessible port-a-potty's and 4 regular.
Fundraising
Moving Day NC Triangle goal is $300,000…we can do it! Fundraising efforts will continue until December 3, 2018.  There are several incentives for individuals and teams:
Individuals who raise the following;
$75 – will get a Rally Bandana
$100 – will get a Rally Bandana and a signature Moving Day T-Shirt
$500+ – all of the above AND incentive prize that will be shared after Moving Day
Team Tailgate – Top 10 teams to reach $5,000+ by October 30 at midnight will get a 10×10 tent, 8' covered table and 2 chairs in Team Tailgate. Qualifying teams can bring food, beverages, lawn chairs.  There will be games in this area.
Walk Routes
Champion Walk Route (1/3 of a mile): specifically for those with Parkinson's disease and their families and friends.  Participants who are not walking this route, will be encouraged to line the Champion Route and 'cheer' everyone on!
Challenge Walk Route (1.5 miles): will start as soon as the last person completes their Champion walk.  Scenic views on this longer walk route…bring your cameras.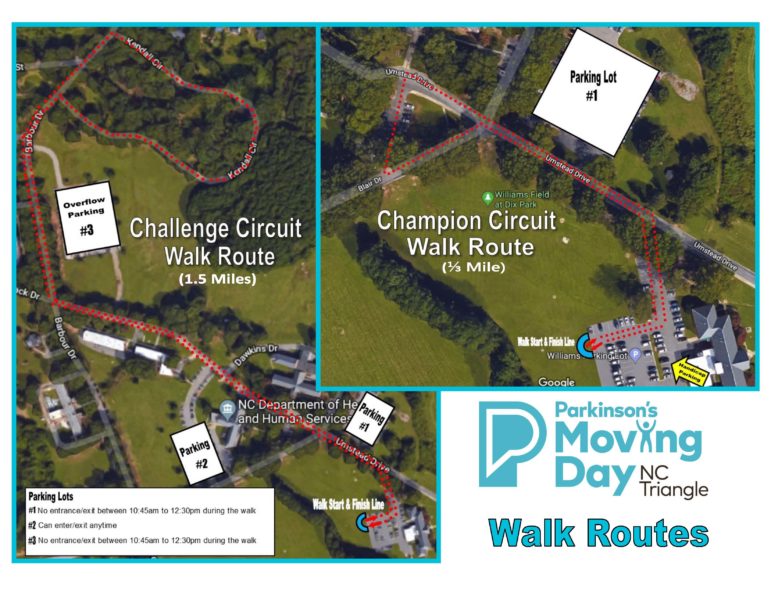 What's New
This Year New Location:  Dorothea Dix Park in Raleigh.  Beautiful, flat park to fit everyone's needs.
Passport: every participant will get a Passport either at Registration Tent or from a Greeter.  Visit with 15 of the designated organizations listed and then go to the Passport/Raffle  tent to get '2' free tickets to be entered in the drawing for prizes at 12:30 p.m.  YOU MUST be present to win. Bring cash in case  you want to purchase additional tickets for the prizes.
Parkinson's Positive:  despite the challenges faced by those with PD and their caregivers, there are some positives.  You'll be able to share your 'positive' in this special area.
Parkinson's Pals: the kid zone will reflect the mission/purpose of the event.  Kids will be able to partake in a mini obstacle course to highlight movement; make a special card for that special someone with PD; read or listen to stories about Parkinson's disease.
Movement Stations:  this year there will be 8 Movement Stations:
UNC Parkinson's Wellness Recovery
Dance for Parkinson's
Atlantic Music Therapy for Parkinson's
Par4Success
Pilates for Parkinson's
Rock Steady Boxing NC Triangle
Rock Steady Boxing Durham
PD Players
Participants can experience a variety of activities to see if they would like to join a class in the future.
Feel Free to Bring Lawn Chairs – Lots of lawn space for people to bring their chairs and sit
Come at 9:00am – Many Activities Planned in Addition to the Walk
Team Tailgate – Up to 10 teams will share this space – each team will get a 10×10 tent (teams will get an 8' table and 2 chairs – team members can bring lawn chairs, food, beverages – set up at 8:30am)
Top 8 teams that raise $6,000 by October 15
Top 2 fundraising teams (if not one of the above) by November 2
Schedule of Events – Site Map

8:30am – 10:00am Registration
You need to go to registration if:
You did not register on-line
Each participant that raised $100+ will pick up a Moving Day t-shirt
Turn in any money raised
If you registered on-line and none of the above apply
Go to a greeter and get your PASSPORT
9:00am – 12:30pm
Movement Stations open for interactive activities
Sponsor Tents Open
Resource Pavilion Open
Parkinson's Positive Open
Parkinson's Pals Open (kids zone area will have story time, movement activities and tattoos)
Food Trucks Open
9:0am – Opening Remarks
Overview of all activities
9:30am – Team Pictures
11:10am – Champion & Challenge Circuit Walks See walk routes
Participants go to line up behind the Arch as seen on the Site Map
Here is one of the views you will see on the Challenge Circuit Walk Route – Be sure to take your cameras on the walk and take pictures!

12:15pm – Passports due at Raffle Tent
Return completed passports and get one free raffle ticket to enter for drawing of gift baskets
Purchase additional raffle tickets at Raffle Tent
Raffle drawings will commence at 12:30pm – Must be present to win
12:30pm – Closing Ceremony
Announce top fundraising team
Drawings for winners of 'gift baskets' – Must be present to win
Looking forward to seeing you at the 6th annual Moving Day NC Triangle event.
---
To learn more about the resources in your area, and the great work of the Parkinson's Foundation, please visit our website www.parkinson.org.
If you have any questions about Moving Day, are interested in sponsorship opportunities or would like information about the foundation, please contact us below:
Contact: Diana Parrish | ph: 336-817-4190 | dparrish@parkinson.org
Mailing address:
ATTN: Moving Day NC Triangle / Diana Parrish
Parkinson's Foundation, Inc.
200 SE 1st Street, Suite 800
Miami, FL 33131