Event Details
Date: Saturday, April 28, 2018
Location: Valencia Heritage Park| MAP
Registration opens: 9:30 a.m. | Walk start time: 10:30 a.m.
Contact: Sarah Osborne | ph: 661-360-5544 | sosborne@parkinson.org
Website: www.parkinson.org
Walk Route:
The 5k route is an "Out and Back" walk… turn around and head back at any time! The 1/2 K and 4K turn-around points will be marked with signage. A golf cart and volunteers will monitor the site to assist as needed.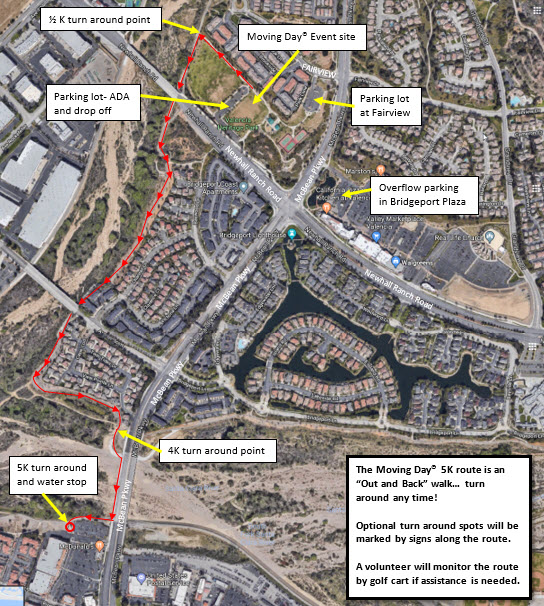 Parking:
A participant drop-off area is available by pulling into the round-about in the lot accessed from Newhall Ranch Road. Enter and proceed to the back of the lot to drop off, then please remove your car to park. We kindly ask that the spaces in the lot closest to the event site are saved for those with blue Disabled Placards. We will barricade as many as possible for this purpose. Please alert a volunteer and show them your Placard to park in these spaces.
Additional parking is available in the lot accessed from Fairview. Overflow parking is available in the Bridgeport Plaza accessed by either McBean or Newhall Ranch Road, and a golf cart shuttle will be available every 10- 15 minutes to bring guests to the site. Signage will direct you to the event site if entering on foot.
Fundraising:
Make sure to read through the 2018 Moving Day Team Captain Guide!
---
To learn more about the resources in your area, and the great work of the Parkinson's Foundation, please visit our website www.parkinson.org.
If you have any questions about Moving Day®, are interested in sponsorship opportunities or would like information about the foundation, please contact us below:
Sarah Osborne | ph: 661-360-5544 | sosborne@parkinson.org
Mailing address:
ATTN: Moving Day North LA County / Sarah Osborne
Parkinson's Foundation, Inc.
200 SE 1st Street, Suite 800
Miami, FL 33131