Event Details
Date: Saturday, April 28, 2018
Location: Stinson Park in Aksarben Village | MAP
Registration opens: 9:00 a.m. | Walk start time: 10:30 a.m. | FAQ
Contact: Robyn Tota | ph: 913-416-4122| rtota@parkinson.org
Chapter Website: www.parkinson.org/heartland
Moving Day Omaha has exceeded its goal of $65,000!
We would like to thank the hundreds of Parkinson's patients, caregivers, providers, and community members in attendance on Saturday that participated in our first Moving Day Omaha 2018. The beautiful day, coupled with the excitement and passion of everyone who attended, made for a great day to fight Parkinson's. Your hard work and dedication helped us surpass our goal and make our first event a resounding success!
Many thanks to each committee member, volunteer, sponsor, team captain, walker, resource partner, and donor who gave their time, talent, and support to this important movement. Sending each of you our heartfelt appreciation for helping the Parkinson's Foundation make life better for people living with Parkinson's.
Again, thank you for such a warm welcome to Omaha. Can't wait to see you again at Stinson Park on April 27, 2019, for Moving Day Omaha 2019!
We're still accepting Moving Day Omaha donations. Please send checks and matching gift forms to:
Parkinson's Foundation Heartland
ATTN: Moving Day Omaha
8900 State Line Rd., Suite 320
Leawood, KS 66206
Click Here for full event details
IMPORTANT INFORMATION FOR SATURDAY'S MOVING DAY OMAHA
It's hard to believe, but the very first Moving Day Omaha is just a few short days away! Please read the following information to help your day go as smoothly as possible.
What time is Moving Day Omaha?
Registration and all activity areas open at 9:00 a.m. Saturday, April 28. The Opening Ceremony for the Walk begins promptly at 10:30 a.m. at the Stage and the Closing Ceremony will begin approximately 12:00 p.m.at the Stage. Activities and Exhibits will close at 12:30 p.m.
Where is Stinson Park?
Omaha's Stinson Park at Aksarben Village is at S. 67th and Center St. If you are using GPS to find your way, the address is 2285 S. 67th St., Omaha, NE, 68106.
Where can I park? Is it free?
Parking is free and Aksarben Village has two parking garages located just a stone's throw from Stinson Park. Participants can also be dropped off or picked up at Stinson Park in a designated zone on Mercy Rd. near the intersection with S. 67th St. In addition, a limited number of ADA parking spots will be available next to the park on Mercy Rd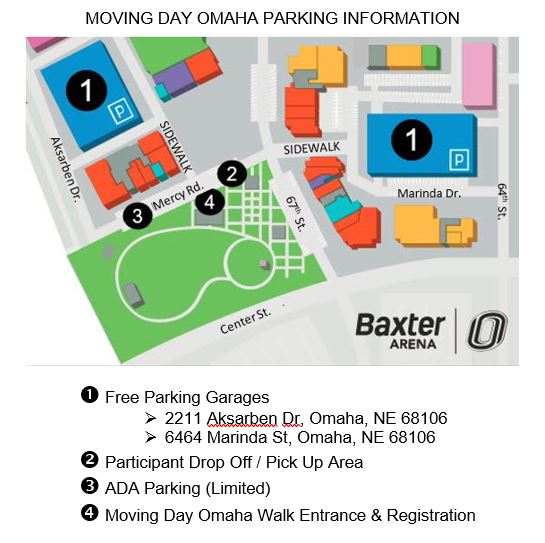 What is the registration fee?
Moving Day Omaha does not charge to participate in our event. As our largest fundraiser, however, we hope that everyone in attendance makes a donation and/or fundraises with a walk team.
Do I have to be on a team? How big do teams have to be?
You can participate in Moving Day Omaha as an individual. There's no size requirement for teams. Whether your team has two members or 200, we're happy you're participating in Moving Day Omaha to raise money and awareness of Parkinson's disease.
Do I have to visit the Registration Tent? What if I registered online?
Yes. We ask that everyone in attendance stops by the Registration Tent, even if you've already registered online. It's how we'll provide you with important information, including last minute updates, and make sure you've signed a participation waiver.
I have donations to turn in. Can I do that on Saturday?
You sure can! Please drop them off at the Registration Tent when you arrive.
Can I make a donation at Moving Day?
Of course! We'll be accepting cash, check, and credit card donations at Registration.
I'm still waiting for some donations. Can I turn them in after the event?
YES!!! You can continue fundraising and turn in donations up to 30 days after Moving Day Omaha.
What should I tell people who don't want to donate online?
Donations can be mailed to Parkinson's Foundation Heartland Chapter, ATTN Moving Day Omaha, 8900 State Line Rd., Suite 320, Leawood, KS 66206. Please make checks payable to Parkinson's Foundation. Include Moving Day Omaha and your name on the memo line so we can properly attribute the funds to you and your team.
How do I get a t-shirt? Can I buy one?
Limited-edition Moving Day Omaha t-shirts are awarded to participants who have raised $100 or more. Registration officials will provide you with redemption information to claim your t-shirt on Saturday. They are not for sale.
Is Moving Day kid friendly?
Yes! Please bring the whole family! Moving Day Omaha is a great opportunity for all your loved ones to rally around friends or family battling Parkinson's disease. In addition to the park's playground equipment, children can enjoy fun games and activities in the Kids Zone.
Can I bring my dog?
Well-behaved dogs are welcome on a leash. Please stop by Registration to fill out a dog waiver. And of course, please make sure you clean up after your pet.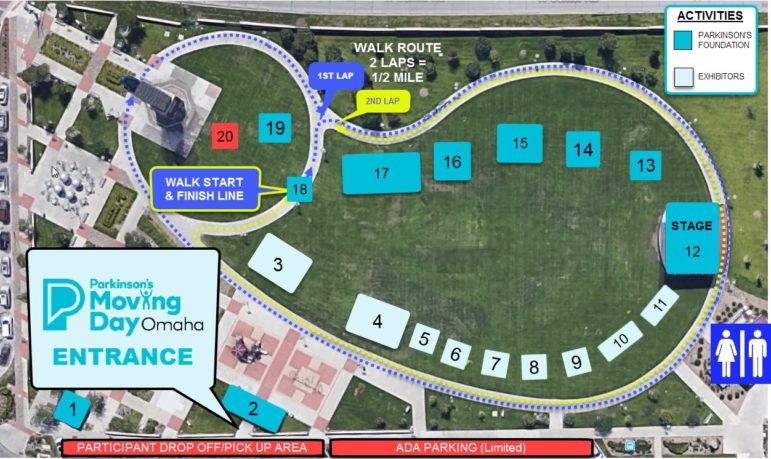 The walk is just one part of Moving Day Omaha. There are many other activities at Moving Day:
Resource Pavilion & Local Sponsor Spotlight (#3 & #4) – Visit with local businesses and organizations providing services to the local community and people with Parkinson's.
National Sponsor Row (#5 – #11) – Meet with our National Sponsors and learn about the opportunities they provide for the Parkinson's community.
Stage (#12) – Home of the Opening and Closing Ceremonies, the Stage is also party central thanks to music provided by DJ Jeremiah from JIIK DJ Services.
VIP Team Area (#13) – A special area for our VIP teams. Will your team earn a spot for Moving Day 2019?
Team Photo Area (#14) – Gather your team together for group pictures!
Kids Zone (#15) – Activities for the younger set including carnival games and a visit by Miss Pockets, who will be entertaining the crowd and making fun balloon sculptures.
Parkinson's Foundation Mission Tent (#16) – Learn about all the free resources, educational materials, programs, and training available from the Parkinson's Foundation. Fill out a Walk Bib to honor loved ones and show why Moving Day is important to you. Visit the Parkinson's Connection Station to get free beads that you can wear to show your connection to Parkinson's disease.
Movement Pavilion (#17) – Get moving at our signature pavilion! Here's an opportunity for everyone to try out many Parkinson's-friendly exercises led by trained professionals.
MOVING DAY SCHEDULE OF EVENTS
9:00 a.m. Registration Opens & All Activities Begin
10:30 a.m. Opening Ceremony
11:00 a.m. Ribbon Cutting and Walk Start
Activities Continue During the Walk
12:00 p.m. Closing Ceremony
12:30 p.m. Event Closes
---
To learn more about the resources in your area, and the great work of the Parkinson's Foundation Heartland Chapter, please visit our website www.parkinson.org/heartland.
Do you have questions about Moving Day Omaha?  We have answers!  Click here for a copy of our Moving Day Omaha FAQ.
If you have any questions about Moving Day, are interested in sponsorship opportunities or would like information about our chapter, please contact us below:
 Robyn Tota| ph: 913-416-4122| rtota@parkinson.org
Mailing address:
Parkinson's Foundation Heartland Chapter
8900 State Line Road, Ste. 320
Leawood, KS 66206