Event Details
Date: Sunday, September 30, 2018
Location: Monroe Community College | MAP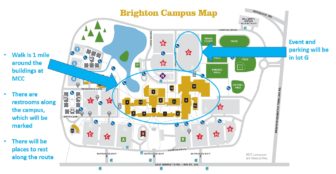 Registration opens: 9:00 a.m. | 1 Mile walk start time: 11:00 a.m.
Contact: Kim Collins | ph: 585-234-5355 | kcollins@parkinson.org
Chapter Website: www.parkinson.org/greaterrochester 
Moving Day raises awareness of Parkinson's both nationally and in the Greater Rochester community. It is 'A day to move, a day to move others, a day that moves YOU!'
Schedule of Events:
9:00 a.m. – Registration, Movement Pavilion, Parkinson's Experience Tent, Mission Tent, Refreshment Tent, Kid's Area will all be open
10:45 a.m. – Welcome and Warm Up for walk (Main Stage)
11:00 a.m. – Walk begins (Ribbon Cutting)
12:00 p.m. – Closing Ceremonies (Main stage)
Movement Pavilion Schedule:
Check back soon for the Movement Pavilion Schedule.
Our Location:
Moving Day Rochester will take place at Monroe Community College Brighton Campus-1000 East Henrietta Rd., Rochester, NY 14623. The event will take place in parking lot G-in the back of the campus near the athletic fields.
The Moving Day Event will take place rain or shine. If cancellation of the event is warranted due to dangerous weather conditions, announcements will be made on the event day at the event site. The event will not be canceled in advance. All decisions regarding cancellation will be made on site.
Course:
The Moving Day Rochester walk course is 1 mile walk around MCC interior campus. There will be restrooms and rest areas along the route.
Parking Options:
There will be parking in the back of lot G. We will have parking attendants that will be directing, if you need help. We will also have a drop off area and handicap parking.
T-Shirts:
Participants who raised $100 or more will receive an official Moving Day t-shirt. The $100 is based on individual fundraising and not team fundraising amounts. Participants can collect their shirt on event day at registration or can come to our pre-registration night-September 27th from 4-7pm at the Al Sigl Center (1000 Elmwood Ave., Rochester, NY 14620- Door #1).
---
To learn more about the resources in your area, and the great work of the Parkinson's Foundation Greater Rochester Chapter, please visit our website www.parkinson.org/greaterrochester.
If you have any questions about Moving Day, are interested in sponsorship opportunities or would like information about our chapter, please contact us below:
 Kim Collins | ph: 585-234-5355 | kcollins@parkinson.org
Mailing address:
 Parkinson's Foundation Greater Rochester Chapter
1000 Elmwood Ave, Suite 1600
Rochester, NY 14620