Event Details
Date: Saturday, April 6, 2019
Location: University of South Florida – West Pond Pavilion (New Location at USF) | MAP
West Pond Pavilion is adjacent to Simmons Park.
Contact: Lena Brennan | ph: 813-616-6517 | lbrennan@parkinson.org
For print friendly version please click here.
IMPORTANT – We have some exciting new changes to our location and to our event program this year. Please read the following carefully!
Registration & Festivities Begin: 8:30 a.m.
We Move Pavilion Opens: 9:15 am
We Move Ceremony:  9:45 a.m.
Walk Start Time: 10:00 a.m.
We Move Pavilion Schedule
| Time | Movement Activity |
| --- | --- |
| 9:15 a.m. | NIA |
| 10:15 a.m. | Yoga |
| 10:45 a.m. | Rock Steady Boxing – Fishhawk |
| 11:15 a.m. | Tai Chi |
| 11:45 a.m. | Zumba |
Location & Parking
Moving Day Tampa Bay will take place at a new location within the University of South Florida, West Pond Pavilion off of USF Laurel Drive. Follow the Moving Day directional signs to the parking area. Free, unlimited parking will be available at Parking Lot 9A. Parking spaces will be reserved for people with handicap placards.  Click on either map below to download and print.
Click here for gps directions to the parking lot.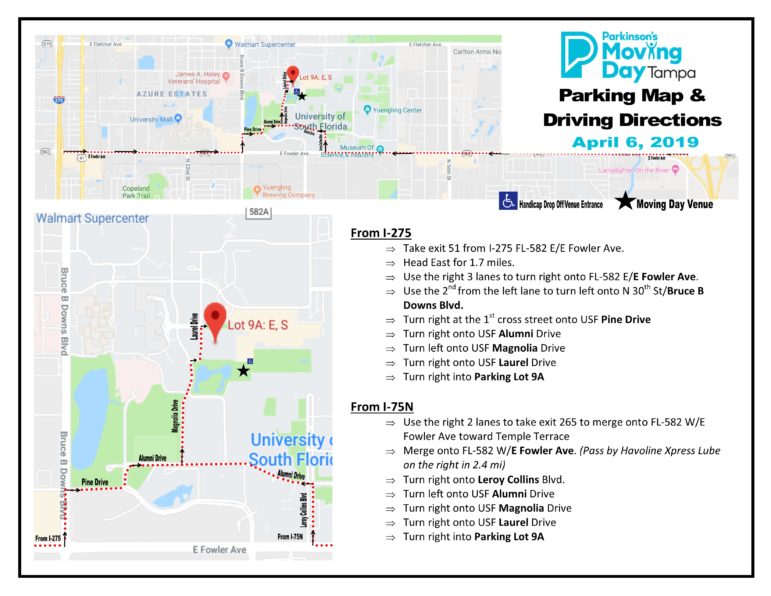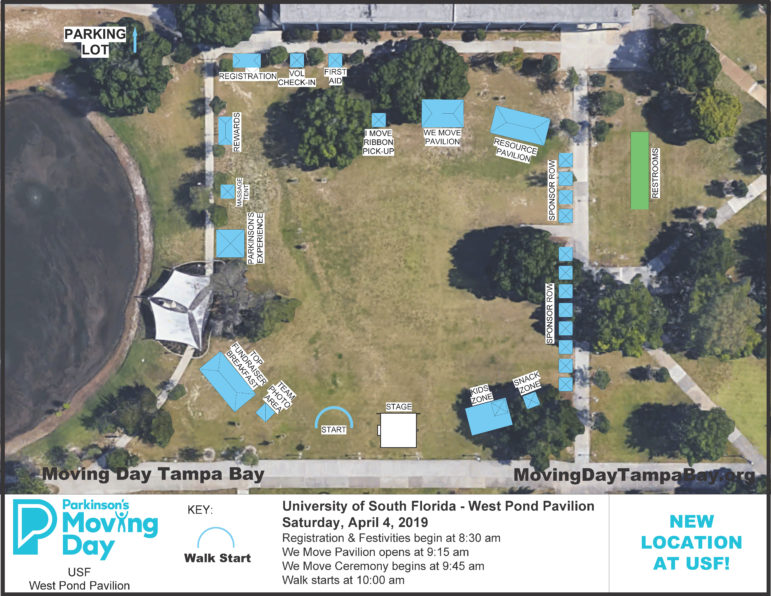 Registration & Check-In
Registration and event activities begin at 8:30 am. Every participant must check-in to receive your official Event Wristband (required for all participants) and, if applicable, your Moving Day Rewards Pick-Up Card. Participants who have registered online ahead of event day must check-in. Participants who need to register may do so at the Registration & Check-In tent. Only participants who are registered and checked-in will receive the new I Move Ribbon so please be sure to check-in!
Donation Drop-Off
Any participant dropping off or making additional donations may do so at the Registration & Check-In Tent. Cash, check and credit card donations will be accepted. Donations may be made in person to qualify for and earn a Moving Day Reward.
Walk Route
The Moving Day walk is for participants of all ages and all abilities. There is a 1-mile option and a 5K option. Click on the map below to download and print.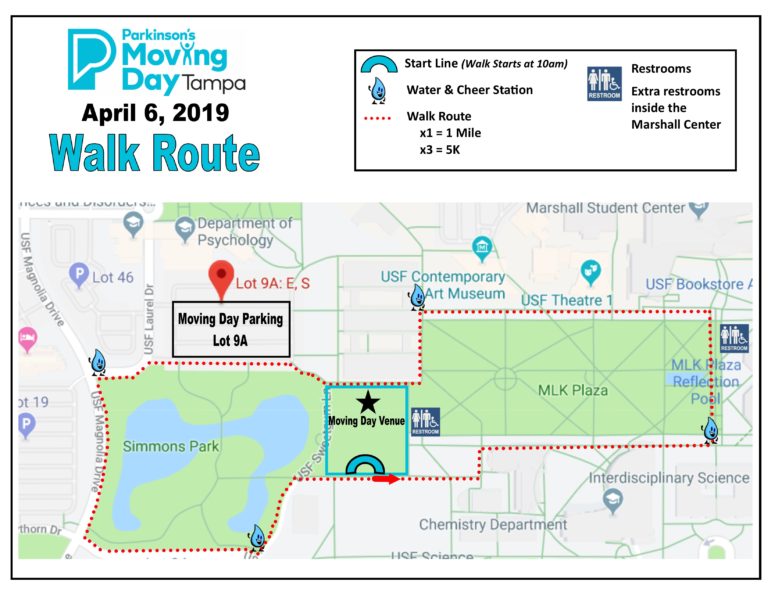 Moving Day Rewards
We are thrilled to offer our new Moving Day Rewards to participants who raise $100 or more. When you check-in at the Registration & Check-In Tent you'll receive a Rewards Card to pick up your earned items at the Rewards Tent. Click here to learn more about great gear and exclusive experiences you will receive on walk day if you raise $100 or more.
Light Snacks & Beverages
Light snacks will be available before and during the walk. Water stations will be set up along the walk route.
The New Moving Day Experience
At this year's event you'll experience a new, powerful We Move Ceremony at 9:45 am that will unite us in our commitment to move against Parkinson's. This year, every registered participant will get a free I Move Ribbon representing your connection to the Parkinson's community. You can use the ribbon during the ceremony and sessions at the We Move Pavilion. Also join us for a new Parkinson's Experience, top fundraiser rewards, music, communal moments and activities.
What isn't changing this year is our passion for helping those with Parkinson's and helping fund critical research. We know that you will love our new Moving Day experience and we hope you will help us show the rest of the nation that Tampa knows how to move toward the end of Parkinson's, together. Please arrive at 8:30 am to register, pick up your I Move Ribbon and take part in movement activities. Then, head over to the stage at 9:45 am for the We Move Ceremony.
Weather
Moving Day will take place rain or shine! Check the weather forecast to prepare accordingly. Should conditions warrant any change, we will make an announcement via email and on the Moving Day website.
Dogs
For the safety of our participants, dogs are not allowed at Moving Day.
Raffle
Five amazing baskets with all kinds on wonderful prizes will be raffled off to benefit Moving Day Tampa Bay. For more information on baskets and tickets click here.
Donations
The Moving Day website will be open until August 31. After the event, mail checks and matching gift forms to:
Parkinson's Foundation
ATTN: Moving Day Tampa Bay
200 SE 1st Street, Suite 800
Miami, FL 33131
Please include a note with your name and team name to receive fundraising credit.
To learn more about the resources in your area, and the great work of the Parkinson's Foundation, please visit our website www.parkinson.org.
If you have any questions about Moving Day Tampa Bay, are interested in sponsorship opportunities or would like information about the Foundation, please contact us below:
Lena Brennan | ph: 813-616-6517 | lbrennan@parkinson.org