Date: Saturday, April 27, 2019
Location: Bailey Park | MAP
Registration opens: 8:30 a.m. | Walk start time: 11:30 a.m.
Contact: Diana Parrish | ph: 336-817-4190 | dparrish@parkinson.org
Website: www.parkinson.org
For Volunteer opportunities click here!
Pre-Moving Day Special Event for all Registered Team Captains – Sponsored by Sunovion
Retired Lt. Col. Richard Clifford will be speaking at 6pm at local restaurant in Winston-Salem about his journey with Parkinson's and how it impacted his professional life as an astronaut.  All registered Captains will be invited via email for this 'free' and 'inspiring' event where dinner and drinks will be served.  Captains will be able to bring a guest.  This event will be on March 25 @ 6pm.
MOVING DAY Winston- Salem Event Details
Date:  April 27, 2019
Time:  8:30am – 12 noon
 Activities Schedule
Time
 
8:30am

Registration Opens
All Participants Need to Go to Registration to:
Register if you did not do so on-line
Pick up Passports (prizes to be awarded at end of event)
Each participant that raised $100+ will pick up incentive items (if you raised $500+ you will pick up your wristbands for VIP Breakfast)
Donate or turn in any money raised

9:00am – 11:45am
Movement Stations Open for Interactive Activities:

Physical Therapy, Boxing Therapy, Bike Therapy, Horse Therapy, Dance Therapy, Speech Therapy and Music Therapy

Sponsor Tents Open
Resource Pavilion Opens
Parkinson's Pals Opens – new 'kid zone' area
VIP Breakfast Area Opens (all individuals that raise $500+ will be able to go into this area with a guest)

9:00 – 10:00 am – Top Fundraiser Continental Breakfast

Top Fundraiser Continental Breakfast (individuals that raise $500 or more are invited with a guest)
9:45am – Team Pictures
Team Captains to receive an email letting them know what time their team pictures will take place and where to go.
10:30am – Opening Ceremony
Announce Top 3 Fundraising Teams (Prize for 1st Place)
10:45am – Heads or Tails Contest
Prize for winner-anyone can play
11:30am – Ceremonial Walk Around Bailey Park
 Warm-Up at 11:15am with Moving Day Planning Committee at stage
11:45am – Passports due at Registration Table
Return completed passports and be entered to win a prize
11:50am – Closing Ceremony
Lunch Options:
Go to one of the following restaurants after Moving Day to have lunch.  You will get 25% of your receipt donated to your Moving Day Winston-Salem team…be sure to ask waitress for the special coupon so she can attach to your receipt!
Alma Mexican at corner of Patterson & 4th Street
Finnigan's Wake on Trade Street
The Porch & Cantina in West End
Registration: To register online for Moving Day, go to www.movingdaywinston-salem.org. You can register in person at the Registration Tent on walk day. We strongly encourage everyone to register pre-event. There is no registration fee; however, we encourage all participants to raise at least $100 to receive an official 2019 Moving Day shirt on walk day.
New Fundraising Incentives for Individuals Fundraising Rewards page
$100 – signature event t-shirt (individuals that raise $100+ will get this t-shirt)
$250 – signature t-shirt & water bottle
$500 – signature t-shirt, water bottle & VIP Continental Breakfast for you and a guest
All participants that have pre-registered must check-in at the Registration Tent on walk day.
Directions: The event is located at Bailey Park (in between 4th and 5th Street) – 445 Patterson Avenue, Winston-Salem All attending are encouraged to take I-52 to Martin Luther King Drive then to Research Parkway to get to parking deck located between 4th & 4th Streets.  Downtown streets from Broad to Church will be closed due to another event.  When you arrive, please follow the Moving Day signs.
Parking: See attached map.  Look for directional signs for 'free' parking in deck.  If you need assistance from the deck we will have golf carts.  Parking Map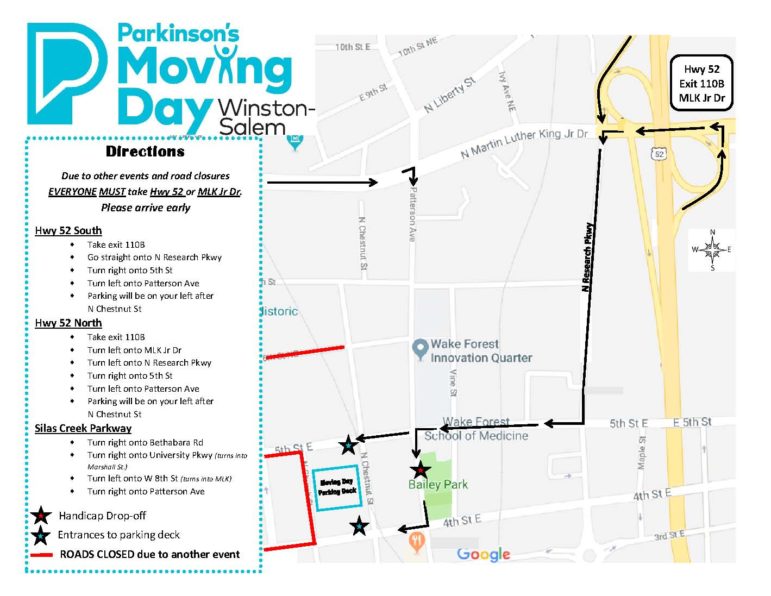 Site Map:
Walk Route: There will be a 'ceremonial' walk around Bailey Park at 11:15am.
ADA Restrooms: Yes
Feel Free to Bring Lawn Chairs
Top Fundraiser Breakfast: All participants that have raised $500 or more by April 21, 2019 will be invited to the VIP Breakfast…you can bring one guest. Your Moving Day Staff partner will provide additional details soon.
Refreshments/Snacks: Healthy snacks and water will be available in the Refreshment Tent.
Dogs: For the safety of our participants, dogs are not allowed at Moving Day.
Rain or Shine: Moving Day takes place rain or shine! Be sure to check the weather forecast and prepare accordingly. If conditions warrant any change, announcements will be made on the Moving Day website.
Donations: Cash, check and credit card donations will be accepted on walk day.
Donations can be mailed to the address below prior to or after Moving Day.
Parkinson's Foundation
Attn: Moving Day Winston-Salem
200 SE 1st Street, Suite 800
Miami, FL 33131
Please include a note with your donations indicating the participant and/or team the donation(s) should be credited to.
---
To learn more about the resources in your area, and the great work of the Parkinson's Foundation, please visit our website www.parkinson.org.
If you have any questions about Moving Day, are interested in sponsorship opportunities or would like information about the foundation, please contact us below:
Contact: Diana Parrish | ph: 336-817-4190 | dparrish@parkinson.org
Mailing address:
ATTN: Moving Day Winston-Salem / Diana Parrish
Parkinson's Foundation, Inc.
200 SE 1st Street, Suite 800
Miami, FL 33131