Event Details
Date: Saturday, April 28, 2018
Location: Bailey Park | MAP
Registration opens: 9:00 a.m. | Walk start time: 11:00 a.m.
Interested in Volunteering?: Sign Up Here
Contact: Celeste Tennant | ph: 404-397-1014 | ctennant@parkinson.org
Website: www.parkinson.org

Thank You!
A very heartfelt THANK YOU to everyone that made a donation, walked with us, volunteered or otherwise supported the Parkinson's Foundation at Moving Day Winston-Salem! The beautiful weather coupled with the excitement and passion of nearly 500 participants made for a perfect day, and together we raised over $83,000 (and counting) in the fight against Parkinson's!
Congratulations to each and every person who worked so hard and made this event so special. We want to extend a very special thanks to our outstanding planning committee led by our fearless Event Chair Diana Parrish. Their hard work and tireless efforts ensured our very first Moving Day Winston-Salem was a huge success.
Moving Day Winston-Salem Volunteer Committee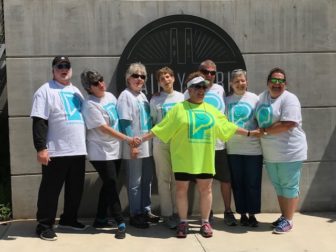 Pictured left to right: Bubba Parrish, Diana Parrish, Carol Gearhart, Camille Jones, Julie Bradwell, Keith Lawson, Judy McGill, and Pam Hill
Not pictured: Greg & Jackie Brewer and Jessica Tate
THANK YOU!
Looking for your team photo? You can find your team photos on our Facebook page here.
Date: April 28, 2018
Time: 9:00am – 12 noon
Location: Bailey Park (in between 4th and 5th Street) – 445 Patterson Avenue, Winston-Salem
Driving Directions: All attending NEED to take I-52 to Martin Luther King Drive then to Research Parkway to get to parking deck and Bailey Park. Drop-Off located on Patterson at Bailey Park. Look for Moving Day directional signs. Downtown streets from Broad to Church will be closed due to another event.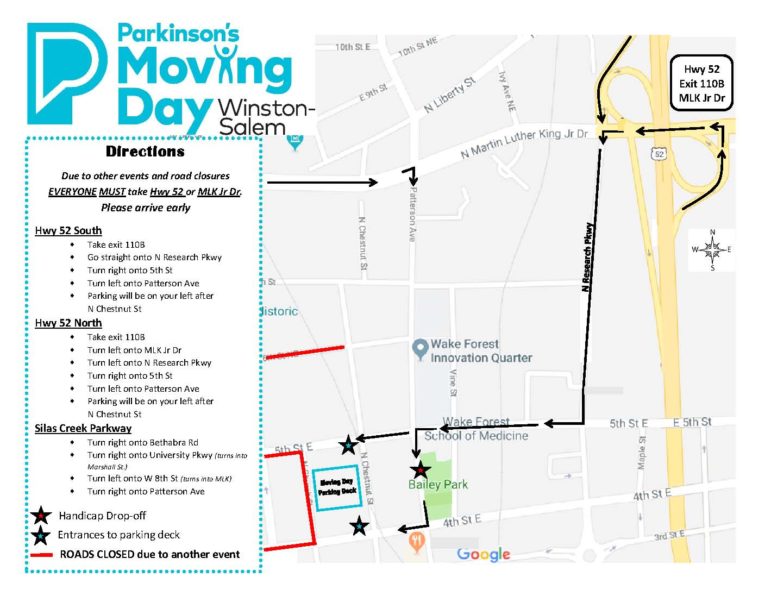 Venue Map: Click Here
Schedule of Events
8:30am – Registration Opens
All Participants Need to Go to Registration to:
Register if you did not do so on-line
Pick up Passports
Each participant that raised $100+ will pick up a Moving Day t-shirt
Turn in any money raised
9:00am
Movement Tents Open for Interactive Activities
Physical Therapy
Boxing Therapy
Bike Therapy
Drum Therapy
Horse Therapy
Dance Therapy
Speech Therapy
Music Therapy
Sponsor Tents Open
Resource Pavilion Opens
9:45am – Team Pictures
10:30am – Opening Ceremony
Announce Top 3 Fundraising Teams (Prize for 1st Place)
11:00am – Ceremonial Walk Around Bailey Park
11:45am – Closing Ceremony
Additional Information

No pets – service animals only please!
Bring a lawn chair or blanket
Did you know there are incentive prizes available under the Moving Day Fundraising Rewards Program? Learn more here.
---
To learn more about the resources in your area, and the great work of the Parkinson's Foundation, please visit our website www.parkinson.org.
If you have any questions about Moving Day, are interested in sponsorship opportunities or would like information about the foundation, please contact us below:
 Contact: Celeste Tennant | ph: 404-397-1014 | ctennant@parkinson.org
Mailing address:
ATTN: Moving Day Winston-Salem / Celeste Tennant
Parkinson's Foundation, Inc.
200 SE 1st Street, Suite 800
Miami, FL 33131