Local Partner – Encompass Health Rehabilitation Hospital of Braintree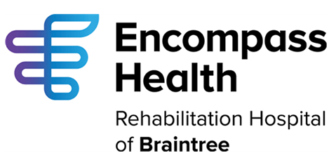 ---
Encompass Health Rehabilitation Hospital of Braintree is a 187-bed acute care facility, which includes a 21-bed inpatient site in Framingham, MA., that offers comprehensive inpatient and outpatient rehabilitation services.
Located in Braintree and Framingham serving the Boston area, we are a leading provider of rehabilitation for stroke, brain injury, hip fracture and other complex orthopedic and neurological conditions, such as Parkinson's disease.
Using clinical collaboration and advanced technologies, we provide a personalized care plan designed to meet your unique needs and help you achieve your goals.
Encompass Health is here for you
---