Event Details
Date: Saturday, October 19, 2019
Location: Piedmont Park – The Promenade | MAP
Activities Begin: 9:00 a.m. | We Move Ceremony & Walk: 10:30 a.m.
Contact: movingdayatlanta@parkinson.org
Website: www.parkinson.org/georgia
What an event, what a day, what a community!
On behalf of the thousands of people living with Parkinson's Disease and their care partners we serve in the Atlanta area, we would like to thank everyone that participated in Moving Day Atlanta 2019. Though it was a cold and rainy day, the excitement and passion of everyone who attended made for a great day to fight Parkinson's. Your hard work and dedication helped us raise over $195,000! Many thanks to each committee member, sponsor, team, resource partner and volunteer who gave their time, talent, and support to this important movement. Sending each of you our heartfelt appreciation for helping the Parkinson's Foundation make life better for people living with Parkinson's.
We are still accepting donations. Please send checks and matching gift forms to:
Parkinson's Foundation
ATTN: Moving Day Atlanta
200 SE 1st Street, Suite 800
Miami, FL 33131
---
Schedule of Activities
9:00 a.m.
Registration, Refreshment Tent, Kids Zone, Parkinson's Experience Tent, Resource Pavilion open
9:30 a.m.
We Move Pavilion Activity

YMCA of Metro Atlanta – Parkinson's Movement

9:45 a.m.
We Move Pavilion Activity

Livramento Delgado Boxing Foundation (LDBF) – Boxing for Parkinson's

10:05 a.m.
Singing with Parkinson's Choir sings National Anthem
10:15 a.m.
We Move Ceremony on stage
10:30 a.m.
Walk starts
10:45 a.m.
We Move Pavilion Activity

Bodies-in-Motion, Inc. – Nordic Pole Walking

11:15 a.m.
We Move Pavilion Activity

Ageless Grace Educators – Ageless Grace Brain Health Fitness

11:30 a.m.
We Move Pavilion Activity

Fox Rehabilitation – Yoga

12:00 p.m.
Closing Remarks and Raffle Winner Announced
Registration: To register online for Moving Day, go to www.movingdayatlanta.org. You can register in person at the Registration Tent on walk day. We strongly encourage everyone to register pre-event. There is no registration fee; however, we encourage all participants to raise at least $100 to receive an official 2019 Moving Day shirt on walk day. Fundraise $250 or more to receive an exclusive Moving Day water bottle on walk day. Walk participants can earn additional fundraising rewards. Please visit our Fundraising Rewards page for more information.
All participants that have pre-registered must check-in at the Registration Tent on walk day.
Directions: The event is located at Piedmont Park – The Promenade: 1320 Monroe Drive, Atlanta, GA 30306. When you arrive, please follow the Moving Day signs.
For more information: https://www.piedmontpark.org/directions/
Parking: Participants are encouraged to arrive as early as possible for easy access to parking, and carpooling is encouraged. The parking deck next to our venue is shared with visitors to Piedmont Park and the Atlanta Botanical Gardens. If the parking deck is temporarily full, please look for legal street parking in the surrounding neighborhoods. Handicap, UBER, and Lyft drop off is still allowed.
Use the Piedmont Park SAGE parking garage located in the center of Piedmont Park. There is a ramp exiting the second level of the garage that connects directly to the venue. The SAGE parking garage rates are as follows:
| | |
| --- | --- |
| Time | Cost |
| Drop-off period (0 – 30 minutes) | Free |
| 31 – 60 minutes | $2.00 |
| Each additional 30 minutes | $1.00 |
| Maximum daily rate | $15.00 |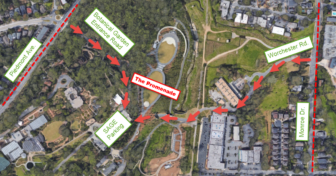 Walk Route: Moving Day Atlanta is a non-competitive fun walk for participants of all ages and all abilities. The route is 1.5 miles long and stays on paved sidewalks inside Piedmont Park. The route is handicap accessible. There is one water station on the route and the walk passes three public restrooms. Please see the map below for this year's walk route.
As an alternative to participating in the walk, attendees may enjoy exercise demonstrations adapted for people with Parkinson's at the We Move Pavilion.
Site Map: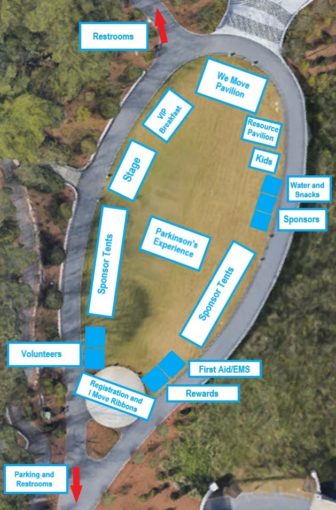 The walk is just one part of Moving Day Atlanta. There are many other activities at Moving Day:
Resource Pavilion – Visit with local businesses and organizations providing services to the local community and people with Parkinson's.
I Move Ribbons Tent – Before we begin our We Move Ceremony, be sure to stop by this tent and pick up your I Move Ribbon! 4 colors represent those: living with PD, a caregiver, a loved one, or someone who moves to end PD.
Sponsor Row – Meet with our National Partners and Local Sponsors and learn about the opportunities they provide for the Parkinson's community.
Stage – Home of the Opening and Closing Ceremonies, the stage is also party central thanks to music provided by DJ Greg Picciano.
VIP Breakfast/Top Fundraisers Tent – A special area for individuals that have raised $500+ and the top 5 teams. Breakfast will be served from 9:00 a.m. – 10:00 a.m.
Team Photo Area – Gather your team together for group pictures!
Kids Zone – Activities for the younger set including games, arts and crafts and face painting.
Parkinson's Experience Tent – Learn about all the free resources, educational materials, programs, and training available from the Parkinson's Foundation. Fill out a Walk Bib to honor loved ones and show why Moving Day is important to you.
We Move Pavilion – Get moving at our signature pavilion! Here's an opportunity for everyone to try out many Parkinson's-friendly exercises led by trained professionals.
ADA Restrooms: ADA restrooms will be available.
Top Fundraiser Breakfast: All participants that have raised $500 or more and the top 5 teams by October 17, 2019, are invited to join us at the breakfast. Your Moving Day Staff partner will provide additional details soon.
Refreshments/Snacks: Healthy snacks and water will be available in the Refreshments Tent.
Dogs: Dogs are permitted within the park – but must always be leashed.
Rain or Shine: Moving Day takes place rain or shine! Be sure to check the weather forecast and prepare accordingly. If conditions warrant any change, announcements will be made on the Moving Day website.
Donations: Cash, check and credit card donations will be accepted on walk day.
Donations can be mailed to the address below prior to or after Moving Day.
Parkinson's Foundation
Attn: Moving Day Atlanta
200 SE 1st Street, Suite 800
Miami, FL 33131
Please include a note with your donations indicating the participant and/or team the donation(s) should be credited to.
---
To learn more about the resources in your area, and the great work of the Parkinson's Foundation, please visit our website www.parkinson.org/georgia.
If you have any questions about Moving Day, are interested in sponsorship opportunities or would like information about the foundation, please contact us below:
movingdayatlanta@parkinson.org
Mailing address:
ATTN: Moving Day Atlanta
Parkinson's Foundation, Inc.
200 SE 1st Street, Suite 800
Miami, FL 33131