Event Details
Date: Saturday, October 27, 2018
Location: Piedmont Park – Promenade | MAP
Registration opens: 9:00 a.m. | Walk start time: 11:00 a.m.
Contact: Celeste Tennant | ph: 404-397-1014 | ctennant@parkinson.org
Website: www.parkinson.org/georgia
What an event, what a day, what a community!
On behalf of the thousands of people living with Parkinson's Disease and their care partners we serve in Georgia, we would like to thank everyone that participated in Moving Day Atlanta 2018. Your smiles shined through the cloudy skies, and the excitement and passion of everyone who attended made for a great day to fight Parkinson's. Your hard work and dedication helped us raise nearly $220,000! Many thanks to each committee member, sponsor, team, resource partner and volunteer who gave their time, talent, and support to this important movement. Sending each of you our heartfelt appreciation for helping the Parkinson's Foundation make life better for people living with Parkinson's.
Some reminders:
Team photos and candid pictures will be available in the coming days – an email will be sent to all participants once they are available.
Don't forget, we are still accepting donations. Please send checks and matching gift forms to:

Parkinson's Foundation
ATTN:  Moving Day Atlanta
200 SE 1st Street, Suite 800
Miami, FL 33131
Save the date for next year – October 19, 2019!
---
Volunteer for Moving Day Atlanta by registering here.
Schedule of Events
9:00 a.m.
Registration and Check-in Open
9:00 – 10:30 a.m.
Moving Day Festival Activities Open
9:30 – 10:30 a.m.
Movement Pavilion Exercise Demonstrations

·        Tai Chi

·        Dancing

·        Boxing

·        Get Excited and Move (G.E.M.)

10:30 – 10:45 a.m.
Event Ceremony and Honorary Speakers
10:45 – 11:00 a.m.
Final Warm Up
11:00 a.m.
Walk Starts
11:15 – 11:45 a.m.
Movement Pavilion Exercise Demonstrations

·        Yoga

·        Nordic Pole Walking

11:45 a.m.
Closing Remarks & Raffle Winner Announced
Venue Map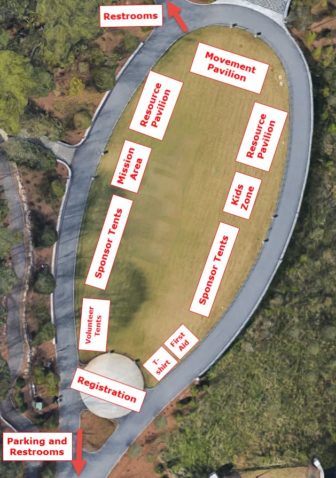 Walk Route
Our event is a non-competitive fun walk. The route is 1.2 miles long and stays on paved sidewalks inside Piedmont Park. The route is handicap accessible. There is one water station on the route and the walk passes three public restrooms. Please see the map below for this year's walk route.
As an alternative to participating in the walk, attendees may enjoy exercise demonstrations adapted for people with Parkinson's at the Movement Pavilion.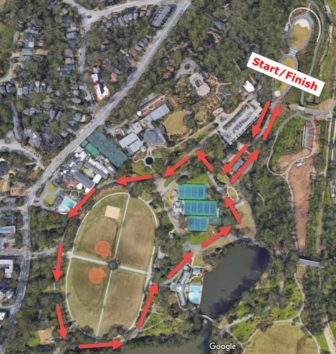 Parking
Participants are encouraged to arrive as early as possible for easy access to parking, and carpooling is encouraged. The parking deck next to our venue is shared with visitors to Piedmont Park and the Atlanta Botanical Gardens. If the parking deck is temporarily full, please look for legal street parking in the surrounding neighborhoods. Handicap, UBER, and Lyft drop off is still allowed.
Use the Piedmont Park SAGE parking garage located in the center of Piedmont Park. There is a ramp exiting the second level of the garage that connects directly to the venue. The SAGE parking garage rates are as follows:
| | |
| --- | --- |
| Time | Cost |
| Drop-off period (0 – 30 minutes) | Free |
| 31 – 60 minutes | $2.00 |
| Each additional 30 minutes | $1.00 |
| Maximum daily rate | $15.00 |
Parking Directions
The parking garage is accessible from Piedmont Avenue at the Atlanta Botanical Garden entrance and off Monroe Drive on Worchester Drive.
If you are using GPS, enter Botanical Gardens Parking as your destination to access the West parking entrance or 1320 Monroe Drive Atlanta, GA 30306 as your destination to access the East parking entrance.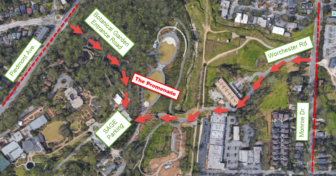 For more information: https://www.piedmontpark.org/directions/
Accessibility Accommodations
There is a ramp exiting the second level of the Piedmont Park SAGE parking garage that connects directly to the venue.
One handicap accessible portable toilet will be available on the Promenade before, during, and after the event. The walk will pass three public restrooms.
There will be chairs available at the venue, and a few chairs at the water station along the walk route.
The walk route is handicap accessible and is 1.2 miles long with one steeper incline towards the beginning.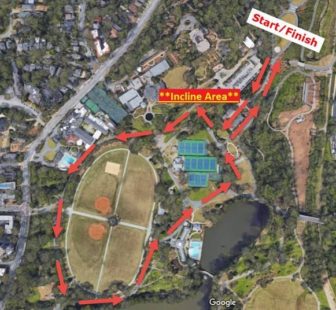 Click here for a printable version of the map.
There will be a golf cart that follows the last participants of the walk in case anyone is in need of further assistance.
If unable to participate in the walk, there will be Nordic pole walking and Yoga exercise demonstrations at the Movement Pavilion during the walk.
Please bring your own wheelchairs if needed for the event.
Please contact us with any further accessibility concerns.
Additional Information
Participants that raise $100+ prior to event day, will receive a Moving Day Atlanta t-shirt
Dogs are permitted within the park – they must always be on a leash
Donations may be turned in on event day at registration
There will be an event passport distributed at registration, attendees must visit sponsor booths to have their passport stamped. Completed passports are entered into a raffle drawing.
---
To learn more about the resources in your area, and the great work of the Parkinson's Foundation Georgia, please visit our website www.parkinson.org/georgia.
If you have any questions about Moving Day, are interested in sponsorship opportunities or would like information about the foundation, please contact us below:
 Celeste Tennant | ph: 404-397-1014 | ctennant@parkinson.org
Mailing address:
ATTN: Moving Day Atlanta / Celeste Tennant
Parkinson's Foundation, Inc.
200 SE 1st Street, Suite 800
Miami, FL 33131