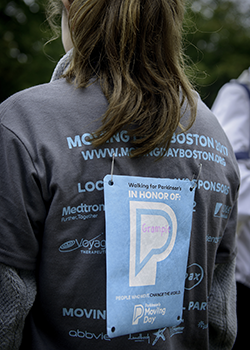 I made a personal donation!
I earned a Moving Day T-shirt!
$1,000 Level Fundraiser
Event:
Hi Everyone,
As some of you know both my sister and my father are living with Parkinson's Disease. Both were diagnosed in thier 50's, my sister, Susan, less than one year ago. We are no strangers to the unpredictable challenges of this diease! Susan is heading up a team for the annual Moving Day fundraiser in Atlanta this year, but because we are unable to join them in Atlanta we wanted to set up a satelitte walk in Petaluma. Please join Steve and I for a stroll around Shollenberger Park on Saturday, October 27th at 10:00am, followed by a no-host toast at Pub Republic afterwards. Donations of any amount are greatly appreciated. Our family is hoping to raise almost $10,000 in support of finding a cure for this debilitating disease.
Why Move for Moving Day?
Did you know that someone is diagnosed with Parkinson's disease every 9 minutes in the United States? No one should have to face Parkinson's alone. That is why the Parkinson's Foundation provides a community of support to give people the resources and help they need to live well with Parkinson's.
Support our mission to help every person diagnosed with Parkinson's live their best possible life now. Your gift will help us fund better research, better treatment and better lives.