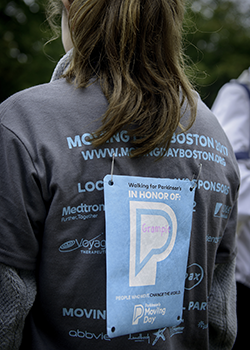 I made a personal donation!
I earned a Moving Day T-shirt!
$250 Level Fundraiser
Event:
I am participating in Moving Day® Cleveland, benefiting the Parkinson's Foundation Ohio Chapter, on Saturday, June 22, 2019, at Wade Oval in University Circle.
My dad, Mike, was diagnosed in 2017 with early onset Parkinson's disease after experiencing symptoms since 2007. He spent years seeing several specialists, leaving the appointment the same way he arrived: with deteriorating health but no answers. I can only imagine how he felt knowing that something was definitely wrong with him but no one had a name. Once you go to so many doctors and you go through the same list of symptoms and they still don't have an answer, you start to feel like they think you're crazy. Or maybe they think you're making it up. You start to wonder if maybe it is all in your head, or what if there is no real medical explanation for what is going on? How bittersweet it must have been to finally have an answer but to hear that it is a disease such as this one.
I was a freshman in college when my parents sat me and my three younger siblings down and told us the news. At that point I was aware that my dad was experiencing some issues, but I was completely unaware that it had been going on for so long. When I heard my dad say the words, "Parkinson's disease" I knew exactly what it was, or so I thought. My heart dropped and I immediately felt a rush of emotions. Sadness. Anger. Terror. Confusion. Hearing that my dad had Parkinson's disease at the age of 50 is something I won't forget. Especially since I had no idea that things were this serious because my dad is the type of person that refused to ever let us see him struggle. I had no idea what the next few years would bring.
Because of Parkinson's disease, I see my dad work twice as hard as his colleagues to finish a project, often times working long into the night. I see him go to bed at 7 pm, just to MAYBE get 3 hours of sleep before he has to wake up at 7 am for work. I see him work for hours outside in the yard (even though we all try to convince him not to) because he is stubborn and refuses to be treated any differently. I see children look at him and ask, "Why do you have a cane for an old man? You look normal". And that's the thing, he may look fine from the outside, but Parkinson's disease is not an easy thing to live with. Parkinson's disease is tremors, loss of balance, dyskinesia, cognitive loss, brain fog, falls, pain, depression, anxiety, and much more. But this is not all I see. I see a husband and a father, determined to not let an illness such as this one take over his life.
This past New Year's Eve I didn't have the same experience as the other 21-year-old's I went to school with. Instead, I spent the night in the hospital while my dad underwent deep brain stimulation surgery (DBS), a surgery that would not cure his symptoms but provide some relief.
For weeks leading up to the surgery, I had to witness my mom fight for my dad's right to this surgery despite it being recommended by multiple specialists. The insurance company cancelled and rescheduled this surgery 3 separate times, and we doubted whether or not he would even be able to have the surgery he desperately needed. What a weird feeling it was to be excited that my father was granted the ability to have his skull drilled open.
Parkinson's disease has shook my family to the core, but it has not broken us. I thought my father was a hard worker before, and I'm damn sure now that he is the strongest person I know. I will never stop educating people on Parkinson's disease and I will continue to hope that one day there will be a cure.
Please consider being a part of my team or sponsoring me, and I encourage you to get your friends, family and coworkers involved.
Thank you for helping me reach my fundraising goal to support the vital work of the Parkinson's Foundation.
Why Move for Moving Day?
Did you know that someone is diagnosed with Parkinson's disease every 9 minutes in the United States? No one should have to face Parkinson's alone. That is why the Parkinson's Foundation provides a community of support to give people the resources and help they need to live well with Parkinson's.
Support our mission to help every person diagnosed with Parkinson's live their best possible life now. Your gift will help us fund better research, better treatment and better lives.