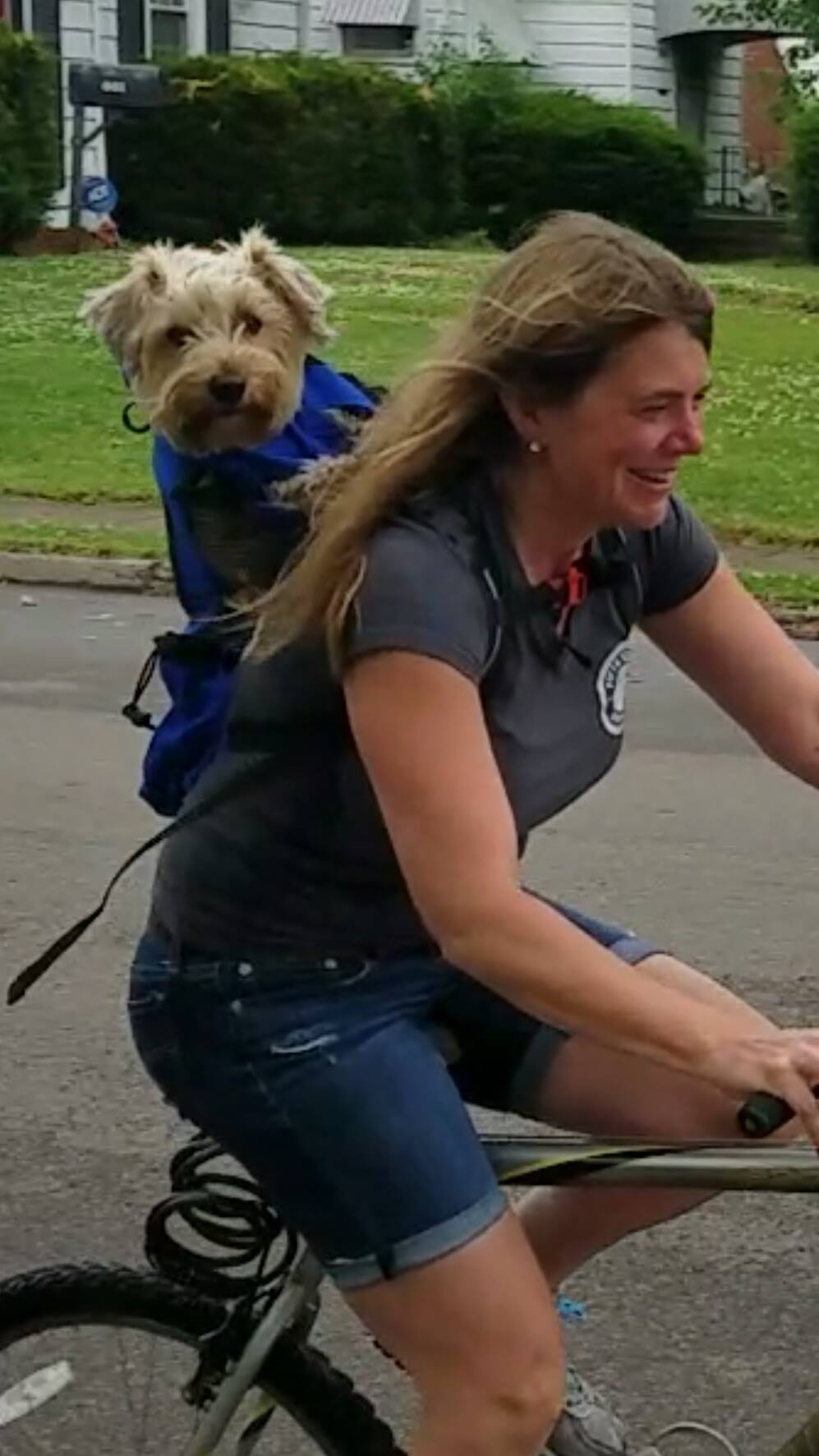 Team Captain
I earned a Moving Day T-shirt!
Event:
I am participating in Moving Day® Dayton, benefiting the Parkinson's Foundation, on June 29, 2019, at Island Metro Park.
The event will be a fun-filled, family-friendly event for all ages and abilities. We will be able to enjoy a variety of movement activities like yoga, dance, Pilates, Tai Chi, boxing, stretching and much more and celebrate the importance of movement in our lives.
Please consider being a part of my team or sponsoring me, and I encourage you to get your friends, family and coworkers involved.
My Parkinson's journal began in Fall 2015 with an unassuming tremor in one finger.  I chalked it up to stress and working too much.  It wasn't too long before the tremor intensity and frequency increased, moved into both hands and then my chin. I was experiencing other symptoms but did not make the connection. My depth perception and balance were off, making it difficult to go down steps, and my sense of smell was gradually fading.  Running was no longer enjoyable; it was clumsy.  
After several doctors' appointments, an MRI, and bloodwork, I was referred to a neurologist in June 2016.  I was 49 years-old at the time.  I went by myself, expecting it to be nothing and I certainly did not want anyone to worry or take off work unnecessarily.  I remember very little from the appointment with the exception of this statement, "You have Parkinson's Disease-take this pill. See you in 6 months."  Wait, what?!  
Being told I had Parkinson's disease was incredibly difficult, but nothing prepared me for the heartbreak and pain that I saw in the eyes of my family and friends when I shared the news.   
After my diagnosis, I wanted to learn as much as I could about Parkinson's disease. There is nothing I enjoy more than learning something new. So, I did what I do best. I started researching and reading everything I could on the subject. I joined online forums and support groups. I read the research and other people's stories. I've been encouraged and inspired by what I've read.
When I'm not researching Parkinson's disease, I can be found reading books, researching online, participating in online forums on anything from gardening, dogs, raising children, Kombucha, bullet journaling or raising chickens. It makes for interesting and random conversations with those who love me.
I am not going to let Parkinson's define me. I will fight it every day with all I have.  Parkinson's disease has challenged me to live my best life, have fun and be joyful. I gravitate toward the positive and have built my care team with like-minded people. I win against Parkinson's every time I put what I have learned into action. 
Join my team and help me make Parkinson's Disease a distant memory. 
Thank you for helping me reach my fundraising goal to support the vital work of the Parkinson's Foundation.
Why Move for Moving Day?
Did you know that someone is diagnosed with Parkinson's disease every 9 minutes in the United States? No one should have to face Parkinson's alone. That is why the Parkinson's Foundation provides a community of support to give people the resources and help they need to live well with Parkinson's.
Support our mission to help every person diagnosed with Parkinson's live their best possible life now. Your gift will help us fund better research, better treatment and better lives.