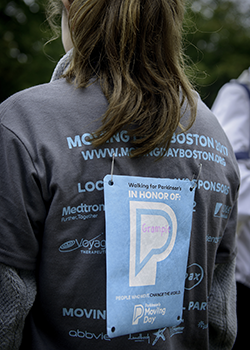 Team Captain
I made a personal donation!
I earned a Moving Day T-shirt!
$1,000 Level Fundraiser
Event:
As many of you know (and some may not), Bliss was diagnosed with Parkinson's last year. Parkinson's is an "interesting" disease; there are so many different symptoms that fall under the Parkinson's umbrella and the course of the disease is unpredictable.
Bliss has reacted well to medication and exercise so far and we are quite pleased about this. Our daily lives haven't really changed (except Bliss exercises more!) and of course, we hope that there will be a cure for Parkinson's.
We are participating in Moving Day® DC, benefiting the Parkinson's Foundation, on Saturday, June 1, 2019, at Lincoln Memorial Reflecting Pool. We have formed a team, Walkers for Bliss, and are hoping that you will support us by walking with us and/or making a contribution to our team.
Include here specifics about how to contribute and where/when to meet for walk.
The event will be a fun-filled, family-friendly event for all ages and abilities. We will be able to enjoy a variety of movement activities like yoga, dance, Pilates, Tai Chi, boxing, stretching and much more and celebrate the importance of movement in our lives.
Please consider being a part of my team or sponsoring me, and I encourage you to get your friends, family and coworkers involved.
Thank you for helping me reach my fundraising goal to support the vital work of the Parkinson's Foundation.
Why Move for Moving Day?
Did you know that someone is diagnosed with Parkinson's disease every 9 minutes in the United States? No one should have to face Parkinson's alone. That is why the Parkinson's Foundation provides a community of support to give people the resources and help they need to live well with Parkinson's.
Support our mission to help every person diagnosed with Parkinson's live their best possible life now. Your gift will help us fund better research, better treatment and better lives.
Honor Roll
Esther Iseman (Larry's cousin)