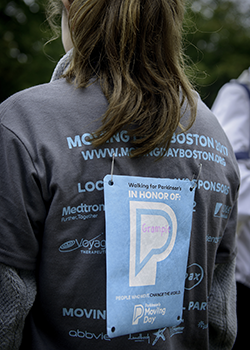 I am participating in Moving Day DFW, benefiting the Parkinson's Foundation, on Saturday, October 27, 2018 at Lone Star Park.
The event will be a fun-filled, family-friendly event for all ages and abilities. We will be able to enjoy a variety of movement activities yoga, dance, Pilates, Tai Chi, boxing, stretching and much more and celebrate the importance of movement in our lives.
As you all know, this is very personal for me!  I was diagnosed with Parkinson's in November 2015.  The struggle to find a diagnosis for the problems I was having at that time was a two year struggle.  I went through many doctors who gave no hope and offered no help.  After diagnosis, I started medication immediately and saw great results initially.  Then about two years into it, things went downhill.  The medications were no longer as effective, the motor skill symptoms were getting worse, and life in general was very frustrating.  After a series of events (current doctor moving out of state, starting care with different doctor, various rounds of testing, etc), I was able to have DBS surgery on July 3rd!  What a life changer this surgery has been.  I feel more like the me I used to be before diagnosis.  The great thing about it all is that we have been able to reduce the  amount of medication needed and are seeing much more consistent symptom control.  Without events such as this one and the funds raised at such events, these things would not be possible for many.
For each person the disease is different.  For each person progression of the disease is different.  This is why so much research is needed!
Please consider being a part of my team or sponsoring me, and I encourage you to get your friends, family and coworkers involved.
Thank you for helping me reach my fundraising goal to support the vital work of the Parkinson's Foundation.
Why Move for Moving Day?
Did you know that someone is diagnosed with Parkinson's disease every 9 minutes in the United States? No one should have to face Parkinson's alone. That is why the Parkinson's Foundation provides a community of support to give people the resources and help they need to live well with Parkinson's.
Support our mission to help every person diagnosed with Parkinson's live their best possible life now. Your gift will help us fund better research, better treatment and better lives. 
Honor Roll
Be the first to donate to Michelle Nowlin!