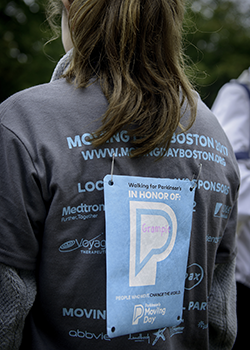 Team Captain
I made a personal donation!
I earned a Moving Day T-shirt!
$250 Level Fundraiser
Event:
As you may or may not know, I have recently been diagnosed with the Parkinson's Disease (or as those of us in the know ~ PD).  I'm still in the rookie stages of the disease but, overachiever that I am, I'm finding new 'things' going haywire each day.  After my initial Google tirade I thought "hey, this might not be so bad.  You don't die from it, it's a progressive disease so I'll have time to prepare, and people last 10-20 years!  I really don't want to be 100 – so . . . OK . . . could be worse."
While reading and reading and reading about PD, I found the one Key to staying off the progression of symptoms.  That key would be KEEP MOVING.  As the exercise fanatic that I am (baaahaa) this was not good news.  Move every day?  But that's why I work from home so I don't even have to brush my hair if I'm  not feeling it.  I don't have to talk to anyone, see anyone, it's a dream come true!  I really don't like to sweat.
What to do?  Soooo the obvious natural progression of this mental conversation is me signing up to be a Team Leader and do the Moving Day Walk.  If you are interested in joining me I'd love to see you.  If you can donate a few bucks for research that would be great.  If you can pray for me when God brings me to mind, I'd appreciate that too.  (First prayer request would be that I figure out a graceful way to get out of the bucket seats in my car ~ it's ugly!)
Moving Day® DFW, benefiting the Parkinson's Foundation, on Saturday, October 5, 2019 at Lone Star Park.
Why Move for Moving Day?
Did you know that someone is diagnosed with Parkinson's disease every 9 minutes in the United States? No one should have to face Parkinson's alone. That is why the Parkinson's Foundation provides a community of support to give people the resources and help they need to live well with Parkinson's.