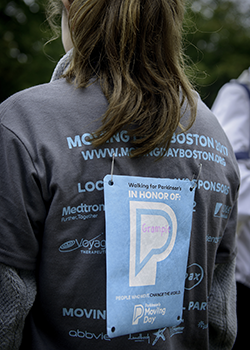 Team Captain
I made a personal donation!
I earned a Moving Day T-shirt!
$500 Level Fundraiser
Event:
My story:
About 3 years ago I started having a tremor in my hand. At first doctors thought it was a disc in my neck causing it. As the tremors began to intensify and move into my leg, we knew it wasn't my neck. I continued to go to doctor after doctor to get this thing figured out. I was tested for MS multiple times and proved negative. Then my left leg started to get heavy and I was almost limping. This is when I was FINALLY sent to an amazing neurologist that wanted to test me for Parkinson's disease. The test has a 5-10% error rate but between me testing positive on the test and my symptoms, my neurologist was pretty sure that was what I had. So, on October 4th, I began medication for Parkinson's (it only works if you have Parkinson's) and I have been doing great since. Of course this is not what I was wanting to hear but it has changed my life for the better!!! I feel better now than I have in the last 3 years. I am on a very low dose of medicine, am doing some all natural things, and have become obsessed with yoga (exercise slows the progression of Parkinson's). It has taught me to take better care of myself. I truly believe that God gives us what we can handle and I've got this. With family and friends like you all, I am very blessed! At first I struggled with putting "Team Jen" on my walk t-shirt because this is not about me…it's about everyone else fighting this disease. There is so much out there for Parkinson's and my neurologist believes there will be a cure in the next 10 years or less. I love life more than anything and this will never slow me down! I am the same Jen you all have known forever (Sorry … lol) and don't want to be looked at as the woman that has Parkinson's. So…come walk with me and go out for pizza and let's make this a fun day of just people getting together (which we don't take time enough to do anymore). Can't wait to see you all!!!
The event will be a fun-filled, family-friendly event for all ages and abilities. We will be able to enjoy a variety of movement activities like yoga, dance, Pilates, Tai Chi, boxing, stretching and much more and celebrate the importance of movement in our lives. Thank you for helping me reach my fundraising goal to support the vital work of the Parkinson's Foundation.
Why Move for Moving Day?Did you know that someone is diagnosed with Parkinson's disease every 9 minutes in the United States? No one should have to face Parkinson's alone.
Honor Roll
Mr. & Mrs. Ashley Packard